How To Book RICKY MARTIN For Your Event!
Ricky Martin may be available for your next special event!



How to Hire RICKY MARTIN For Your Event!
Grammy and Latin Grammy award winning Enrique "Ricky" Martín Morales (born December 24, 1971) is a Puerto Rican singer and actor. He is best known for his musical versatility, with his discography incorporating a wide variety of many elements, such as Latin pop, dance, reggaeton, salsa, and other genres.
In a career that spans nearly two decades and includes more than 55 million albums sold, Ricky Martin has earned his place in entertainment history - by forever changing the way the world sees Latin music.
Martin's Spanish language release (2003), Almas del Silencio, debuted at #1 on the Billboard Top Latin Albums chart and was the highest chart debut on the Billboard Top 200 of all Spanish-language albums in the SoundScan era. Almas del Silencio has been released in 38 non-Hispanic countries and has generated three consecutive #1 singles domestically and internationally.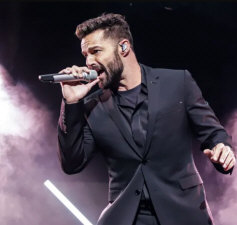 Hire Ricky Martin for your festival or concert plans!
Almas del Silencio is one in a series of record-breaking recordings for Ricky Martin. With his "Livin' La Vida Loca" single, Martin became the first Latin male solo artist of the SoundScan era to hit #1 on the Hot 100. He won the "Best Latin Pop Performance" Grammy for Vuelve, a Spanish language album, at the 41st Annual Grammy Awards ceremony in 1999. He was named "World's Bestselling Pop Male Artist" and "World's Bestselling Latin Artist" at the 12th Annual World Music Awards. At the 10th Annual Billboard Music Awards, he was named "Male Artist of the Year" and "Male Hot 100 Singles Artist of the Year." He won an American Music Award in the "Favorite Latin Artist" category.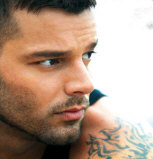 Hire Ricky Martin for your special event or occasion.
The 1994 release of Martin's A Medio Vivir, his third CD, which included the signature hit "Maria", brought the singer international acclaim. Embarking on a worldwide tour that included Latin America, Europe, Asia and the US, Ricky Martin played to large audiences, including an unprecedented crowd of 200,000 in Argentina's famed Avenida Nueve de Julio in Buenos Aires. During a break in his successful tour, Martin added to his musical accolades, by starring on Broadway as Marius in the musical "Les Miserables".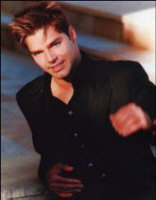 Hire Ricky Martin.
As a child, Ricky Martin used to sing songs by Menudo and by rock bands, such as Led Zeppelin, Journey, and REO Speedwagon. His mother would make him listen to Latin music. She brought him CDs of Fania All-Stars, Celia Cruz, El Gran Combo de Puerto Rico, and Gilberto Santa Rosa that slowly made him appreciate the richness of Puerto Rican culture. Martin has also cited Elvis Presley, the Beatles, Michael Jackson, and Madonna for teaching him "the beauty of pop". Additionally, he mentions Carlos Santana, José Feliciano, Celia Cruz, and Gloria Estefan as the artists who paved the way for him, naming Feliciano as one of the people who inspired him when he was a teenager. He has also cited Barbra Streisand as an entertainer he wants to be like: "I want to be an entertainer, not just a singer."
Hit songs include --
I Don't Care
It's Alright
Bella (She's All I Ever Had)
Jaleo
Livin' la Vida Loca
Perdido Sin Ti
She Bangs
Solo Quiero Amarte (Nobody Wants to Be Lonely)
Tal Vez
Tu Recuerdo
Vuelve
Y Todo Queda en Nada
Jaleo
María
Shake Your Bon-Bon
She's All I Ever Had
Te Extraño, Te Olvido, Te Amo
Volveras
The Cup of Life
Fuego Contra Fuego
Hire Ricky Martin for your party or event!
Ricky Martin may be available for your next special event!
Book Ricky Martin, now!
For other great suggestions for booking music acts, look here.
Listen to music:
YouTube Music | Spotify

Genre: Latin
Styles:
.Dance-Pop. / DancePop
.Latin Dance-Pop. / LatinDancePop
.Latin Pop. / LatinPop
Contemporary Pop/Rock / ContemporaryPopRock
Salsa / xSalsa
Urbano / xUrbano


Years active:
x80s, x90s, x00s, x10s, x20s
1984-present

Born: ..in Puerto Rico / born nPuertoRico
Born: ..in San Juan / born SanJuanPR
Born: Dec 24, 1971

Based: ..in US
Based: ..in Puerto Rico / based nPuertoRico