How To Book RINGO STARR For Your Event!
Ringo Starr may be available for your next special event!



Richard Starkey was born "at a very early age" in Liverpool on July 7, 1940 to his mother Elsie Gleave and father Richard Starkey.
In 1957 Richard joined the Eddie Clayton Skiffle Band. Two years later he joined the Raving Texans, which later became Rory Storm and the Hurricanes.
Ringo Starr was asked to join the Beatles in August 1962 while he was playing a summer-long gig with Rory Storm and the Hurricanes. While they wanted him immediately - it was a Wednesday - Ringo delayed until the weekend so he could find a replacement and not lose Rory Storm and the Hurricanes the gig. Ringo Starr officially became a Beatle on August 18, 1962.
As everyone knows, the Beatles went on to become the world's most popular band.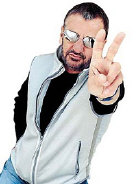 Then, in 1971, the Beatles broke up. It seemed likely that Ringo Starr would pursue films due to his fabulous work with Peter Sellers in "The Magic Christian," and his charming and natural comedic flair evident in the Beatles pictures. Ringo had also appeared in "Candy" (1968) and would go on to complete many other films including "Blindman" (1971), "200 Motels" (1971), "Born to Boogie" (1972), "Son of Dracula" (1972), "That'll Be The Day" (1973), "Harry And Ringo's Night Out" (1974), "Lisztomania" (1975), "Sextette" (1978), "The Last Waltz" (1978), "The Kids Are Alright" (1979), "Caveman" (1981), and "Give My Regards to Broad Street" (1984). Ringo also did voice-overs for a children's TV series entitled "Thomas the Tank," capturing the hearts of yet another generation.
In addition to his work in films, Ringo Starr also pursued a musical career. Starr's first solo project, "Sentimental Journey" (1970), produced by George Martin, captured some of his favorite songs that he heard while growing up.
Ringo's next project was a country & western album, "Beacoups of Blues," (1971) recorded in Nashville in just two days.
From Nashville, Starr went to Los Angeles and began work on what would eventually become the smash release "Ringo," (1973) which yielded 3 "Top 10" singles and a number one. This also marked the first time since the break up that all the Beatles participated in the same project, though not at the same time.
Between the years 1974 - 1978, Ringo continued to make and release albums, which included: "Goodnight Vienna" in 1974, "Rotogravure" in 1976, "Ringo the 4th" in 1977, and in 1978 "Bad Boy," which included a television special with Art Carney and Carrie Fisher.
In 1981 Ringo Starr recorded "Stop and Smell the Roses," his most critically acclaimed album since 1973.
In 1983 Ringo teamed up with Joe Walsh, who produced his next album "Old Wave." (Ringo was not to return to the recording studio until 1991.)
1989 saw Ringo Starr hit the road with his first All Starr Band. "Ringo and His All Starr Band" included his friend and former collaborator Joe Walsh, E-Streeters Nils Lofgren and Clarence Clemmons, Levon Helm and Rick Danko from the Band, Ringo's old friend Billy Preston (the first 5th Beatle), the legendary Dr. John and fellow drummer Jim Keltner.
The tour met with great success and yielded Ringo's first live album, released on Rykodisc in 1990 and titled simply, "Ringo and His All Starr Band." Ringo was also the first Beatle to appear on the popular cartoon sitcom "The Simpsons" which he recorded during this time.
In 1992 Ringo Starr released "Time Takes Time" on Private Music. Hailed by the New York Times critic Allan Kozinn as "Starr's best: more consistently pleasing than Ringo, [Time Takes Time] shows him as an assured performer and songwriter." Ringo was also very proud of this release, which boasted a broad selection of great songs including the singles "Weight of the World," and "Don't Go Where the Road Don't Go," as well as the infectious "In A Heartbeat," a collaboration with Brian Wilson.
Later that same year Ringo Starr put together his second All-Starr band, which saw Ringo tour Europe for the first time since the Beatles. This line-up featured Nils Lofgren as musical director, former Eagle Timothy B Schmidt playing beside his band-mate Joe Walsh, legendary rockers Todd Rundgren and Dave Edmunds, the Guess Who's Burton Cummings, percussionist and alongside his Dad on drums, Zak Starkey. Ringo later released another live album in 1993, recorded in Montreaux Switzerland, entitled "Ringo and His All Starr Band Vol 2."
In 1995, while the Beatles dominated the Billboard charts in early Spring owing to the Capitol release of the BBC Recordings, Ringo put together his third All Starr Band. This time the band welcomed the return of All-Starr 1 member Billy Preston, and from the second tour, Ringo's son Zak. The line-up also featured BTO's Randy Bachman, Grand Funk's Mark Farner, John Entwistle from The Who, Felix Cavaliere of the Young Rascals and Mark Riviera.
1995 also saw the "impossible" happen - the Beatles reunite to record two new singles. Owing to technology (and a demo of John's found by Yoko), they record "Free As A Bird" and "Real Love." The first single, "Free As A Bird," was released in November 1995 along with the long awaited "Beatles Anthology" - the definitive story of the Beatles told by the Beatles - which aired over three nights, (November 19, 20 and 21), in the States on ABC and throughout the world on various networks. More than 148 million viewers saw it (47 million in the US alone).
By 1997 The Beatles won 3 Grammy's for the Anthology series. In addition, more than 1 billion dollars in merchandise was sold, while the CD's released by Capitol Records (The Beatles Anthology 1, 2 & 3), sold more than 20 million copies (41% of the buyers were ages 12-25) and each Anthology release garnered a number one spot on Billboards Top 200 fresh out of the box and were the fastest selling and highest grossing releases in history.
The same qualities that helped make The Beatles a legendary group are still in evidence today as Ringo Starr continues to bring respected musicians together to create some of the most fun-filled concerts in the history of Rock. What was true in the 60's holds true today, when Ringo is involved, a splendid time is guaranteed for all.
Hit songs include --
Only You (And You Alone)
Photograph
You're Sixteen (You're Beautiful and You're Mine)
No No Song
Snookeroo
It Don't Come Easy
Oh My My
Back Off Boogaloo
A Dose of Rock & Roll
Oo-Wee
Wrack My Brain

Beaucoups of Blues
Ringo Starr may be available for your next special event!
Watch videos
YouTube

Genre: Rock 1
Styles:
.Classic Rock. / ClassicRock
.Pop/Rock. / PopRock


Years active:
x60s, x70s, x80s, x90s, x00s, x10s, x20s

Born: ..in England
Born: ..in Liverpool
Born: Jul 7, 1940

Tag: FormerMemberOf