How To Book RINGO STARR For Your Event!
Ringo Starr & His All-Starr Band may be available for your next special event!



How to Hire RINGO STARR For Your Event!
Popular requests:
BOOKING FEE (booking price, booking cost).
Ringo Starr & His All-Starr Band is a live rock supergroup founded in 1989 with shifting personnel, led by former Beatles drummer and vocalist Ringo Starr.

Since 1989, Starr has toured with fourteen or more variations of the band, where "everybody on stage is a star in their own right". Ringo Starr and his All-Starr Band is a concept that was created by producer David Fishof.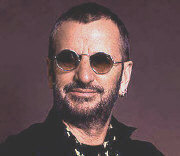 Hire Ringo Star & His All-Starr Band for your festival or concert plans!

The band has consistently toured for more than three decades, and rotates its line-up depending on availability of musicians and at Starr's discretion. All-Starr Band shows generally feature 10–12 songs sung by Starr, including those he performed with The Beatles and in his solo career. Mixed with Starr's songs are those performed by the All-Starrs (usually 2–3 per person), generally the biggest hits from their respective groups or solo careers.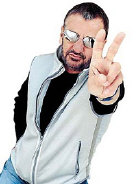 Hire Ringo Star & His All-Starr Band for your organization's special event!
The All-Starr Band does not compose original music, but a number of live albums featuring the group have been released
In 1989, Ringo Starr hit the road with his first All-Starr Band. "Ringo and His All Starr Band" included his friend and former collaborator Joe Walsh, E-Streeters Nils Lofgren and Clarence Clemmons, Levon Helm and Rick Danko from the Band, Ringo's old friend Billy Preston (the first 5th Beatle), the legendary Dr. John and fellow drummer Jim Keltner.
The tour met with great success and yielded Ringo's first live album, released on Rykodisc in 1990 and titled simply, "Ringo and His All-Starr Band."
Later that same year Ringo Starr put together his second All-Starr band, which saw Ringo tour Europe for the first time since the Beatles. This line-up featured Nils Lofgren as musical director, former Eagle Timothy B Schmit playing beside his band-mate Joe Walsh, legendary rockers Todd Rundgren and Dave Edmunds, the Guess Who's Burton Cummings, percussionist and alongside his Dad on drums, Zak Starkey. Ringo later released another live album in 1993, recorded in Montreaux Switzerland, entitled "Ringo and His All Starr Band Vol 2."
In 1995, Ringo put together his third All-Starr Band. This time the band welcomed the return of All-Starr 1 member Billy Preston, and from the second tour, Ringo's son Zak. The line-up also featured BTO's Randy Bachman, Grand Funk's Mark Farner, John Entwistle from The Who, Felix Cavaliere of the Young Rascals and Mark Riviera.
As of 2022, the band lineup includes the following members:

Ringo Starr
Colin Hay
Hamish Stuart
Edgar Winter
Gregg Bissonette
Steve Lukather
Warren Ham
Hire Ringo Starr for your party or event!
Ringo Starr may be available for your next special event!
Book Ringo Starr, now!
For other great suggestions for booking music acts, look here.

Genre: Rock 1
Styles:
.Pop/Rock. / PopRock


Years active:
x90s, x00s, x10s, x20s
1989-present

Formed: ..in England
Formed: in 1989