How To Book RISE AGAINST For Your Event!
Rise Against may be available for your next special event!



Hits include: "The Good Left Undone",
"Prayer of the Refugee", "Wait For Me",
"Swing Life Away", "Audience of One",
"Ready To Fall", "Life Less Frightening",
"Help Is On The Way", "Satellite",
"Make It Stop (September's Children)",
"Savior", "Give It All",
"I Don't Want to Be Here Anymore",
"Tragedy + Time", "The Violence",
"House on Fire", "Nowhere Generation",
"Talking to Ourselves".
Rise Against is an American punk rock band from Chicago, formed in 1999.
The group's current line-up comprises vocalist/rhythm guitarist Tim McIlrath, lead guitarist Zach Blair, bassist Joe Principe and drummer Brandon Barnes. Rooted in hardcore punk and melodic hardcore, Rise Against's music emphasizes melody, catchy hooks, an aggressive sound and playstyle, and rapid tempos. Lyrically, the band is known for their outspoken social commentary, covering a wide range of topics such as political injustice, animal rights, humanitarianism, and environmentalism.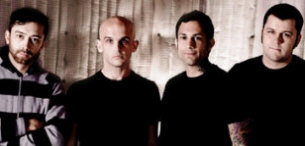 Critics have described Rise Against's musical style as punk rock, hardcore punk and melodic hardcore. The band's songs emphasize melody, catchy hooks, aggressive movements, and rapid-paced tempo.

Bands that have influenced Rise Against include 7 Seconds, AFI, Bad Brains, Bad Religion, Cave In, Dead Kennedys, Fugazi, Jawbreaker, Los Crudos, Nirvana, Pennywise, Rage Against the Machine, Ramones, Refused, and Social Distortion.
Hire Rise Against for your party or event!
Rise Against may be available for your next special event!
Book Rise Against, now!
For other great suggestions for booking music acts,
look here.
Watch videos
YouTube

For more suggestions, proceed to the next page.
Click here --
Alternative Music Roster
Or, click on one of the below links --
Music Menu
Fast Index
Entertainers Directory
Home