In 1993, White Zombie returned with "Astro-Creep: 2000". The album rose to Billboard's Top Ten and stayed there for two months, remaining firmly in the Top 200 for 89 weeks. "Astro-Creep: 2000" gave the world "More Human Than Human," an infectious, Grammy-nominated hit.
Also in 1993, Rob Zombie won an MTV Video Music Award for Best Hard Rock Video for the self-directed clip for "More Human Than Human." Soon thereafter, "Astro-Creep: 2000" was certified double platinum.
"Supersexy Swingin' Sounds," a full album of Astro-Creep remixes by some of the hottest mixers in the field, followed quickly on the heels of that success: The disc turned to gold.
As the Astro-Creep tour was winding its way around the world, Rob Zombie somehow found time to indulge in a few special projects. First off was a duet with his childhood idol, Alice Cooper, for the soundtrack to the hit TV series "The X-Files." Zombie remarks of the collaboration: "Working with Alice was a dream come true. Ever since I was a little kid, I've wanted to be Alice." The song, entitled "The Hands of Death," was nominated for a Grammy Award. It was up against another Zombie offering, "I'm Your Boogieman," from the platinum soundtrack to "The Crow: City of Angels."

Hire Rob Zombie for your very special event or occasion!
While on tour, Rob Zombie also began working with "Beavis and Butt-head" creator Mike Judge on a key scene for the film "Beavis and Butt-head Do America." Zombie designed the classic hallucination sequence for the film between gigs. "Mike was looking for an idea for a hallucination for Beavis," he recalls. "He wanted something that was like the ultimate rock video. I suggested Beavis should go to hell, and Mike loved the idea." For many, this scene of Beavis hallucinating was a highlight of the film.
Zombie was then contacted again by the producers of "The Crow" film series. Having loved the spooky, psychedelic video Rob directed for "I'm Your Boogieman," they commissioned him to write the script for the next movie in the series.
Within weeks of completing the screenplay, Rob Zombie was sought out by none other than The King of All Media – Howard Stern. Stern wanted to duet with Zombie on a song for his upcoming movie, "Private Parts." "I've been a big fan of Howard for about 13 years," says Zombie, "so being able to work with him was an honor and a pleasure." The thumping "The Great American Nightmare" resulted; it became a theme song for both Stern and Zombie. "Private Parts," meanwhile, hit #1 at the box office, as did the soundtrack, which has been certified platinum.
Zombie next began work on his most ambitious album to date: "Hellbilly Deluxe: 13 Tales of Cadaverous Cavorting Inside the Spookshow International." The disc was produced by Scott Humphrey (Metallica, Mötley Crüe) and Rob Zombie. Work on the album began in August of 1997 and was completed 10 months later. "Hellbilly Deluxe" (released Aug. 25, 1998) is a wild musical and visual journey through the mad, mad, mad world of Rob Zombie. "This is no small, self-indulgent album filled with whining about deep feelings," Zombie declares. "This is a full-blown evil raging beast – a total Zombie extravaganza."
Along for the ride were John Tempesta (White Zombie) on drums, Danny Lohner (Nine Inch Nails) on guitar, and other friends, including Tommy Lee. Explains Zombie: "Tommy played on two songs, 'Resurrection Joe' and 'Meet the Creeper.' He really brought a killer, heavy sound to those tracks."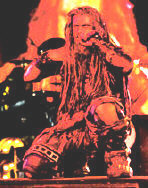 Hire Rob Zombie!
The album boasts a deluxe 24-page booklet. "It's a welcome relief from the less-is-more school of thought," Zombie opines. "I grew up in the heyday of cool record packaging. I would stare at the record for hours. Now, you open a record and you get nothing. I always feel cheated."
The booklet presents artwork from Mr. Zombie, with a little help from some of his childhood heroes: Master monster painter Basil Gogos created the striking cover; Marvel Comics legend Gene Colan lent a hand as well. "I grew up worshipping the artists at Marvel Comics, and Gene was my favorite," Zombie reveals. "His work on 'Howard the Duck,' 'Dracula' and 'Dare Devil' is unsurpassed." The booklet also features a contribution from hot new artist, Daniel Brereton.
Rob Zombie takes this enthusiasm for vehement visuals to the stage when he tours. "I really want to do something extra special, something to top all my previous shows," he says. Those who've experienced Zombie live know this is no mean feat – Zombie performances have become legendary for their "more is more" mentality, incorporating state-of-the-art lights, sound, video and pyrotechnics.
In 2022, Rob Zombie performed at Monster Energy Aftershock with others such as Muse, Slipknot, Evanescence, KISS, Bring Me The Horizon, Papa Roach, My Chemical Romance, Shinedown, A Day to Remember, Bullet for My Valentine, Judas Priest, Theory of a Deadman, Chevelle, Killswitch Engage, Action Bronson, The Pretty Reckless and Bad Religion.
His discography includes seven studio albums, three compilation albums, two remix albums, two live albums, one video album, 23 singles, and eight promotional singles.