How To Book ROBIN THICKE For Your Event!
Robin Thicke may be available for your next special event!



Hits include: "Blurred Lines",
"Get Her Back", "Pretty Lil' Heart",
"Lost Without U", "Can U Believe",
"The Sweetest Love", "Got 2 Be Down",
"For The Rest Of My Life", "All Tied Up",
"You're My Baby", "Sex Therapy",
"It's In The Morning", "Give It 2 U",
"Love After War", "Magic Touch",
"Morning Sun", "Back Together",
"That's What Love Can Do",
"When You Love Somebody",
"Magic", "Feel Good", "Look Easy".
Robin Thicke is an American singer, songwriter, and record producer. He is known for his 2013 single "Blurred Lines", which is one of the best-selling singles of all time. At the 56th Annual Grammy Awards, he received nominations for Record of the Year and Best Pop Duo/Group Performance.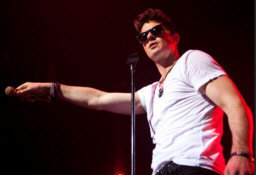 Thicke is a son of actress Gloria Loring and actor Alan Thicke. He has collaborated with numerous artists, such as Nicki Minaj, 3T, T.I., Christina Aguilera, Jessie J, K. Michelle, Pharrell, DJ Cassidy, Usher, Jennifer Hudson, Flo Rida, Brandy, Kid Cudi, Mary J. Blige, Emily Ratajkowski and composed songs for Marc Anthony. He worked on albums such as Usher's Confessions and Lil Wayne's Tha Carter III, while releasing his own R&B singles in the United States including "Lost Without U", "Magic", and "Sex Therapy".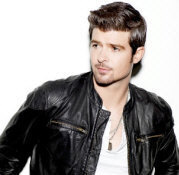 Robin Thicke is a self-taught pianist. Some of the first songs he learned to play and sing along with as a child were by gospel artists such as Commissioned, Take 6, and John P. Kee, studying their licks and harmonies. Thicke has drawn influence from a variety of artists including James Brown, Stevie Wonder, Marvin Gaye, Sting, Prince, Alanis Morissette, The Beatles, John Lennon, Bob Marley and Michael Jackson.
Robin Thicke has said that he considers himself a soulful singer but does not like his music being described as "blue-eyed soul", finding the term too pigeonholing.
Hire Robin Thicke for your party or event!
Robin Thicke may be available for your next special event!
Book Robin Thicke, now!
Watch videos
YouTube

For more suggestions, proceed to the next page.
Click here --
R&B Music Roster
Or, click on one of the below links --
Music Menu
Fast Index
Entertainers Directory
Home