Visit new page >>>
ROBYN
How To Book ROBYN For Your Event!
Robyn may be available for your next special event!



Hits include: "Dancing on My Own",
"Do You Know (What It Takes)",
"Handle Me", "With Every Heartbeat",
"Do You Really Want Me (Show Respect)",
"Cobra Style", "Fembot", "Be Mine",
"Hang With Me", "Call Your Girlfriend",
"Indestructible", "Do It Again",
"Love is Free", "Show Me Love",
"Ever Again", "Impact".
How to Hire ROBYN For Your Event!
Popular requests:
BOOKING FEE (booking price, booking cost).
Robin Miriam Carlsson (born 12 June 1979), known as Robyn, is a Swedish pop singer, songwriter, record producer, and DJ. She arrived on the music scene with her 1995 debut album, Robyn Is Here, which produced two Billboard Hot 100 top 10 singles: "Do You Know (What It Takes)" and "Show Me Love".
Her second and third albums, My Truth (1999) and Don't Stop the Music (2002), were released in Sweden.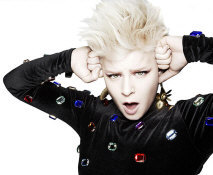 Hire Robyn for your festival or concert plans!
Robyn returned to international success with her fourth album, Robyn (2005), which brought a Grammy Award nomination. The album spawned the singles "Be Mine!" and the UK number one "With Every Heartbeat".
Robyn provided backing vocals on Britney Spears' 2007 single, "Piece of Me", and appeared on the Fyre Department remix of "Sexual Eruption" by rapper Snoop Dogg. She made a brief US tour to promote Robyn, and was the supporting act for Madonna's Sticky & Sweet Tour on European dates in 2008.

Hire Robyn for your very special event or occasion.
In 2010, Robyn released a trilogy of mini-albums, known as the Body Talk series. They received broad critical praise and three Grammy Award nominations and produced three top-10 singles.
On 12 September 2010, Robyn performed "Dancing On My Own" with deadmau5 at the 2010 MTV Video Music Awards.
Robyn opened for Coldplay on their 2012 tour in Dallas, Houston, Tampa, Miami, Atlanta, Charlotte, Philadelphia and Washington, D.C.
In mid-2013, she appeared with Paul Rudd and Sean Combs on "Go Kindergarten" from the Lonely Island's The Wack album.
In 2017, she appeared on "That Could Have Been Me", a track from Todd Rundgren's album, White Knight.
British pop star Charli XCX has expressed her admiration for Robyn's work, saying "Robyn has definitely been part of paving the way for pop stars who fall a little to the left of the Top 40 norm."
She has been recognized as an important influence by Carly Rae Jepsen, Lorde, Taylor Swift, and Christine and the Queens.
Her discography includes eight studio albums, one compilation album, six extended plays, 50 singles (including 17 as a featured artist), nine promotional singles, and 45 music videos.
Hire Robyn for your party or event!
Robyn may be available for your next special event!
Book Robyn, now!
For other great suggestions for booking music acts, look here.

For more suggestions, proceed to the next page.
Click here --
Rock Music Roster or Electronica Music Roster
Or, click on one of the below links --
Music Menu
Fast Index
Entertainers Directory
Home