How To Book RUBEN STUDDARD For Your Event!
Ruben Studdard may be available for your next special event!



"The Velvet Teddy Bear"
Season 2 (2003), Winner
of "American Idol"
How to Hire RUBEN STUDDARD For Your Event!
Popular requests:
BOOKING FEE (booking price, booking cost).
Ruben Studdard (born September 12, 1978) is an American singer and actor. He rose to fame as the winner of the second season of American Idol and received a Grammy Award nomination in 2003 for Best Male R&B Vocal Performance for his recording of "Superstar".
When auditioning, Studdard sang Stevie Wonder's "Ribbon in the Sky". On American Idol, he impressed viewers with his performances of the Leon Russell/Bonnie Bramlett song "Superstar" and the Peabo Bryson/Regina Belle duet "A Whole New World". During his time on the show, Studdard received praise from music legends such as Lionel Richie, Neil Sedaka, Robin Gibb of the Bee Gees, Luther Vandross, and Gladys Knight.
In 2008, Studdard also collaborated with gospel singer Deitrick Haddon and duo Mary Mary on the hit gospel song "Love Him As I Do".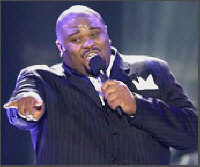 Hire Ruben Studdard for your festival or concert plans.
Unconditional Love is Studdard's sixth studio album and first with his new label, Verve Records. Foster, who has won 16 Grammy Awards, was the executive producer of the disc, which primarily consists of covers of love songs along with two originals, including "Meant to Be". Studdard has called it "the album that everybody expected from me when I won American Idol." The album features collaborations with Stevie Wonder, Lalah Hathaway, and Eric Benet, and includes covers of songs originally performed by artists such as Paul McCartney, Donny Hathaway, Bonnie Raitt, Marvin Gaye, and Peabo Bryson.
Irresistible Southern boy Ruben Studdard proved he's got what it takes to win the hearts of millions of Americans when the then-25-year-old Birmingham, Alabama, native edged out Clay Aiken on FOX television's May 21 'American Idol' finale.
As a result, Studdard became a singing sensation taken under the wing of music industry legend Clive Davis. Davis signed Ruben Studdard to a recording contract on J Records through Simon Fuller's 19 Recordings Limited.
The J Records roster is home to platinum superstars Annie Lennox, Alicia Keys, Rod Stewart, Luther Vandross, Busta Rhymes, Tyrese and Monica, among others. The RCA Music Group, which includes both J Records and RCA, is a BMG-owned label group run by Davis. The RCA roster is home to superstar artists Christina Aguilera, Foo Fighters, Dave Matthews Band, The Strokes, David Gray, Heather Headley, Kelly Clarkson, and more.
Hire Ruben Studdard for your special event or occasion.
If the success of inaugural "American Idol" champion Kelly Clarkson is any indication, Studdard's biggest accomplishments are yet to come. Clarkson's RCA Record's debut, "Thankful," stormed into The Billboard 200 at No. 1, selling 300,000 copies in its first week and became one of the year's best-selling release by a debut artist.
As a child, Ruben Studdard sang at his parents' Baptist church, but it wasn't until college that he became serious about music. Abandoning a promising career in football which would lead to an athletic scholarship at Alabama A&M University, he decided to switch his major and study voice at the school, graduating with a degree in 2000. He started his professional career as a singer for Just a Few Cats, a Birmingham-based jazz and soul band. During 2002, Ruben joined one of the group's backup singers at an audition for the second "American Idol," making the first round of cuts at his local audition, then winning himself a slot on the national television program.
Ruben Studdard made a big impression from the start. Where most of his competitors were pop star wannabes hungry to win the competition, Ruben was quiet and exceedingly laid-back, impressing audiences and judges alike with his large voice and easy confidence. He soon climbed to the top of the pack and stayed there throughout the show, only once being voted into an elimination round. By that point, "American Idol 2003" had turned into a race between Ruben Studdard and Clay Aiken, a skinny, geeky kid from the South whose appearance and taste were nearly the polar opposite of Ruben's.
The premiere of "American Idol" Season 2 was FOX's fourth-highest rated season or series premiere ever among adults 18-49. The series averaged 21 million viewers per episode, easily outdistancing its nearest competitors in the teen market and dominating its time slot across all key demos.
Hit songs include --
Flying Without Wings
Sorry 2004
I Need An Angel
Make Ya Feel Beautiful
What If
Change Me
Don't Make 'Em Like U No More
Superstar
Together
Don't Make 'Em Like U No More
June 28th (I'm Single)
Love, Love, Love
Hire Ruben Studdard for your party or event!
Ruben Studdard may be available for your next special event!
Book Ruben Studdard, now!
For other great suggestions for booking music acts, look here.

Genre: R&B
Styles:
.Adult Contemporary. / AdultContemporary
.Pop Idol. / PopIdol
.Dance-Pop. / DancePop
.Teen Pop. / TeenPop
.Adult Contemporary R&B. / AdultContemporaryR&B
.Urban Contemporary Gospel. / UrbanContemporaryGospel
.Soul. / xSoul


Years active:
x00s, x10s, x20s
2002-present

Born: ..in West Germany
Born: ..in Frankfurt am Main
Born: Jul 14, 1978

Raised: ..in Alabama / born nAlabama
Raised: ..in Birmingham / born BirminghamAL

Based: ..in US
Based: ..in Alabama / based nAlabama