How To Book RYAN ADAMS For Your Event!
Ryan Adams may be available for your next special event!



Hits include: "Let It Ride", "Magick",
"New York, New York", "Lucky Now",
"Adonde Se Fue", "Chains Of Love",
"Do I Wait", "Everybody Knows", "Style",
"Gimme Something Good", "Wonderwall",
"Tired Of Giving Up", "Jacksonville",
"No Shadow", "To Be Without You",
"Shake It Off", "Welcome To New York",
"Out Of The Woods", "Wildest Dreams",
"Bad Blood", "Fix It", "Blank Space",
"Do You Still Love Me?", "Stay With Me",
"Baby I Love You", "Fuck the Rain".
How to Hire RYAN ADAMS For Your Event!
Popular requests:
BOOKING FEE (booking price, booking cost).
David Ryan Adams is an American singer-songwriter, record producer, artist and poet.
In addition to his own material, Ryan Adams has also produced albums for Willie Nelson, Jesse Malin, Jenny Lewis, and Fall Out Boy, and has collaborated with Counting Crows, Weezer, Norah Jones, America, Minnie Driver, Cowboy Junkies, Leona Naess, Toots and the Maytals, Beth Orton and Krista Polvere.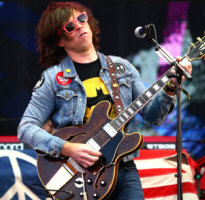 Hire Ryan Adams for your festival or concert plans!
Ryan Adams is recognized for his highly prolific songwriting and a singing style that resembles that of a country rocker, even though he played punk rock in the early part of his career. Adams has frequently experimented with different genres, although for the major part of his career his musical style has been alternative rock. He is also one of the few artists to emerge from the alt-country scene into mainstream commercial success.

Hire Ryan Adams for your special event!
Adams was featured on the album True Love by Toots and the Maytals, which won the Grammy Award in 2004 for Best Reggae Album, and showcased many notable musicians including Willie Nelson, Eric Clapton, Trey Anastasio, Gwen Stefani / No Doubt, Ben Harper, Bonnie Raitt, Manu Chao, The Roots, Ken Boothe, and The Skatalites.
On August 5, 2015, Adams announced via Instagram that he was going to cover and release his version of Taylor Swift's 2014 album, 1989. He released multiple clips via Twitter and Instagram showcasing his takes on Swift's songs. Adams' 1989 was released on September 21, 2015. It debuted at No. 7 on the US Billboard 200 chart, one position ahead of Swift's 1989, which was in its 48th week on the chart.
His musical style and dynamism have been praised by various artists, such as Frank Turner, Elton John, Willie Nelson, Taylor Swift, Norah Jones, Wesley Schultz, Jared Followill and Noel Gallagher.
His discography includes 20 albums, as well as three studio albums as a former member of rock/alt-country band, Whiskeytown.
Hire Ryan Adams for your party or event!
Ryan Adams may be available for your next special event!
Book Ryan Adams, now!
For other great suggestions for booking music acts, look here.

For more suggestions, proceed to the next page.
Click here --
Country Music Roster or Alternative Music Roster
Or, click on one of the below links --
Music Menu
Fast Index
Entertainers Directory

Home