Visit new page >>> SANTANA
How To Book SANTANA For Your Event!
Santana may be available for your next special event!



Rock and Roll Hall of Fame
-- inducted 1998
How to Hire SANTANA For Your Event!
Popular requests:
BOOKING FEE (booking price, booking cost)
.
GRAMMY AWARD and LATIN GRAMMY AWARD winning Carlos Santana is an American guitarist who rose to fame in the late 1960s and early 1970s with his band Santana, which pioneered a fusion of rock 'n' roll and Latin American jazz.
Its sound featured his melodic, blues-based lines set against Latin American and African rhythms played on percussion instruments not generally heard in rock, such as timbales and congas. He experienced a resurgence of popularity and critical acclaim in the late 1990s. In 2015, ROLLING STONE magazine listed him at No. 20 on their list of the 100 greatest guitarists. He has won 10 Grammy Awards and three Latin Grammy Awards, and was inducted along with his namesake band into the Rock and Roll Hall of Fame in 1998.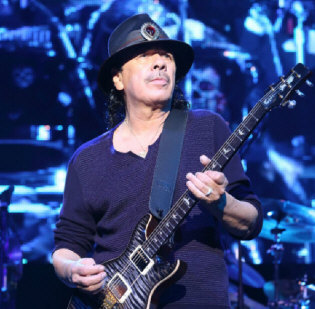 Hire Santana for your festival or concert plans!
The origins of SANTANA lie in a chance meeting in San Francisco between Carlos Santana and keyboardist Gregg Rolie in 1966. Towards the end of that year the two musicians formed the Santana Blues Band together with Tim Frazer on guitar, Gus Rodrigues on bass, Rod Harper on drums and Michael Carabello on congas. Carabello provided the third element in what was, in barely three years, to become the band Santana.
The Santana Blues Band began to attract a following to their version of Chicago blues from the very beginning. As the band developed, the percussive conga also became more evident as did the Latin influence of Carlos Santana who had been born in Mexico and had absorbed a multitude of salsa and jazz influences along the way.
Hire Santana for your very special event or occasion.
However, the personnel began to change quickly as the band was developing. By the middle of 1967, the group version was back to the nucleus of Carlos Santana and Gregg Rolie with Bob Livingstone on drums, Marcus Malone on percussion and David Brown on bass -- the latter of whom was to become the fourth element in SANTANA.
During 1968, the band was spotted by Bill Graham who was promoting the Fillmore West where the band initially played as the opening act. Such was the reaction that their reputation began to grow apace with Bill Graham eventually becoming their co-manager. In parallel with the success of the band came the recognition of Carlos Santana as a virtuoso guitarist, the result of which was an invitation for him to play on the first super-session album released as "The Live Adventures of Mike Bloomfield and Al Kooper."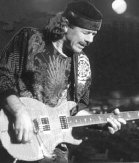 Hire Santana.
As 1969 progressed, the Santana Blues Band developed into a mark three version with Carlos Santana and Gregg Rolie augmented by Michael Shrieve on drums, the returning Michael Carabello on congas, Chepito Areas as trombalist-percussionist, Alberto Gianquinto on guitar and Rico Reyes on vocals. Both Alberto Guianquinto and Rico Reyes were to feature later in the SANTANA story with the former being credited with the arrangements on the first album "Santana" and as the pianist on "Incident At Neshabur," which was included on their second recording, which was the acclaimed "Abraxas" album.
1969 was, of course, the year of the breakthrough by SANTANA following their appearance at the Woodstock Festival in New York State, where they received a standing ovation for "Soul Sacrifice" and which became the earliest composition to closely identified with the band.
History does not relate exactly when the SANTANA BLUES BAND became SANTANA. Highly relevant to this is the fact that the band was to make the first studio recording of "Soul Sacrifice" along with eleven other compositions, following their appearance at Woodstock. The band went into Pacific Recording Studios in San Mateo, California and laid down a piece of recording history as well as providing the impetus for an extraordinary recording career. For these studio recordings the band was Carlos Santana on guitar, Gregg Rolie on keyboards and vocals, Michael Shrieve on drums, Chepito Areas on percussion, Michael Carabello on congas and David Brown on bass and can justifiably be called the first line-up of SANTANA.
These recordings, which also included the original versions of "Persuasion" and "Jingo" and could easily be judged to be finished masters, became the auditions tapes from which CBS was to sign the band and launch them on their way to international success. At this point we might say the rest is history. Also, available from this seminal time are four fascinating tracks recorded at an audition that resulted in Neil Schon joining the band on guitar, a position that he held until 1972 when he and Rolie formed Journey.
The session involved Gregg Rolie on keyboards and vocals, David Brown on bass and Michael Shrieve on drums and perhaps most vividly illustrates the move from the blues band period to the highly distinctive Latin sound of SANTANA. While two of the tracks consist of little more that a jam session as the musicians got to know each other, both "Travellin' Blues" and "With A Little Help From My Friends" hark back to the roots of the SANTANA BLUES BAND. This double compact disc places all of the original SANTANA recordings into context for the first time.
Hits include:
Into The Night
Maria, Maria
Smooth
Why Don't You And I
The Game of Love
Winning
Black Magic Woman
I'm Feeling You
Put Your Lights On
Everybody's Everything
Just Feel Better
Nowhere To Run
Oye Como Ya
Hold On
Say It Again
Hoy Es Adios
Veracruz
Corazon Espinado
Primavera
Searchin'
Hire SANTANA for your party or event!
SANTANA may be available for your next special event!
Book SANTANA, now!
For other great suggestions for booking music acts, look here.
Listen to music:
YouTube Music | Spotify

Genre: Rock 1
Genre: Latin
Styles:
.Classic Rock. / ClassicRock
.Latin Rock. / LatinRock
.Album Rock. / AlbumRock
.Pop/Rock. / PopRock
.Contemporary Pop/Rock. / ContemporaryPopRock
Psychedelic Rock / PsychedelicRock
.Fusion. / xFusion
.Hard Rock. / HardRock
.Blues-Rock. / BluesRock
.Jazz-Rock. / JazzRock
.Chicano Rock. / ChicanoRock
.Free Jazz. / FreeJazz
.Guitar Virtuoso / GuitarVirtuoso


Years active:
x60s, x70s, x80s, x90s, x00s, x10s, x20s
1965-present

Carlos Santana --
Born: ..in Mexico
Born: ..in Jalisco
Born: ..in Autlan de Navarro
Born: Jul 20, 1947

Band --
Formed: ..in California / formed nCalifornia
Formed: ..San Francisco / formed SanFranciscoCA
Formed: in 1966

Based: ..in US