How To Book SAWYER BROWN For Your Event!
Sawyer Brown may be available for your next special event!



Hits include: "Some Girls Do",
"Step That Step", "Thank God for You",
"This Missin' You Heart of Mine",
"This Time", "All These Years",
"Treat Her Right", "Used to Blue",
"I Don't Believe in Goodbye",
"The Boys and Me", "Betty's Bein' Bad",
"Cafe on the Corner", "800 Pound Jesus",
"They Don't Understand", "The Dirt Road",
"Can You Hear Me Now", "Hard to Say",
"Lookin For Love", "Perfect World",
"Drive Me Wild", "I'm In Love With Her",
"Six Days On The Road", "The Walk".
As of this writing, country pop band, Sawyer Brown has released 3 Gold albums and have had multiple hits, including "Some Girls Do" and "The Race is On."
Taking their name from the Nashville street where they once rehearsed, Sawyer Brown made their national TV debut on the show Star Search in 1984. After winning $100,000, the band landed a record deal with Curb Records and charted its first single, "Leona," the same year. Formed in 1981 as an outgrowth of singer Don King's band, Sawyer Brown's Midas touch has turned more than 20 songs into Top 10 hits and millions of albums sold.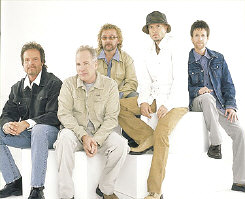 They were the TNN Awards golden boys for six years running as Vocal Band of the Year, earned ACM honors as Top Vocal Group, and garnered a CMA Horizon Award right out of the gate in 1985.
They've been called The Rolling Stones of country music, and really, that's no exaggeration. Sawyer Brown has set the pace and continues to go the distance with fresh, fun and relevant songs that challenge themselves as musicians while creating personal experiences for their listeners. And their live shows are legendary for the excitement, energy and emotion they generate. Herein lies the secret of the band's youthful longevity.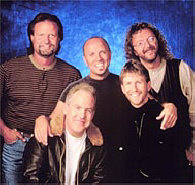 While Sawyer Brown is a country music powerhouse, it is the "real people" that comprise the band, and each bring an individual, albeit thoroughly complementary perspective to the creative process.

In addition to breeding cattle, Mark Miller, who subsists on a steady diet of basketball, coaches hoops for his daughter's, son's and a high school varsity team. Gregg Hubbard is a liberal arts graduate of Nashville's Belmont University with a whopping 4.0 grade point average. Joe Smyth, a Maine native, is a Civil War historian who has made significant contributions as a preservationist. Duncan Cameron, who is as competent in the cockpit as he is agile with the six-string, is a former commercial airline pilot and now flies and works on his own plane. As for Jim Scholten, in addition to playing chauffeur to his two teenagers, his inquisitive nature draws him to literature, films and people and, according to Hubbard, "You can drop Jim into a room full of strangers and he will find things to talk about with everybody and walk away happy."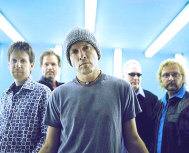 Hubbard points out, "The fact that not everybody is comin' from the same place just keeps everything fresh. But the one thing we invariably have in common is our belief in what it is that we're doin'; that we just will not give up on this. As long as we feel that there's music there to make, we are willing to work as hard as it takes to keep that going. That is one thing that has never changed."
"We've seen other acts that have come and gone over the course of time that we've been blessed to still be doin' this, and sometimes you could look from the outside and see that their focus was on the hoopla end of the music business, which is the thing that, to this day, matters nothing to us whatsoever. It's not about going to the right parties; it's about the joy of the work. Being able to do this is, in and of itself, its own reward. And that's a common bond for us."
Awards include --
TNN/Music City News - Vocal Band of the Year - 1997
Academy of Country Music - Top Vocal Group - 1996
Hire Sawyer Brown for your party or event!
Sawyer Brown may be available for your next special event!
Book Sawyer Brown, now!
For other great suggestions for booking music acts,
look here.
Watch videos
YouTube

Genre: Country
Styles:
.Contemporary Country. / ContemporaryCountry
.Country-Pop. / CountryPop


Years active:
x80s, x90s, x00s, x10s, x20s
1981-present

Formed: ..in Tennessee / formed nTennessee
Formed: ..in Nashville / formed NashvilleTN
Formed: in 1981

Based: ..in US