How To Book SEBASTIAN YATRA For Your Event!
Sebastian Yatra may be available for your next special event!




Hits include: "El Psicólogo",
"Cómo Mirarte", "Traicionera",
"Alguien Robó", "No Vacancy",
"Devuélveme el Corazón",
"Suena El Dembow", "Delincuente",
"Sutra", "No Hay Nadie Más",
"A Partir De Hoy", "Por Perro",
"Love", "Yo Te Vine a Amar",
"My Only One (No Hay Nadie Más)",
"Locura", "Ya No Tiene Novio",
"Contigo Siempre", "Vuelve",
"Atado Entre Tus Manos",
"Un Año", "Déjate Querer",
"Christina", "Date La Vuelta",
"En Cero", "Runaway", "Bonita",
"Mañana No Hay Clase (24/7)",
"No Ha Parado de Llover",
"Boomshakalaka", "TBT",
"Falta Amor", "Quiero Volver",
"Bajo la mesa", "No Bailes Sola",
"A Donde Van", "Corazón Sin Vida",
"Chica Ideal", "Adiós",
"Pareja del Año", "Robarte un Beso",
"3 de la Mañana", "Oye",
"Tacones Rojos", "Amor Pasajero",
"Melancólicos Anónimos".
Sebastián Aguado Delano, known professionally as Sebastián Yatra, is a Colombian singer and songwriter.
He began as a Latin pop artist and has recorded many ballads, but has released several successful reggaeton singles. Yatra is noted for his romantic lyrics, melding traditional lyricism with modern reggaeton influences. He rose to prominence in Latin America in 2016 when he released the hit "Traicionera". He has released three studio albums and recorded with artists from a diverse range of musical genres throughout his career.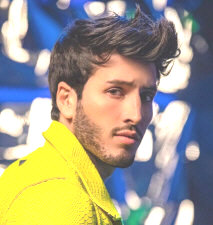 Hire Sebastián Yatra for your festival or concert plans!
Born in Medellín and raised primarily in Miami, Sebastián Yatra began singing at a young age and returned to Colombia to begin his musical career. He achieved breakout success with "Traicionera" followed by "Robarte un Beso" featuring Carlos Vives. "Traicionera" served as the lead single for his 2018 debut album, Mantra, which also featured the single "Sutra", featuring Puerto Rican rapper Dalmata. He then released the album Fantasía, including the lead single "Un Año" featuring Mexican band Reik. He received continued success collaborating with Daddy Yankee, Natti Natasha, and the Jonas Brothers on the bilingual single "Runaway".

Yatra's music has been classified as Latin pop, reggaeton, and ballads. He is influenced by Latin pop and reggaeton artists Ricky Martin, J Balvin, Juanes, and Reik.


Hire Sebastián Yatra for your party or event!
Sebastián Yatra may be available for your next special event!
Book Sebastián Yatra, now!
For other great suggestions for booking music acts, look here.

For more suggestions, proceed to the next page.
Click here --
Latin Music Roster
Or, click on one of the below links --
Music Menu
Fast Index
Entertainers Directory
Home