How To Book SEETHER For Your Event!
Seether may be available for your next special event!



Hits include: "Country Song",
"Remedy", "Broken", "Fine Again",
"Rise Above This", "Here And Now",
"Gasoline", "Truth", "The Gift",
"Driven Under", "No Resolution",
"Careless Whisper", "Fake It",
"Breakdown", "Words As Weapons",
"Nobody Praying For Me",
"Tonight", "Same Damn Life",
"Save Today", "Let You Down",
"Betray and Degrade", "Dangerous",
"Against the Wall", "Wasteland",
"Bruised and Bloodied".
Seether are a South African heavy metal band founded in 1999 in Pretoria, Gauteng, South Africa.
The band originally performed under the name "Saron Gas" until 2002, when they moved to the United States and changed it to Seether to avoid confusion with the deadly chemical known as sarin gas. Lead vocalist and guitarist Shaun Morgan is the band's longest serving member, bassist Dale Stewart joined shortly after formation while drummer John Humphrey joined them for the band's second album. Since 2018, the band has been employing second guitarist Corey Lowery. Several notable guitarists like Corey's brother Clint and Troy McLawhorn have toured or recorded with the band. However, Shaun has recorded most guitar parts for the band's records.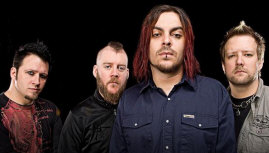 Seether gained mainstream popularity in 2002 with their US Active Rock number one single "Fine Again". Their success was sustained in 2004 with the single "Broken", which peaked at number 20 on the Billboard Hot 100. They have experienced continued success with many number one hits on the Hot Mainstream Rock Tracks chart, such as "Remedy", "Fake It", "Country Song", "Tonight", "Words as Weapons", "Let You Down" and "Dangerous", "Bruised and Bloodied", and "Wasteland". The band has released eight studio albums.

Seether's musical style has been described as post-grunge, alternative metal, hard rock, and nu metal. The band is heavily influenced by American grunge groups such as Nirvana and Alice in Chains. AllMusic's Stephen Thomas Erlewine wrote "Seether's lead singer/songwriter, Shaun Morgan, is an unabashed, unapologetic worshiper of Kurt Cobain, using Nirvana's sound as a template for Seether."
Seether have also been influenced by Deftones and Nine Inch Nails.
Hire Seether for your party or event!
Seether may be available for your next special event!
Book Seether, now!
For other great suggestions for booking music acts,
look here.

For more suggestions, proceed to the next page.
Click here --
Metal Music Roster or Alternative Music Roster
Or, click on one of the below links --
Music Menu
Fast Index
Entertainers Directory
Home