How To Book Entertainment For Your Event
The Sensation Showband may be available for your next special event!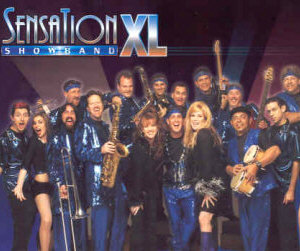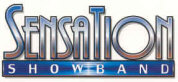 "The Best Dance Music of All Time"
A favorite with Fortune 500 companies and elite private Galas
from Los Angeles to St. Thomas.
(This group is available as a 10 piece or 17 piece configuration.)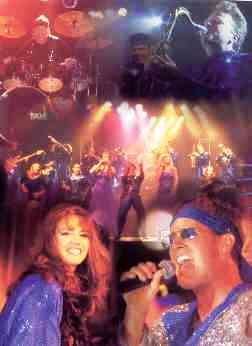 This is for events that require high class style and top-quality talent from the entertainment.
From high-end corporate events to private celebrations, The Sensation Showband has established a reputation for delivering high impact entertainment with an emphasis on interaction, production value and fun. With more than 1000 events experience, their talented and polished team sets the tone for your successful worry-free event. Everyone will appreciate the finesse, the look and the ability to sustain the excitement when it really counts.
A deep repertoire featuring "The Best Dance Music of All Time" along with incredible vocalists and instrumentalists guarantee that each show is a success!
Whether you desire a tasteful ambience through cocktail hour, the amazing show band, or the full-blown dance production, The Sensation Showband will make your event a celebration to remember!
The Sensation Showband delivers a fantastic show creating an enjoyable and memorable experience for all! From private celebrations to large corporate functions, The Sensation Band has the ability to tailor the group for your special needs. From costuming and special music requests to activities and contests, their flexibility and experience levitate many themed events.
This group is ideal for --
What Others Say --
Steve Gelhardt - Tropicana Las Vegas
"The CEO and VP's were floored!"


Matt Kunitz, Executive Producer, Fear Factor, NBC
"I truly appreciate your expertise. You brought the party to a fevered pitch! You guys are World Class!"


Rick Schuiteman, Anheuser-Busch
"Over 150 shows for us so far. Doesn't that say it all?"


Nicole Levin - Qualcomm
"You made our 5000 person event feel small and intimate. The connection you create between everyone is pure magic! We'll definitely see you next year."


Chuck Zettle - Lucent Events
"Our president's club meeting in St. Thomas was our very best. Thank You for everything. You are a true Sensation!!"


Cindi Schulz - Pfizer Pharmaceuticals
"You guys love what you do and it shows! We'll see you again next year!"


Cybele Thompson - U.S. Property Fund
"Seven years in a row! Why would we ever hire another group!! You really are the very best!"
PARTIAL SONG LIST INCLUDES --

BALLADS

At Last

Etta James
As Time Goes By
Herman Hupfeld
Can You Feel The Love
Elton John
Careless Whisper
Wham
Crazy
Patsy Cline
Crazy Love
Van Morrison
Cruisin'
Smokey Robinson
Endless Love
Commodores
Have I Told You Lately
Van Morrison
How Deep Is Your Love
Bee Gees
I Honestly Love You
Olivia Newton-John
Just the Way You Are
Billy Joel
Let's Get It On
Marvin Gaye
Let's Stay Together
Al Green
The Way You Look Tonight
Frank Sinatra
Unforgettable
Nat King Cole
What's Goin' On
Marvin Gaye
When I Fall In Love
Celine Dion
You Send Me
Sam Cooke
INSTRUMENTAL JAZZ
All Blues
Miles Davis
All The Things You Are
Jerome Kern
Blue Bossa
Kenny Dorham
Coming Home
David Sanborn
Dindi
Jobim
Europa
Gato Barbieri
Feels So Good
Chuck Mangione
Girl From Ipanema
Jobim
Groovin'
Rascals
Harlem Nocturne
Earle Hagen
I Love the Nightlife
Alicia Bridges
Jammin'
Bob Marley
Love's Theme
Love Unltd Orchestra
Maputo
David Sanborn
Mercy Mercy
Cannonball Adderley
Minute by Minute
Doobie Brothers
Moondance
Van Morrison
Morning
Al Jarreau
On And On
Stephen Bishop
One Heartbeat at a Time
Smokey Robinson
One Note Samba
Jobim
Overjoyed
Stevie Wonder
Sailing
Christopher Cross
Spooky
Classics Four
Sunshine of My Life
Stevie Wonder
This Masquerade
Leon Russell
Watermelon Man
Herbie Hancock
When A Man Loves A Woman
Percy Sledge
Wonderful World
Louis Armstrong
SWING
Ain't Misbehavin'
Fats Waller
Beautiful Love
Victor Young
Boogie Woogie Bugle Boy
Andrew Sisters
Have You Met Miss Jones
Sinatra
Hit The Road Jack
Ray Charles
In The Mood
Glenn Miller
It Don't Mean A Thing
Duke Ellington
It Had To Be You
Harry Connick Jr.
Jump Jive And Wail
Brian Setzer
Kansas City
various artists
Mack the Knife
various artists
Rock This Town
Brian Setzer
Route 66
Natalie Cole
Satin Doll
Duke Ellington
Straighten Up And Fly Right
Nat King Cole
Stray Cat Strut
Brian Setzer
Take The A Train
Strayhorn
The Sensation Showband may be available for your next special event!

Genre: Party
Styles:
.Motown. / xMotown
.Classic Rock. / ClassicRock
.Disco. / xDisco
.Latin Pop. / LatinPop
.Latin Rock. / LatinRock
.Hip-Hop. / HipHop
.Salsa. / xSalsa
.Show Band. / ShowBand
etc.

Based: ..in US
Based: ..in California / based nCalifornia
Based: ..in San Diego / based SanDiegoCA