Visit new page >>>
SEVENDUST
How To Book SEVENDUST For Your Event!
Sevendust may be available for your next special event!



Hits include: "Unraveling",
"Prodigal Son", "The Past", "Ugly",
"Beg To Differ", "Waffle", "Driven",
"Failure", "Decay", "Broken Down",
"Live Again", "Xmas Day",
"Praise", "Denial", "Bitch",
"Enemy", "Too Close To Hate",
"Face to Face", "Last Breath",
"Beg to Differ", "Forever",
"Black" (acoustic), "Death Dance",
"Thank You", "Picture Perfect",
"Dirty", "Unforgiven", "Risen",
"The Day I Tried to Live",
"Dying to Live", "Everything".

How to Hire SEVENDUST For Your Event!
Popular requests:
BOOKING FEE (booking price, booking cost).
Sevendust is an American rock band from Atlanta, Georgia, formed in 1994.
In 1998, Sevendust performed at Dynamo Open Air (May 29–31) and Ozzfest 1998 (July through August). In the same year, they released a compilation, called Live and Loud, which featured live footage of the band's performance of September 16, 1998, at Chicago's Metro.
They appeared in Woodstock 1999 and have toured with many bands such as KoRn, Staind, Nonpoint, Reveille, Godsmack, Mudvayne, Mushroomhead, Powerman 5000, Creed, Kid Rock, Machine Head, Limp Bizkit, Disturbed, and Metallica. They opened with Kid Rock and Ted Nugent for Metallica on New Year's Eve in 1999 at the Pontiac Silverdome near Detroit, Michigan. They joined Slipknot, Coal Chamber and other bands on the Tattoo the Earth Tour in June 2000.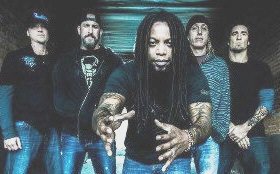 Hire Sevendust for your festival or concert plans!
In April 2008, they released their 7th studio album, Chapter VII: Hope & Sorrow. The album debuted at No. 19 on the Billboard 200 and has appearances from Daughtry frontman Chris Daughtry, Alter Bridge members Myles Kennedy and Mark Tremonti. The first single from Chapter VII was "Prodigal Son", which peaked at No. 19 on the mainstream rock chart.
In December 2008, Sevendust toured with Black Stone Cherry for a while and then, in January 2009, Sevendust geared up to hit the road with Disturbed.
The band headlined the End of Summer Scorcher held & sponsored by 98KUPD in Phoenix, Arizona, on September 26, 2009. Along with Sevendust, other notable acts such as Corey Taylor, Five Finger Death Punch, Shadows Fall & Otep performed as well.
Sevendust toured with Chevelle, Shinedown, Puddle of Mudd, and 10 Years on the Carnival of Madness during the summer of 2010.
In November 2010, it was announced that Sevendust would play alongside Disturbed, KoRn and In This Moment in the "Music As A Weapon 5" tour. In February and March 2011, Sevendust toured in Australia with Iron Maiden, Slayer, Ill Niño and Stone Sour for the Soundwave Festival.
In August 2023, the band supported Alter Bridge on a summer leg of the "Pawns & Kings" tour with Mammoth WVH and MJT. Sevendust announced a US co-headline tour with Static-X and Dope in fall 2023 tour, titled "Machine Killer".
Sevendust has played genres like heavy metal, alternative metal, nu metal, hard rock, industrial metal, and post-grunge.
Sevendust's influences include Metallica, Anthrax, Testament, Ozzy Osbourne, Pantera, Van Halen, Steve Vai, Iron Maiden, Ronnie James Dio, Nine Inch Nails, and Suicidal Tendencies.
Sevendust's discography includes 14 studio albums, one live album, two compilation albums, 36 singles, five promotional singles and 25 music videos.
Hire Sevendust for your party or event!
Sevendust may be available for your next special event!
Book Sevendust, now!
For other great suggestions for booking music acts, look here.
Watch videos:
YouTube | Vimeo

Listen to music:
YouTube Music | Spotify

For more suggestions, proceed to the next page.
Click here --
Metal Music Roster or Alternative Music Roster
Or, click on one of the below links --
Music Menu
Fast Index
Entertainers Directory
Home