Richard De La Font Agency, Inc.
Legendary 5-Star Service and Reputation
Providing Excellence in Entertainment Since 1970

Booking Shakira - book pop/rock artists
Book Latin pop music artists - book Shakira
Adult Contemporary, Latin Pop, Urbano, Dance-Pop,
Club/Dance, Latin Dance-Pop

Booking Information
About This Company
Rock Music Roster | Latin Music Roster
Music Menu
Fast Index | Home | Search
Printable Page
---
Visit new page >>>
SHAKIRA
How To Book SHAKIRA For Your Event!
Shakira may be available for your next special event!



GRAMMY and LATIN GRAMMY AWARD winning Shakira Isabel Mebarak Ripoll (shah-KEER-ah, born 2 February 1977) is a Colombian singer and songwriter. Born and raised in Barranquilla, she has been referred to as the "Queen of Latin Music" and is noted for her musical versatility.
As a child, Shakira was influenced by rock music, listening heavily to rock bands like Led Zeppelin, the Beatles, Nirvana, the Police and U2, while her other influences included Gloria Estefan, Madonna, Sheryl Crow, Alanis Morissette, Marc Anthony, Meredith Brooks and the Cure. She made her recording debut with Sony Music Colombia at the age of 13.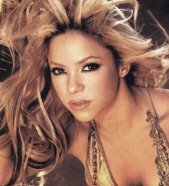 Hire Shakira for your festival or concert plans!
She's a child prodigy who wrote her first song at age eight, a blond-locked Colombian who speaks three languages and loves only in Spanish. She's a perfectionist who spends hours in the studio.
She has received numerous awards, including three Grammy Awards, twelve Latin Grammy Awards, four MTV Video Music Awards, seven Billboard Music Awards, thirty-nine Billboard Latin Music Awards, six Guinness World Records and a star on the Hollywood Walk of Fame. She was named the Top Female Latin Artist of the Decade by Billboard twice (2000s and 2010s).
In 2002, Shakira released the greatest hits volume "Grandes éxitos."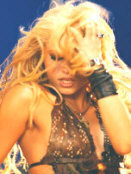 Hire Shakira for your very special event or occasion!
In 2002, at Aerosmith's MTV Icon in April 2002, Shakira performed "Dude (Looks Like a Lady)". She also joined Cher, Whitney Houston, Celine Dion, Mary J. Blige, Anastacia, and the Dixie Chicks for VH1 Divas Live Las Vegas.
On March 30, 2004, "Shakira: Live & Off the Record," a DVD and a 10-song CD from her 2002-03 world tour (the "Tour of the Mongoose"), was released.
In February 2007, Shakira performed for the first time at the 49th Grammy Awards and earned the nomination for Best Pop Collaboration with Vocals for "Hips Don't Lie" with Wyclef Jean.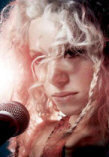 Hire Shakira.
In 2010, Shakira collaborated with rapper Pitbull for the song "Get It Started", which was slated to be the lead single from Pitbull's 2012 album, Global Warming.
On 17 September 2012, it was announced that Shakira and Usher would replace Christina Aguilera and CeeLo Green as coaches, for the fourth season of the U.S. TV show, The Voice, alongside Adam Levine and Blake Shelton in March 2013.
In February 2020, she and Jennifer Lopez performed for the Super Bowl LIV halftime show. According to Billboard, the halftime show had a viewership of 103 million people.
On April 21, 2021, she released the song "Te Felicito" with singer Rauw Alejandro, as the lead single from her upcoming twelfth studio album.
Many artists have cited Shakira as an influence, including Beyoncé, Rihanna, Taylor Swift, Selena Gomez, Katy Perry, Will.i.am, Kylie Jenner, Lauren Jauregui, Christina Aguilera, Justin Bieber, Fergie, Maluma, Karol G, Camilo, Nicky Jam, Brie Larson, María Becerra, Dulce María, Anuel AA, Tini Stoessel, Ozuna, Natti Natasha, Rosalía, Carla Morrison, Ibeyi, Flo Milli, Manuel Turizo, Elena Rose, and Francisca Valenzuela.
Other artists who have cited Shakira as an influence, include Paloma Mami, Natalia Lafourcade, Kali Uchis, Ed Sheeran, Farina, J Balvin, Lele Pons, Andres Cuervo, Li Yuchun, Prince Royce, Romeo Santos, Greeicy Rendon, Wendy Sulca, Anitta, Nathy Peluso, Britney Spears, Cardi B, Rita Ora, Vaness Wu, Gale, Sofia Reyes, Camila Cabello, Sebastian Yatra, Paty Cantú, Simone & Simaria, Becky G, Sasha Keable, Lola Indigo, Nora Fatehi, Kris Kross Ámsterdam, Jackson Wang and Ayra Starr.
Shakira is considered by many to be a great talent. As Gabriel García Márquez once wrote of her, "Shakira's music has a personal stamp that doesn't look like anyone else's and no one can sing or dance like her, at whatever age, with such an innocent sensuality, one that seems to be of her own invention."
With a catalog of 145 songs, Shakira has sold more than 85 million records, making her one of the best-selling music artists of all time. Forbes Colombia reported that as of 2018, she is the top-selling female Latin artist of all time.
Her discography includes 11 studio albums, five live albums, two compilation albums, 68 singles (including 13 as a featured artist and 5 promotional singles) and 62 music videos.
Hits include:
Ciega, Sordomuda
Estoy Aquí
Hips Don't Lie
Illegal
Que Me Quedes Tú
Se Quiere...Se Mata
Suerte (Whenever, Wherever)
Tu
La Tortura
Estoy Aquí
Inevitable
No Creo
No
Antologia
Donde Estas Corazon
Underneath Your Clothes
Dia De Enero
Te Aviso, Te Anuncio (Tango)
Ojos Así
Moscas en la Casa
Te Dejo Madrid
Que Me Quedes Tú
The One
Don't Bother
Las de la Intuición
Beautiful Liar
She Wolf
Did It Again
Gypsy
Waka Waka (This Time for Africa)
Loca
Sale el Sol
Rabiosa
Antes de las Seis
Addicted to You
Can't Remember to Forget You
Empire
Try Everything
La Bicicleta
Me Gusta
Girl Like Me
Te Felicito
Don't You Worry
Monotonia
Hire Shakira for your party or event!
Shakira may be available for your next special event!
Book Shakira, now!
For other great suggestions for booking music acts, look here.

Genre: Latin
Genre: Rock 1
Styles:
.Adult Contemporary. / AdultContemporary
.Latin Pop. / LatinPop
.Dance-Pop. / DancePop
.Urbano. / xUrbano
.Club/Dance. / ClubDance
.Latin Dance-Pop. / LatinDancePop


Years active:
x90s, x00s, x10s, x20s
1990-present

Born: ..in Colombia
Born: ..in Barranquilla
Born: Feb 2, 1977
---
Concert Schedule – by Ticketmaster
Concert Schedule – by Live Nation
---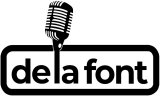 Booking Information
Music Menu
Fast Index | Home | Search
Frequently Asked Questions About How To Hire SHAKIRA for a private party or special event.
HOW TO BOOK SHAKIRA?
(i.e., how to hire SHAKIRA for an event)
You are currently on the official site of De La Font Agency. For more than 50 years, we have successfully helped official talent buyers around the world secure quality talent.
We welcome the opportunity to be of service to you. Let's do this the right way! Let's save you time and frustration!
Simply click on the "Let's Get Started!" link found on this page. Then, send us your request for booking information.
Include information about your plans for your event and how taking steps to hire SHAKIRA (or someone similar) might be of special interest.
If you decide you want to look at other names, simply include your talent-fee budget range and indicate that you want to see who else you might be able to afford with such a budget. We can send you a list of names that are affordable and in the style of music you prefer. We hope to save you time and frustration!
HOW MUCH DOES IT COST TO BOOK/HIRE SHAKIRA?
(i.e., what is the booking fee to hire SHAKIRA for an event?)
(i.e., what is SHAKIRA booking fee to perform at an event?)
Official booking fees for SHAKIRA, or any other celebrity, are determined based on a number of factors and may change at anytime without prior notice.

Factors influencing pricing vary and may include date, location, type of event, whether a private party or a public concert, the artist's calendar, whether the artist is on tour or not, how well tickets are selling at the artist's concerts, the current demand for the artist's music, market activity, etc.

As you might expect, the more in-demand the artist is, the more buyers are prepared to pay. Of course, this causes the artist's price to increase as the artist becomes more popular or decrease when becoming less popular.

Exclusive agents with exclusive representation frequently quote a range instead of a specific price, since changes can occur at anytime. Generally, the artist's manager has a role in the decision to accept any particular offer from a talent buyer.

To learn the most current artist's pricing, or the estimated artist's fee for your particular event, simply click on the "Let's Get Started!" link found on this page. Then, send us your request for booking information.
IS SHAKIRA AVAILABLE TO WORK MY EVENT?
(i.e., what is SHAKIRA's availability?)
To learn the artist's current availability for your special event, simply click on the "Let's Get Started!" link found on this page. Then, send us your request for booking information.

Once we have your event/party information, we will be better able to assist you with putting your entertainment talent booking plans in place as your entertainment consultant. Let's get this done right! We look forward to working with you!

This is the month of October update of this page. Shakira booking agent available. Shakira cost, Shakira booking fee and Shakira booking price are available.
---