How To Book SHANIA TWAIN For Your Event!
Shania Twain may be available for your next special event!



How to Hire SHANIA TWAIN For Your Event!
Popular requests:
BOOKING FEE (booking price, booking cost)
.
GRAMMY AWARD winning Shania Twain, née Edwards, is a Canadian singer and songwriter.
She has sold more than 100 million records, making her the best-selling female artist in country music history and one of the best-selling music artists of all time. Her success garnered her several honorific titles including the "Queen of Country Pop". BILLBOARD named her as the leader of the '90s country-pop crossover stars.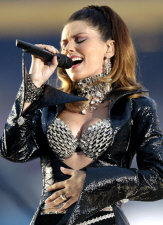 Hire Shania Twain for your festival or concert plans.
Shania Twain is no stranger to conscience, sizzle and the woman's prerogative.
For her achievements, Shania earned BILLBOARD honors as 1996's #1 Top Country Album Artist. Her Grammy Award for Best Country Album was echoed by both the Academy of Country Music and the Canadian Country Music Awards for Album of the Year. She was variously named Favorite New Country Artist or Favorite Female Country Artist by the American Music Awards, Blockbuster Entertainment Awards and the World Music Awards.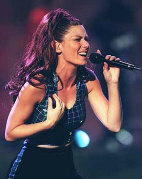 Her videos earned similar awards from CMT, ABC Radio Networks and others. One of the most accessible figures on the planet, her promo video clips were compiled on "The Complete Woman In Me Video Collection."
At the same time, magazine profiles ranged from Time and Newsweek to Esquire, People and Entertainment Weekly. She has performed at the CCMA Awards, the American Music Awards, the Grammys, the Billboard Music Awards, World Music Awards, the gala for President Clinton at Ford's Theatre, CNN Showbiz Today, Vanessa Williams' Christmas Special, The Late Show with David Letterman, The Tonight Show with Jay Leno and much more. On September 24, 1997 viewers of the CMA Awards were treated to a performance of "Love Gets Me Every Time," the first single from "Come On Over."
Shania's story may well be the great American dream; that is, the great North American dream since Shania Twain is from Canada. Born August 28, 1965, the second oldest of five siblings, Shania was raised in Timmins, Ontario, where her father (an Ojibway Indian) and mother were also brought up. It was a proud but, at times, impoverished existence. There may have been a struggle to keep enough food in the cupboards but there was always an abundance of love and music in the household.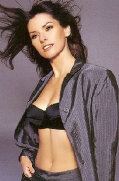 Hire Shania Twain for your company's special event!
Shania often grabbed a guitar and retreated to the solitude of her bedroom, singing and writing until her fingers ached. "But I loved it! I grew up listening to Waylon, Willie Nelson, Dolly Parton, Tammy, all of them," she recalls. "But we also listened to The Mamas & The Papas, the Carpenters, the Supremes and Stevie Wonder. The many different styles of music I was exposed to as a child not only influenced my vocal style but, even more so, my writing style."
Mom noticed her daughter's talents, and Shania was soon being shuttled to radio and TV studios, community centres, senior citizens' homes, "everywhere they could get me booked." Part of the legend has eight-year-old Shania being dragged out of bed at midnight, to sing with the house band at a local club after the nightly liquor curfew went into effect. Later, she spent summers working with her father as foreman of a dozen-man reforestation crew in the Canadian bush, where she learned to wield an axe and handle a chainsaw as well as any manjack. In the winter season, she would sing in clubs and do as many television and radio performances as her studies would allow.
At age 21, Shania lost her parents in an auto wreck. She then took the task of handling her parents affairs as executrix of the estate and the responsibility of bringing her three younger siblings to live with her. She managed to keep the household going with a live-in entertainment job at Deerhurst Resort. This not only provided her family with new challenges but also gave her an education in every aspect of theatrical performance, from musical comedy to Andrew Lloyd Webber to Gershwin, an experience quite different from the bar gigs she grew up doing.
After a couple of years the kids came into their own, lightening the load of her responsibilities. It was 1990, and she was on her own. Shedding her real name, Eileen, she adopted the Ojibway name Shania, pronounced shu-NYE-uh, meaning "I'm on my way" - which she was, with a demo tape of original music and a road map to Nashville.
Although Shania Twain was signed on the basis of that original material, her self-titled debut album of 1993 featured only one of her songs, the feisty "God Ain't Gonna Getcha For That." It took a phone call from a distant admirer, rock producer Mutt Lange (AC/DC, Def Leppard, Bryan Adams, Foreigner, The Cars and many others) for Shania Twain to find a true believer, both in her voice and her own songs.
Shania and Mutt met face to face in 1993. By December they'd written half an album's worth of tunes together, and their musical partnership had blossomed into something much more. They were wed before the new year. As 1994 unfolded, they traveled (and wrote) their way across the U.S., Canada, England, Spain, Italy and the Caribbean. They began to lay down basic tracks for the new album in Nashville, later recording overdubs and mixing in Quebec.
The first results of their labor, "Whose Bed Have Your Boots Been Under?" entered the Billboard Country Singles chart in January 1995. "The Woman In Me" debuted on the Country Albums chart the following month! The single rose to #11 (#2 in Canada), and sales of the album just kept getting stronger. The next four singles were consecutive Number Ones in America, and the awards and critical praise began to pour in.
Two more singles were released in late 1996, "Home Ain't Where His Heart Is (Anymore)," and the lullaby-hymn "God Bless The Child," with proceeds from the latter donated (at Shania's request) to Kids Cafe/Second Harvest Food Bank in the US and the Canadian Living Foundation, which provides meals for underprivileged children. Altogether, Shania's run on the singles chart spanned well over 100 weeks, an amazing achievement from one album and no touring.
Crucial to the success of "The Woman In Me" was the re-packaged persona of Shania Twain. Gone was the outdoorsy and wholesome image she projected on her debut. In its place was the new sex-kitten alluring country singer posing for male record buyers. Shania has become just as accustomed to swirling gossip and rumors as she is to the sold out shows she performs. Her revealing stage costumes, bare-belly button wardrobe and relentless drive, give her audiences what they have come to see, Shania at her best!
Hit songs include --
(If You're Not in It for Love) I'm Outta Here!
Any Man of Mine
Forever and for Always
From This Moment On
God Bless The Child
Honey, I'm Home
I'm Gonna Getcha Good!
Love Gets Me Every Time
No One Needs to Know
You Win My Love
You're Still the One
Party For Two
Up!
She's Not Just A Pretty Face
When You Kiss Me
It Only Hurts When I'm Breathing
Shoes
I Ain't No Quitter
Don't
Today Is Your Day
Life's About To Get Good
Hire Shania Twain for your party or event!
Shania Twain may be available for your next special event!
Book Shania Twain, now!
For other great suggestions for booking music acts, look here.

Genre: Country
Styles:
.Adult Contemporary. / AdultContemporary
.Country-Pop. / CountryPop
.Pop/Rock. / PopRock
.Contemporary Country. / ContemporaryCountry


Years active:
x80s, x90s, x00s, x10s, x20s
1983-present

Born: ..in Canada
Born: ..in Ontario
Born: ..in Timmins
Born: Aug 28, 1965

Based: ..in Canada