Richard De La Font Agency, Inc.
Legendary 5-Star Service and Reputation
Providing Excellence in Entertainment Since 1970

Booking Sheryl Crow - book pop/rock music artists
Book Sheryl Crow
American Trad Rock, Adult Alternative Pop/Rock,
Pop/Rock, Contemporary Pop/Rock,
Contemporary Singer/Songwriter, Pop, Acoustic Guitar

Booking Information
About This Company
Rock Music Roster | Music Menu
Fast Index | Home | Search
Printable Page
---
How To Book SHERYL CROW For Your Event!
Sheryl Crow may be available for your next special event!



Sheryl Crow's asymmetric and abrasive songwriting is not the stuff for lazy listeners. She tackles difficult subjects head-on, wrapping the spare lyrics in angular melodies which stick in the mind.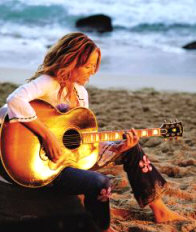 Crow arrived in Los Angeles from St. Louis in 1986 with $10,000 savings, having broken up with her boyfriend and determined to be a musician. A classical music degree from University of Missouri in Columbia in 1984 and singing with college band Kashmir provided the credentials, but with her savings gone she branched out into session work.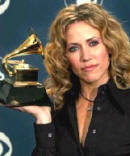 Sheryl Crow soon became one of the most respected and sought-after support artists in Los Angeles, working with Bob Dylan, Eric Clapton, Stevie Wonder, Rod Stewart, George Harrison, Don Henley, John Hiatt, Joe Cocker and Sinead O'Connor. Bette Midler and Wynonna also recorded her songs.
It had taken Sheryl Crow more than five years to achieve this status, pulling herself back from the brink of despair and over-indulgence at the end of the eighties. This crisis in her life was a consequence of her first big break, an 18-month stint hacking around the world as a backing vocalist on Michael Jackson's Bad tour. Three nights a week Jackson, all leather and buckles, stroked the thigh of Sheryl Crow, all leather and lace, as they performed "I Just Can't Stop Loving You." However, Crow's vocal ability impressed enough rock luminaries that many doors were open to her when she eventually returned to L.A.
Unfortunately, all the doors led into rooms of Jackson-style pop. Sheryl Crow was sufficiently strong-willed to resist, even as the doors slammed shut, one after another, leaving her isolated and at rock-bottom. After some six month's of retreat (much of it spent in bed, lacking the will to get up) and a little help, she ventured back into the session world.
Her own recording career has an unusual history. She had already spent more than $250,000 recording a debut, only to decide that it was far too polished and unrepresentative to be released. A&M Records had signed her at the behest of Sting's producer Hugh Padgham after she had done some session work for him. Padgham produced her first attempt, but although the relationship worked at a personal level, it failed to ignite the musical spark they sought.
Fortunately, the record company thought enough of her talent that they agreed to stand by her and wait for the replacement. The resulting "Tuesday Night Music Club," recorded with many of the musicians from the Toad Hall sessions, was something of a sleeper when first issued in 1993. The album took almost a year to make an impact, despite being plugged by a succession of marginally successful singles, including "Run, Baby, Run" and "Leaving Las Vegas" (US Top 50).
Believing that the album was sliding irrevocably into the commercial shadow lands, Sheryl Crow was about to begin recording its follow-up when A&M suggested releasing "All I Wanna Do" on a "what do we have to lose?" basis. The track subsequently became one of the major singles of 1994, reaching number 2 in the USA and number 4 in the UK, and pushing the album into multi-platinum status. "All I Wanna Do" is a surprising hit.
"Strong Enough" dealt with the strains placed on relationships by PMS ("God, I feel like hell tonight … / … Are you strong enough to be my man?"). Her earlier experience of maneuvering around rock's casting couches inspired "What Can I Do For You" and "The Na-Na Song."
In November 1994, Crow duetted with Mick Jagger on "Under My Thumb" as The Stones played to 65,000 in Miami. The same year she had been one of only two female acts to appear at Woodstock II, in front of 300,000. In 1995, she opened for The Eagles at their massive comeback concerts, as well as touring extensively both on her own account and with Joe Cocker.
Finding time to record a follow-up to "Tuesday Night Music Club" proved difficult, but a new album was released at the end of 1996. Retaining just enough of the spontaneity, courage and flair of its predecessor, Sheryl Crow won a GRAMMY for Best Rock Album at the February 1997 awards.
Hit songs include --
All I Wanna Do
Soak Up the Sun
The First Cut Is the Deepest
Always On Your Side
Everyday Is a Winding Road
If It Makes You Happy
Good Is Good
Strong Enough
A Change Would Do You Good
Anything But Down
Leaving Las Vegas
Can't Cry Anymore
Light in Your Eyes
Steve McQueen
Love Is Free
D'Yer Mak'er
C'mon, C'mon
No Depression In Heaven
Real Gone
Sheryl Crow may be available for your next special event!

Genre: Rock 1
Styles:
.American Trad Rock. / AmericanTradRock
.Adult Alternative Pop/Rock. / AdultAlternativePopRock
.Pop/Rock. / PopRock
.Contemporary Pop/Rock. / ContemporaryPopRock
.Contemporary Singer/Songwriter. / ContemporarySingerSongwriter
.Pop. / xPop
.Acoustic Guitar. / AcousticGuitar


Years active:
x90s, x00s, x10s, x20s

Born: ..in Missouri / born nMissouri
Born: ..in Kennett / born KennettMO
Born: Feb 11, 1962

Raised: ..in Missouri
Raised: ..in Kennett

Based: ..in US
Based: ..in Tennessee / based nTennessee
Based: ..in Nashville / based NashvilleTN
---
Concert Schedule – by Live Nation
Concert Schedule – by Ticketmaster

---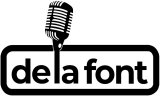 Booking Information
Music Menu
Fast Index | Home | Search
Frequently Asked Questions About Booking SHERYL CROW
HOW TO BOOK SHERYL CROW?
(i.e., how to hire SHERYL CROW for an event)
You are currently on the official site of the Richard De La Font Agency, Inc. For more than 50 years, we have successfully helped official talent buyers around the world secure quality talent.
We welcome the opportunity to be of service to you. Let's do this the right way! Let's save you time and frustration!
Simply click on the "Let's Get Started!" link found on this page. Then, send us your request for booking information.
Include information about your plans for your event and how hiring SHERYL CROW (or someone similar) might be of special interest.
If you decide you want to look at other names, simply include your talent-fee budget range and indicate that you want to see who else you might be able to afford with such a budget. We can send you a list of names that are affordable and in the style of music you prefer. We hope to save you time and frustration!
HOW MUCH DOES IT COST TO BOOK/HIRE SHERYL CROW?
(i.e., what is the fee of SHERYL CROW for an event?)
(i.e., what is SHERYL CROW charging to perform at an event?)
Official booking fees for SHERYL CROW, or any other celebrity, are determined based on a number of factors and may change at anytime without prior notice.

Factors influencing pricing vary and may include date, location, type of event, whether a private party or a public concert, the artist's calendar, whether the artist is on tour or not, how well tickets are selling at the artist's concerts, the current demand for the artist's music, market activity, etc.

As you might expect, the more in-demand the artist is, the more buyers are prepared to pay. Of course, this causes the artist's price to increase as the artist becomes more popular, or decrease when becoming less popular.

Exclusive agents with exclusive representation frequently quote a range instead of a specific price, since changes can occur at anytime. Generally, the artist's manager has a role in the decision to accept any particular offer from a talent buyer.

To learn the most current artist's pricing, or the estimated artist's fee for your particular event, simply click on the "Let's Get Started!" link found on this page. Then, send us your request for booking information.
IS SHERYL CROW AVAILABLE TO WORK MY EVENT?
(i.e., what is SHERYL CROW's availability?)
To learn the artist's current availability for your special event, simply click on the "Let's Get Started!" link found on this page. Then, send us your request for booking information.

Once we have your event/party information, we will be better able to assist you with putting your entertainment talent booking plans in place as your entertainment consultant. Let's get this done right! We look forward to working with you!
---