How To Book SHINEDOWN For Your Event!
Shinedown may be available for your next special event!



Hits include: "If You Only Knew",
"Second Chance", "Asking For It",
"The Crow & The Butterfly", "Save Me",
"Burning Bright", "I Dare You", "45",
"Heroes", "If You Only Knew", "Unity",
"Fly From The Inside", "Simple Man",
"Diamond Eyes (Boom-Lay Boom)",
"Adrenaline", "Enemies", "Bully",
"State Of My Head", "Burning Bright",
"Devour", "Sound of Madness",
"I'll Follow You".
Shinedown is an American rock band from Jacksonville, Florida, formed by singer Brent Smith in 2001 after the dissolution of Dreve, his previous band.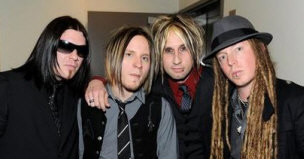 To date, the group has released seven studio albums: Leave a Whisper (2003), Us and Them (2005), The Sound of Madness (2008), Amaryllis (2012), Threat to Survival (2015), Attention Attention (2018), and Planet Zero (2022).

Shinedown has tied with Three Days Grace with the most number one singles on the Billboard Mainstream Rock charts with 17, and all of their released singles have reached the top 5 on the chart. Additionally, on June 3, 2021, Shinedown was ranked #1 by Billboard on the Greatest of All Time Mainstreams Rock Artists chart released to celebrate the Mainstream Rock Chart's 40th Anniversary. To date, the band has sold more than 10 million records.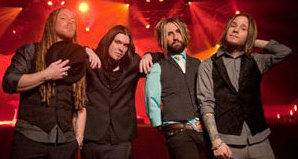 Shinedown's music has most commonly been described as hard rock, alternative metal, post-grunge, alternative rock, pop rock, grunge, arena rock, and nu metal, with pop and Southern rock influences.

The band has cited Stone Temple Pilots, Otis Redding, Pink Floyd, and Iron Maiden as influences. Primary songwriter, Brent Smith, has cited Etta James, Ella Fitzgerald, The Doors, Soundgarden, and Metallica as some of his influences.
Hire Shinedown for your party or event!
Shinedown may be available for your next special event!
Book Shinedown, now!
For other great suggestions for booking music acts,
look here.

For more suggestions, proceed to the next page.
Click here --
Metal Music Roster or Alternative Music Roster
Or, click on one of the below links --
Music Menu
Fast Index
Entertainers Directory
Home