Visit new page >>>
SIGUR RÓS
How To Book SIGUR RÓS For Your Event!
Sigur Rós (si-ur rose) may be available for your next special event!



Hits include: "Hoppipolla",
"Ba Ba", "Ti Ki", "Di Do",
"Untitled #1", "Gobbledigook",
"Inní mér syngur vitleysingur",
"Viđ spilum endalaust",
"Varúđ", "Brennisteinn".
How to Hire SIGUR RÓS For Your Event!
Popular requests:
BOOKING FEE (booking price, booking cost).
Sigur Rós is an Icelandic post-rock band from Reykjavík, active since 1994.
They incorporate classical and minimal aesthetic elements. Vonlenska is a term coined by the band to refer to the vocalizations that Jónsi sings on ( ) in lieu of lyrics in Icelandic or English. It takes its name from "Von", a song on Sigur Rós's debut album Von where it was first used. However, not all Sigur Rós songs are in Vonlenska; many are sung in Icelandic.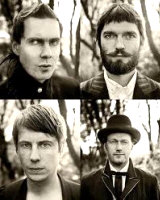 Hire Sigur Rós for your festival or concert plans!
Vonlenska differs from both natural and constructed languages used for human communication. It consists of strings of meaningless syllables containing non-lexical vocables and phonemes. There is no grammatical relation between or among syllables, nor are they accompanied by clearly defined word boundaries. Vonlenska emphasizes the phonological and emotive qualities of human vocalizations, and it uses the melodic and rhythmic elements of singing without the conceptual content of language.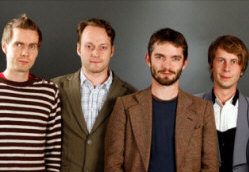 Hire Sigur Rós for your special event!
In 2008, Sigur Rós played at The Bonnaroo Music Festival and performed with others such as Metallica, Jack Johnson, Kanye West, My Morning Jacket, Willie Nelson, Death Cab for Cutie, Ben Folds, O.A.R., Iron & Wine, Gogol Bordello, Mastodon, Tegan & Sara, Drive-By Truckers and Jakob Dylan.
In 2017, Sigur Rós performed at the The Hangout Beach, Music & Arts Festival along with The Head and the Heart, Twenty-One Pilots, Major Lazer, Band of Horses, Tory Lanez, Local Natives, RÜFÜS DU SOL, Louis the Child, Cheat Codes, MuteMath, and Rainbow Kitten Surprise.
Their discography includes seven studio albums, three remix album, five extended plays, one soundtrack album, sixteen singles, twenty-three music videos and two video albums.
Hire Sigur Rós for your party or event!
Sigur Rós may be available for your next special event!
Book Sigur Rós, now!
For other great suggestions for booking music acts, look here.

For more suggestions, proceed to the next page.
Click here --
Alternative Music Roster
Or, click on one of the below links --
Music Menu
Fast Index
Entertainers Directory
Home