How To Book SIMPLE PLAN For Your Event!
Simple Plan may be available for your next special event!



Simple Plan is a Canadian rock band from Montreal, Quebec, formed in 1999.
Simple Plan's roots lay in an earlier group, Reset, which included vocalist Pierre Bouvier and drummer Chuck Comeau, back in the mid-90s (when both were only 13 years old). The band's current lineup consists of Pierre Bouvier (lead vocals, bass), Chuck Comeau (drums), Jeff Stinco (lead guitar), and Sébastien Lefebvre (rhythm guitar, backing vocals), with all four performing with the group since its inception. David Desrosiers (bass, backing vocals) joined the band in early 2000 and departed in July 2020.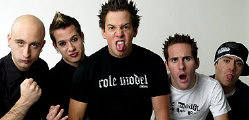 Hire Simple Plan for your festival or concert plans.
When they released their 2002 Lava Records debut, No Pads, No Helmets...Just Balls, the band more than just hit the ground running. Just inside of a year, Simple Plan crossed five continents and played more than 300 shows. Along the way, the band picked up a few hundred thousand fans, topped the Alternative New Artist Chart, kicked it on MTV TRL, scored a Gold album in home country Canada as well as Japan and sold out their first ever tour of Japan.
Sprinkle in a few trips to the hospital, a dozen nights spent sleeping on airport floors, one tour bus in a ditch and one broken-down in the desert and the method to madness becomes clear... this band is absolutely pummeling the pavement. And that's the edited version.
Simple Plan's expertly crafted tunes are predominantly penned by Chuck and Pierre, then brought to life by the entire band."Jeff will come up with lots of rad guitar leads and textures," notes Pierre. "Seb is great at helping out with the arrangements".
"We know what kids go through, because we've been through that, and we're still going through it, so we know how hard it is." Pierre agrees. "We want kids to feel like we're talking about them and for them. It's such a good feeling to receive a letter or an e-mail from someone who relates to our songs and says 'Damn, you're singing about exactly what I feel.'"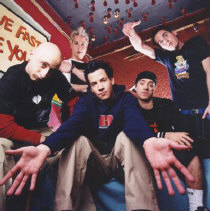 Hire Simple Plan for your very special event or occasion.
They have played more than 1400 concerts throughout their career. In October 2023, Simple Plan performed at the When We Were Young festival with others, including blink-182, Gym Class Heroes, Green Day, New Found Glory, Good Charlotte, Sum 41, Rise Against and Thirty Seconds to Mars.
Their discography includes six studio albums, two live albums, one video album, three extended plays and twenty singles.

Hit songs include:
Perfect
Welcome To My Life
Addicted
When I'm Gone
I'd Do Anything
Untitled (How Can This Happen To Me?)
Your Love Is A Lie
Jet Lag
Don't Wanna Think About You
Shut Up!
Save You
Can't Keep My Hands Off You
Summer Paradise
I Don't Wanna Go To Bed
Other notable songs include:
I'm Just a Kid
One Day
Worst Day Ever
I Won't Be There
My Alien
God Must Hate Me
When I'm With You
Grow Up
Hire Simple Plan for your party or event!
Simple Plan may be available for your next special event!
Book Simple Plan, now!
For other great suggestions for booking music acts, look here.
Watch videos:
YouTube | Vimeo

Listen to music:
YouTube Music | Spotify

Genre: Rock 3
Styles:
.Punk-Pop. / PunkPop
.Punk Revival. / PunkRevival
.Alternative/Indie Rock. / AlternativeIndieRock


Years active:
x00s, x10s, x20s
1999-present

Formed: ..in Canada
Formed: ..in Quebec
Formed: ..in Montreal
Formed: in 1999

Based: ..in Canada
Based: ..in Quebec
Based: ..in Montreal