How To Book Entertainment For Your Event
Simply Red may be available for your next special event!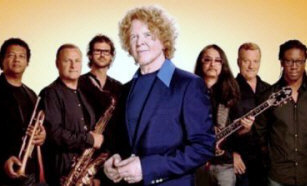 Hits include: "Stars", "Go Now",
"Money's Too Tight To Mention",
"So Not Over You", "It's Only Love", "Stay",
"Oh! What A Girl", "Perfect Love",
"Home", "You Make Me Feel Brand New",
"Ain't That A Lot Of Love", "Fairground",
"Angel", "Remembering The First Time",
"Mellow My Mind", "For Your Babies",
"Sunrise", "Something Got Me Started",
"Fake", "If You Don't Know Me By Now",
"You've Got It", "Maybe Someday...",
"The Right Thing", "Come To My Aid",
"Holding Back The Years".

Booking Simply Red:
Serious requests only.
For more suggestions, proceed to the next page.
Click here --
Rock Music Roster or R&B Music Roster
Or, click on one of the below links --
Music Menu
Fast Index
Entertainers Directory
Home