How To Book SISTER HAZEL For Your Event!
Sister Hazel may be available for your next special event!



Hits include: "Mandolin Moon",
"Your Mistake", "Life Got In The Way",
"Champagne High", "Change Your Mind",
"Happy", "All For You", "Your Winter".
How to Hire SISTER HAZEL For Your Event!
Popular requests:
BOOKING FEE (booking price, booking cost).
More than a million records have been sold for Sister Hazel since the group's five distinct personalities came together in the vibrant Florida college town of Gainesville. At the time, the Southeast was a place more of camaraderie than competition, a hotbed for homegrown talent, and Sister Hazel worked out of the area in concentric circles quickly establishing a reputation as one of the strongest, most consistent draws of the grassroots circuit.
While the crop of newly emerging acts has thinned since the mid-to-late '90s heyday, a scene has remained stronger than ever around Sister Hazel because the band has continued to do what it does best: play honest, heartfelt original music. The group prides itself on being accessible and down-to-earth. They devote time to events and organizations in which they have personally believed and developed. One is Lyrics For Life, which sponsors charitable events to raise money for and awareness of cancer research. Another is the annual Rock Boat, a fan-driven mingling, featuring multiple artists that makes waves across the Caribbean yearly.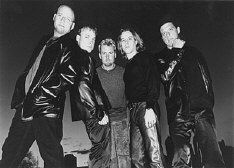 Hire Sister Hazel for your festival or concert plans.
Not taking their gift of song lightly, Sister Hazel has constantly looked for means to bring the group and their Hazelnuts closer more often.
"Our stance from the beginning has always been we were going to write about true things we experience, ways we feel, which, despite some surface appearances, have not always been sunny," says Beres. The group, however, see nothing wrong with dusting their experiences with a touch of jangle and a sparkling shower of optimism.
"Life often has you going in and out of darkness," observes Block, "but instead of looking and lurking in darkness, we try to chase daylight, chase hopeful situations around. Our music helps us do that, and we hope it can offer the same for others. Our music is like therapy for us, but a lot of what we've gone through, other people can relate to. We spend many, many hours laboring over lyrics, making sure we're understood but leaving enough ambiguity for people to plug in their own situation. We want it to offer lyrical intimacy, introspection, but also just plain primal, organic grooves. Mindless fun, we want people to be able to close their doors, sit and think to it, but also turn it up, open their car windows and get a speeding ticket. We believe it's capable of it all."
"Our goal is to make Sister Hazel more of an institution than a band that goes out and tries to live or die by radio," concludes Beres. "By releasing recordings, touring, working with the Lyrics For Life charity and participating in the Rock Boat, we want to provide more than just music. We want to provide experiences and memories for our fans, and now we have the freedom to do so."
Hire Sister Hazel for your party or event!
Sister Hazel may be available for your next special event!
Book Sister Hazel, now!
For other great suggestions for booking music acts, look here.
Listen to music:
YouTube Music | Spotify

Genre: Rock 3
Styles:
.American Trad Rock. / AmericanTradRock
.Adult Alternative Pop/Rock. / AdultAlternativePopRock
.Post-Grunge. / PostGrunge
.Alternative Pop/Rock. / AlternativePopRock
.Alternative/Indie Rock. / AlternativeIndieRock
.Jam Bands. / JamBands


Years active:
x90s, x00s, x10s, x20s
1993-present

Formed: ..in Florida / formed nFlorida
Formed: ..in Gainesville / formed GainesvilleFL
Formed: in 1993

Based: ..in US
Based: ..in Florida / based nFlorida
Based: ..in Gainesville / based GainesvilleFL