Richard De La Font Agency, Inc.
Legendary 5-Star Service and Reputation
Providing Excellence in Entertainment Since 1970

Booking Slipknot - book metal music artists
Book Slipknot
Joey Jordison, Sid Wilson, Chris Fehn, Jim Root,
Shawn Crahan, Mick Thomson,
Corey Taylor (lead singer of Stone Sour), Donnie Steele
Rap-Metal, Alternative Metal, Heavy Metal, Nu Metal,
Shock Rock

Booking Information
About This Company
Metal Music Roster | Music Menu
Fast Index | Home | Search
Printable Page
---
How To Book SLIPKNOT For Your Event!
Slipknot may be available for your next special event.


Hits include: "Dead Memories",
"Duality", "Snuff", "Psychosocial",
"Before I Forget", "The Devil In I",
"Vermilion", "The Negative One",
"Sulfer", "Nameless", "Left Behind",
"Killpop", "Wait And Bleed".
Other notable songs include: "Spit It Out",
"Liberate", "Tattered and Torn",
"Better Back Off", "Scissors",
"Prosthetics", "Only One".
How to Hire SLIPKNOT For Your Event!
Popular requests:
BOOKING FEE (booking price, booking cost).
Started in 1995, Slipknot is a sonic collision of unstoppable music, back-breaking stage shows, and visuals that will keep you looking over your shoulder – a full-frontal attack on every sense known to Man.
From the over-caffeinated beats and jungle scratches to the searing riffs and driving vocals, the music has elements from almost every known music in the world. It's also heavy as hell, and the feeling behind the music is never more evident than seeing the live show.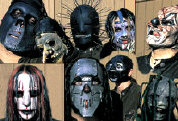 The motto for Slipknot has always been 'no limits,' in everyday life, on stage, even down to the tiniest details. Nothing backs this up like their line-up: a main drummer, two stand-up drummers, two guitarists, bass player, lead singer, DJ, and a sampler. "We're like a white version of the Wu-Tang Clan," drummer Joey Jordison jokes. This isn't just a band, but a family, an army, a musician's wrecking crew.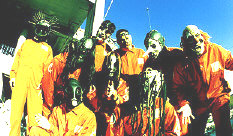 Then there are the masks. This is no gimmick, but almost an extension of each member's personality. "You're only free until you come face to face with who you are," lead singer Corey Taylor said. "You deal with it, you accept it, then you revel in it." "This is the first thing I've heard in the last two to three years that's got me truly excited," said Monte Conner, senior vice president of A&R at Roadrunner Records.
This band from Des Moines, Iowa, has gathered a loyal following in the Midwest and surrounding states, selling out local shows for the last two years. While unsigned, they played KKDM's Dotfests 1 and 2, local music festivals drawing more than 20,000 people and gaining them exclusive media attention both times.
Their single, "Spit It Out," was the #1 most requested song on KKDM for 3 months. It was added to the radio industry, which caught the attention of Ross Robinson in January '97. Ross, who calls them a "wolf pack of Beavises," helped Slipknot get a spot on the EAT'M festival in Las Vegas. Extreme 107.5 in Vegas added "Spit It Out" to their "Cagematch," pitting songs against one another. Slipknot were champs for 5 weeks until they were retired.
After EAT'M there were many offers from labels, and the band finally signed with Roadrunner, where they feel "at home, more like a family than a label."
Slipknot may be available for your next special event.
Watch videos.
YouTube

Genre: Rock 2
Styles:
.Rap-Metal. / RapMetal
.Alternative Metal. / AlternativeMetal
.Heavy Metal. / HeavyMetal
.Nu Metal. / NuMetal
.Shock Rock. / ShockRock


Years active:
x90s, x00s, x10s, x20s
1995-present

Formed: ..in Iowa / formed nIowa
Formed: ..in Des Moines / formed DesMoinesIA
Formed: in 1995

Based: ..in US
---
Concert Schedule – by Live Nation
Concert Schedule – by Ticketmaster

---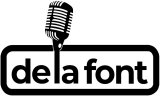 Booking Information
Music Menu
Fast Index | Home | Search
Frequently Asked Questions About How To Hire SLIPKNOT for a private party or special event.
HOW TO BOOK SLIPKNOT?
(i.e., how to hire SLIPKNOT for an event)
You are currently on the official site of De La Font Agency. For more than 50 years, we have successfully helped official talent buyers around the world secure quality talent.
We welcome the opportunity to be of service to you. Let's do this the right way! Let's save you time and frustration!
Simply click on the "Let's Get Started!" link found on this page. Then, send us your request for booking information.
Include information about your plans for your event and how taking steps to hire SLIPKNOT (or someone similar) might be of special interest.
If you decide you want to look at other names, simply include your talent-fee budget range and indicate that you want to see who else you might be able to afford with such a budget. We can send you a list of names that are affordable and in the style of music you prefer. We hope to save you time and frustration!
HOW MUCH DOES IT COST TO BOOK/HIRE SLIPKNOT?
(i.e., what is the booking fee to hire SLIPKNOT for an event?)
(i.e., what is SLIPKNOT booking fee to perform at an event?)
Official booking fees for SLIPKNOT, or any other celebrity, are determined based on a number of factors and may change at anytime without prior notice.

Factors influencing pricing vary and may include date, location, type of event, whether a private party or a public concert, the artist's calendar, whether the artist is on tour or not, how well tickets are selling at the artist's concerts, the current demand for the artist's music, market activity, etc.

As you might expect, the more in-demand the artist is, the more buyers are prepared to pay. Of course, this causes the artist's price to increase as the artist becomes more popular or decrease when becoming less popular.

Exclusive agents with exclusive representation frequently quote a range instead of a specific price, since changes can occur at anytime. Generally, the artist's manager has a role in the decision to accept any particular offer from a talent buyer.

To learn the most current artist's pricing, or the estimated artist's fee for your particular event, simply click on the "Let's Get Started!" link found on this page. Then, send us your request for booking information.
IS SLIPKNOT AVAILABLE TO WORK MY EVENT?
(i.e., what is SLIPKNOT's availability?)
To learn the artist's current availability for your special event, simply click on the "Let's Get Started!" link found on this page. Then, send us your request for booking information.

Once we have your event/party information, we will be better able to assist you with putting your entertainment talent booking plans in place as your entertainment consultant. Let's get this done right! We look forward to working with you!

This is the month of September update of this page. Slipknot booking agent available. Slipknot cost, Slipknot booking fee and Slipknot booking price are available.
---