How To Book SMASHING PUMPKINS For Your Event!
Smashing Pumpkins may be available for your next special event!



Hits include: "1979",
"Bullet With Butterfly Wings",
"Stand Inside Your Love", "Tarantula",
"Thirty-Three", "Ava Adore", "Landslide",
"Perfect", "Today", "Tonight, Tonight",
"The End Is The Beginning Is The End",
"The Everlasting Gaze", "Disarm",
"Eye", "Muzzle", "Zero", "Rocket",
"G.L.O.W.", "Drown", "Rhinoceros",
"That's The Way My Love Is", "Freak",
"Cherub Rock", "Doomsday Clock",
"Solara", "One and All",
"Silvery Sometimes (Ghosts)".
GRAMMY AWARD winning Smashing Pumpkins are an American alternative rock band from Chicago.
Formed in 1988 by frontman, guitarist and primary composer Billy Corgan, bassist D'arcy Wretzky, guitarist James Iha and drummer Jimmy Chamberlin, the band has undergone many line-up changes.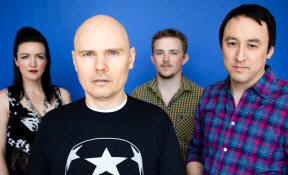 Disavowing the punk rock roots of many of their alt-rock contemporaries, they have a diverse, densely layered, and guitar-heavy sound, containing elements of gothic rock, heavy metal, dream pop, psychedelic rock, progressive rock, shoegazing, and, in later recordings, electronica.
Billy Corgan is the group's main songwriter. His musical ambitions and cathartic lyrics have shaped the band's distinctive albums, which one writer described as "anguished, bruised reports from Billy Corgan's nightmare-land".

Regarding the band's influence upon other groups, Greg Kot wrote in 2001, "Whereas Nirvana spawned countless mini-Nirvanas, the Pumpkins remain an island unto themselves." Still, some artists and bands have been influenced by the Smashing Pumpkins, such as Nelly Furtado, Marilyn Manson, Third Eye Blind, Mark Hoppus of Blink-182, Tegan and Sara, Fall Out Boy, Rivers Cuomo, Panic! at the Disco, Silversun Pickups, and My Chemical Romance. My Chemical Romance vocalist Gerard Way has said that they pattern their career upon the Pumpkins.

The group has sold more than 30 million albums worldwide as of October 2012, and sales in the United States alone reaching 19.75 million.
Hire Smashing Pumpkins for your party or event!
Smashing Pumpkins may be available for your next special event!
Book Smashing Pumpkins, now!
For other great suggestions for booking music acts,
look here.

For more suggestions, proceed to the next page.
Click here --
Alternative Music Roster
Or, click on one of the below links --
Music Menu
Fast Index
Entertainers Directory
Home