How To Book SNOOP DOGG For Your Event!
Snoop Dogg may be available for your next special event!
(aka Snoop Lion)


Leading the pack of second-generation West Coast gangsta-rappers, Snoop Dogg (a protégé of genius producer/rap star Dr. Dre) has remained one of the most distinctive voices in hip-hop since his 1992 debut on the Dr. Dre song "Deep Cover" from the soundtrack of the Lawrence Fishburne film of the same name.
A childhood pal of Dr. Dre's step-brother, Warren G, Snoop (born Calvin Broadus) was once a promising young ball player from Long Beach. Although gangbanging, drug dealing, and jail time soon ruined his chances at athletic scholarships, Snoop Dogg was nonetheless connected in all the right ways. He got his first break when Warren G passed his tape to Dre which lead to Snoop's distinctive nasal monotone rap being displayed on "Deep Cover" and later Dre's top-selling 1992 release, "The Chronic."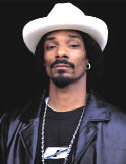 Snoop went on to multi-platinum success with his first solo record, "Doggystyle," jet-propelled by ballsy, funk-driven singles and weirdly compelling videos. While not particularly an innovator in terms of lyrical content, Snoop Dogg made the gangsta lifestyle seem not only cool, but fun as hell. Appearing in a multitude of guises, from corn-rowed prisoner to wheelchair-bound OG, he furthermore proved himself a master of image manipulation.
As with many of his rap-world contemporaries, Snoop Dogg has been, ahem, dogged with legal and financial difficulties. In 1996, he was acquitted of the 1993 murder of gang member Philip Woldermariam (alluded to in 1994's short Dre-directed film, "Murder Was The Case").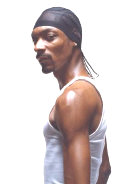 That same year, Snoop Dogg released his sophomore album, "Tha Doggfather" that teamed him with GAP Band lead singer Charlie Wilson on the single "Snoop's Upside Your Head." The album did not yield the acclaim of "Doggystyle," but Snoop kept himself in the forefront of the music scene, appearing on the soundtrack to the Martin Lawrence film, "A Thin Line Between Love & Hate," and on a collaboration with Tupac Shakur, "2 Of Amerikaz Most Wanted," from Shakur's post-prison, Death Row Records debut, "All Eyez On Me."
By 1998, while controversial Death Row Records honcho Suge Knight served a prison bid for parole violation, Snoop Dogg exited the label to join the ranks at Master P's No Limit Records. Snoop's first No Limit album, "Da Game Is To Be Sold Not To Be Told" proved that Snoop's usual, infectious slow drawl was a poor mesh for the thunderous, production sound of the New Orleans based No Limit. In 1999, Snoop's second No Limit album, "Top Dogg" re-teamed him with Dr. Dre, and scored an underground anthem with the song "B Please" featuring Xzibit, that helped Xzibit achieve further notoriety.
Snoop's "Tha Last Meal," released in 2000, was his final record under Master P's tutelage. The album showcased Snoop's growth as an artist, finally finding his artistic comfort zone with producers other than Dr. Dre.
Additionally, he released two albums with Tha Eastsidaz through a label deal with TVT Records, performed songs with everyone from Keith Sweat to Kid Rock to Tyrese, and appeared on a half dozen soundtracks.
His comical disposition, also earned him a stack of roles in movies including John Singleton's "Baby Boy," Denzel Washington's "Training Day," and a starring spot in the horror film "Bones."
In 2001, Snoop secured a second label deal. This time with MCA Records, and issued the compilation, "Snoop Dogg Presents Doggy Style Allstars: Welcome To The House, Vol. 1" in 2002. Snoop broke into the adult entertainment business in 2001, recording adult videos to some of his music tracks for the DVD, "Doggystyle, Vol. 1," which received two AVN Video Awards. He followed "Doggystyle" with his own installment of the "Girls Gone Wild" series dubbed "Girls Gone Wild Doggy Style."
Ironically just before "Girls Gone Wild Doggy Style" was released, the long-time marijuana advocate announced that he had stop smoking the illegal herb, and drinking as well. He said his son was a motivation, as he coached the young Broadus' football team.
Hit songs include --
Drop It Like It's Hot
Let's Get Blown
Sensual Seduction
Signs
That's That S***
Gin And Juice
What's My Name?
Beautiful
Still A G Thang
That's That
Woof
Law Low
Who Am I
From Tha Chuuuch to Da Palace
G'd Up
Doggy Dogg World
Snoop Dogg (What's My Name)
Bitch Please
Life of Da Party
Snoop Dogg (a.k.a. Snoop Lion) may be available for your next special event!
Watch videos
YouTube

Genre: Rap
Genre: Reggae
Styles:
.West Coast Rap. / WestCoastRap
.G-Funk. / GFunk
.Gangsta Rap. / GangstaRap
.Contemporary Reggae. / ContemporaryReggae
.Reggae-Pop. / ReggaePop


Years active:
x90s, x00s, x10s, x20s
1992-present

Born: ..in California / born nCalifornia
Born: ..in Long Beach / born LongBeachCA
Born: Oct 20, 1972

Raised: ..in California
Raised: ..in Long Beach

Based: ..in US