How To Book The Sounds of Blackness For Your Event
The Sounds of Blackness may be available for your next special event!



Since January 1971, the Grammy Award winning Sounds of Blackness have consistently performed, recorded and proudly proclaimed the music, culture and history of African Americans to audiences around the world.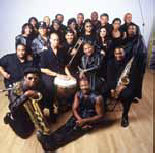 The Sounds of Blackness have embraced and presented every "sound of blackness": Jazz, Blues, Rock and Roll, Rhythm and Blues, Gospel, Reggae, Ragtime, Spirituals, Work songs and Field Hollers.
On three occasions, The Sounds of Blackness has performed for audiences of over one billion people: the Opening Ceremonies of the 1994 World Cup, the 1996 Summer Olympics, and the 1998 World Figure Skating Championships. The group has also performed at the White House on five separate occasions.
Led by Gary Hines, the group has combined traditional African music with urban soul to become one of the most distinctive and popular contemporary gospel groups. Over the course of their career, the group has won numerous awards, from organizations as diverse as the Grammys and the NAACP.
Hines insists that their message can permeate people's consciences regardless of the environment. Sounds Of Blackness sang "Gloryland," alongside Daryl Hall, as the official theme to the 1994 World Cup soccer tournament. They have also appeared on the soundtracks to the movies Posse and Demolition Man, and have recorded with John Mellencamp, Elton John and Stevie Wonder.
Hit songs include --
I Believe
The Pressure
Optimistic
Testify
Everything Is Gonna Be Alright
Children of The World
Joy
Spirit
I'm Going All The Way
Black Butterfly
Fly Again
The Sounds of Blackness may be available for your next special event!

Genre: Gospel
Styles:
.Contemporary Gospel. / ContemporaryGospel
.CCM. / xCCM
.World Fusion. / WorldFusion
.Urban. / xUrban


Years active:
x70s, x80s, x90s, x00s, x10s, x20s
1971-present

Formed: ..in Minnesota / formed nMinnesota
Formed: ..in St. Paul / formed StPaulMN
Formed: in 1971

Based: ..in US
Based: ..in Minnesota / based nMinnesota
Based: ..in Minneapolis / based MinneapolisMN