Visit new page >>>
SQUEEZE
How To Book SQUEEZE For Your Event!
Squeeze may be available for your next special event!


Hits songs include: "Hits of The Year",
"Tempted", "Everything In The World",
"Crying In My Sleep", "Hourglass",
"Black Coffee In Bed", "If It's Love",
"Cool for Cats", "Annie Get Your Gun",
"In Quintessence", "Third Rail",
"Argybargy", "Satisfied", "853-5937",
"Some Fantastic Place", "This Summer",
"Electric Trains", "Heaven Knows",
"This Summer (Remix)", "It's Over".
How to Hire SQUEEZE For Your Event!
Popular requests:
BOOKING FEE (booking price, booking cost).
Squeeze is an English rock band that came to prominence in the United Kingdom during the new wave period of the late 1970s, and continued recording in the 1980s, 1990s and 2010s.
In the UK, their singles, "Cool for Cats", "Up the Junction", and "Labelled with Love", were top-ten chart hits. Though not as commercially successful in the United States, Squeeze had American hits with, "Tempted", "Black Coffee in Bed", and "Hourglass", and was considered a part of the Second British Invasion.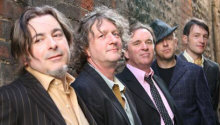 Hire Squeeze for your festival or concert plans.
The vast majority of their material is composed of lyrics by Chris Difford and music by Glenn Tilbrook, who are guitarists and vocalists in the band. The duo were hailed as "the heirs to Lennon and McCartney's throne" during the band's initial popularity in the late 1970s. The group formed in Deptford, London, in 1974, and first broke up in 1982. Squeeze then reformed in 1985, and disbanded again in 1999.
The band reunited for tours through the United States and the United Kingdom in 2007. In 2010, they issued, Spot the Difference, an album of newly recorded versions of older material. The band's first album of all-new material since 1998, Cradle to the Grave, was released in October 2015, followed by another album, The Knowledge, in October 2017.
College rock band the Replacements, particularly bassist Tommy Stinson, also professed an admiration for the band. Many artists in the Britpop genre also took influence from the band, particularly Blur, whose guitarist Graham Coxon called Squeeze an "amazing band" and named Tilbrook's voice as "one of my favorite ever English singing voices."
Later artists who named Squeeze as an influence include American Hi-Fi, The Caulfields, Kasabian, The Killers, Nightmare of You, Razorlight, and Space. Many bands and artists who would later achieve phenomenal success would begin their careers opening for Squeeze, including Dire Straits, The Jam, R.E.M., The Specials, U2 and XTC.
Their discography includes 15 studio albums, 14 compilation albums, 4 live albums, 1 extended play and 48 singles.
Hire Squeeze for your party or event!
Squeeze may be available for your next special event!
Book Squeeze, now!
For other great suggestions for booking music acts, look here.
Listen to music:
YouTube Music | Spotify

For more suggestions, proceed to the next page.
Click here --
Rock Music Roster or Alternative Music Roster
Or, click on one of the below links --
Music Menu
Fast Index
Entertainers Directory

Home