How To Book ST. VINCENT For Your Event!
St. Vincent may be available for your next special event!



Hits include: "Los Ageless",
"Digital Witness", "Who", "Down",
"I Should Watch TV", "New York",
"Birth in Reverse", "Pieta",
"Prince Johnny", "Bad Believer",
"Pay Your Way in Pain", "Pills".
GRAMMY AWARD winning Anne Erin "Annie" Clark, known professionally as St. Vincent, is an American musician, singer, songwriter, actress and producer.
Her music is noted for its complex arrangements, utilizing a wide array of instruments. St. Vincent is the recipient of various accolades, including three Grammy Awards.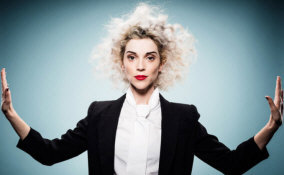 Raised in Dallas, Texas, St. Vincent began her music career as a member of the Polyphonic Spree. She was also a member of Sufjan Stevens's touring band before forming her own band in 2006.
Her debut solo album, Marry Me, was released in 2007; it was followed by Actor (2009) and Strange Mercy (2011). In 2012, St. Vincent released Love This Giant, an album made in collaboration with David Byrne of Talking Heads. Her fourth studio album, St. Vincent (2014), received widespread acclaim from contemporary critics. Her fifth album, Masseduction (2017), was released to further acclaim. St. Vincent's sixth album, Daddy's Home, was released in 2021.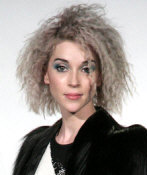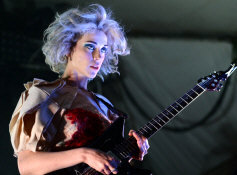 Possessing a mezzo-soprano voice, St. Vincent's music has been noted for its wide array of instruments and complex arrangements, as well as its polysemous lyrics, which have been described as teetering between "happiness and madness".

In addition to guitar, St. Vincent plays bass, piano, organ, and theremin. Her music also often features violins, cellos, flutes, trumpets, clarinets, and other instruments. Her musical style has been characterized as rock, pop, art rock and indie rock, incorporating a wide range of influences including experimental rock, chamber pop, electropop, soft rock, and cabaret jazz.
Hire St. Vincent for your party or event!
St. Vincent may be available for your next special event!
Book St. Vincent, now!
For other great suggestions for booking music acts,
look here.

For more suggestions, proceed to the next page.
Click here --
Alternative Music Roster
Or, click on one of the below links --
Music Menu
Fast Index
Entertainers Directory
Home