Visit new page >>>
STAIND
How To Book STAIND For Your Event!
Staind may be available for your next special event!



Hits include: "Just Go",
"Mudshovel", "Not Again",
"It's Been Awhile", "All I Want",
"Fade", "For You", "Epiphany",
"Price to Pay", "So Far Away",
"How About You", "Right Here",
"Falling", "Everything Changes",
"King of All Excuses", "Believe",
"Outside", "This Is It", "Home",
"Eyes Wide Open", "Now",
"Something to Remind You".
How to Hire STAIND For Your Event!
Popular requests:
BOOKING FEE (booking price, booking cost).
Staind is an American rock band from Springfield, Massachusetts, formed in 1995. The band started covering Korn, Rage Against the Machine and Pearl Jam, and played at local clubs for a year and a half. Staind self-released their debut album, Tormented, in November 1996. In October 1997, Staind acquired a concert slot through Aaron's cousin Justin Cantor with Limp Bizkit.
On April 13, 1999, Staind released their major label debut Dysfunction on Flip Records. The album, which was co-produced by Fred Durst and Terry Date (who also produced acts like Soundgarden, Deftones, and Pantera), received comparisons to alternative metal giants Tool and Korn. In particular, Aaron Lewis was lauded for his vocals, which were likened to those of Pearl Jam's Eddie Vedder.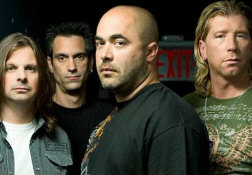 Hire Staind for your festival or concert plans!
The album achieved slow success, reaching the No. 1 spot on Billboard's Heatseeker Charts almost six months after its debut. In the same week, the record jumped to No. 74 on Billboard's Top 200 Album Charts. The nine-track LP (with one hidden track, "Excess Baggage") produced three singles, "Just Go", "Mudshovel", and "Home". "Mudshovel" and "Home" both received radio play, cracking the Top 20 of Billboard's Modern Rock and Mainstream Rock charts. In promotion of Dysfunction, Staind went on several tours, including the Family Values Tour with acts like Limp Bizkit and Crystal Method, as well as opening for Sevendust's headlining tour.
On August 9, 2005, Staind's fifth album, titled Chapter V, was released, and became their third consecutive album to top the Billboard 200. The album opened to sales of 185,000 and has since been certified platinum in the U.S. The first single, "Right Here", was the biggest success from the album, garnering much mainstream radio play and peaking at number 1 on the mainstream rock chart.
In November 2011, the band announced through their YouTube page that Sal Giancarelli was now an official member. The band continued to perform into 2012, embarking on an April and May tour with Godsmack and Halestorm, and they played the Uproar Festival in August and September with Shinedown and a number of other artists.
On September 13, 2011, their seventh album was released. The song "The Bottom" appeared on the Transformers: Dark of the Moon soundtrack. On June 30, Staind released a song called "Eyes Wide Open" from their new record. "Eyes Wide Open" would later be released on November 29 as the album's second single.
Staind's influences include Pantera, The Doors, Suicidal Tendencies, Kiss, Van Halen, Led Zeppelin, Alice in Chains, Faith No More, Deftones, Black Sabbath, Pearl Jam, Tool, Rage Against the Machine, Nirvana, Stone Temple Pilots, Helmet, James Taylor, Korn, and Crosby, Stills & Nash.
Their discography includes seven studio albums, three live albums, one compilation, two video albums, 25 singles, and 18 music videos.
Hire Staind for your party or event!
Staind may be available for your next special event!
Book Staind, now!
For other great suggestions for booking music acts, look here.
Listen to music:
YouTube Music | Spotify

For more suggestions, proceed to the next page.
Click here --
Alternative Music Roster or Metal Music Roster
Or, click on one of the below links --
Music Menu
Fast Index
Entertainers Directory
Home