How To Book STEEL PULSE For Your Event!
Steel Pulse may be available for your next special event!



Steel Pulse originally formed at Handsworth Wood Boys School, in Birmingham, England and comprised of David Hinds (lead vocals, guitar), Basil Gabbidon (lead guitar, vocals) and Ronald McQueen (bass). Hinds, as songwriter, has always been the engine behind Steel Pulse, from their early days establishing themselves in the Birmingham club scene onwards.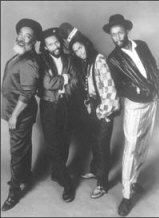 One of Bob Marley's favorite bands, Steel Pulse became one of reggae's most successful bands in the late '70s and early '80s. After releasing their debut album, "Handsworth Revolution" (1978, Mango), and its successors, "Tribute to the Martyrs" and "True Democracy" (both for Elektra) in the early '80s, with their innovative blend of straight-ahead reggae, flamenco and Euro-pop containing potent pleas for social reform, critics and fans alike hailed them as Marley's successors.
Indeed, the band is considered the finest living proponent of "conscious" reggae, the accessible and highly spiritual sound pioneered by the late Bob Marley and Peter Tosh. The Trouser Press Record Guide describes Steel Pulse as "one of the world's very best self-contained reggae units," while the Rolling Stone Album Guide hails the band's "politicized musings...strengthened by saucy horn lines and dub echoes." In 1993, at the request of the Clinton Administration, Steel Pulse became the first reggae band ever to perform during the inaugural festivities in Washington, DC.
Formed in the Handsworth section of Birmingham in 1975, Steel Pulse started out performing on the British Punk scene with groups like Generation X as part of the Rock Against Racism movement. The band's former bass player, Ronald McQueen, named the group after a popular race horse. Phonso Martin, another founding member, left the group in 1991.
The Steel Pulse message of hope, education and activism has struck a chord with music lovers worldwide. Their international success has resulted in a Grammy award for their 1986 classic "Babylon the Bandit," and nominations for subsequent albums "Victims" (1991) and "Rastafari Centennial" (1992). In 1989, the group contributed "Can't Stand The Heat" to the soundtrack of Spike Lee's film "Do The Right Thing."
In 1994, the group headlined some of the world's biggest reggae festivals including Reggae Sunsplash USA, Jamaican Sunsplash, Japan Splash and Northern California annual Reggae on the River Festival. In 1986, Steel Pulse contributed an ethereal version of "Franklin's Tower" on Pow Wow Records' "Fire on the Mountain: Reggae Celebrates the Grateful Dead" compilation. They covered The Police's "Can't Stand Losing You" for a reggae compilation of Police tunes that will appear on the Ark 21 label. The band is particularly proud of "Rastanthology," a 17-song collection of Steel Pulse classics (the 1996 compilation was released on the band's own Wise Man Doctrine label).
"We're not here to start a physical revolution, we're just here to open everybody's eyes and let them check themselves and continue in a very educational mode to change things on that tip," Hinds explains. "We're losing ourselves and I think it's very important for us to realize that. Too many of our youths have been lost to drugs, or by the gun, or not having the education needed to persevere and move in an upward direction."
Notable songs include -- .
Brown Eyed Girl
Bootstraps
Taxi Driver
Soul of My Soul
Ku Klux Klan
Handsworth Revolution
Prodigal Son
Peace Party
Steel Pulse may be available for your next special event!
Watch videos.
YouTube

Genre: Reggae
Styles:
.Reggae-Pop. / ReggaePop
.Roots Reggae. / RootsReggae
.Contemporary Reggae. / ContemporaryReggae


Years active:
x70s, x80s, x90s, x00s, x10s, x20s

Formed: ..in England
Formed: ..in Birmingham
Formed: in 1975

Based: ..in England