How To Book STEELY DAN For Your Event!
Steely Dan may be available for your next special event!



Rock and Roll Hall of Fame
-- inducted 2001
How to Hire STEELY DAN For Your Event!
Popular requests:
BOOKING FEE (booking price, booking cost).
GRAMMY AWARD winning Steely Dan is an American rock band founded in 1971 in New York by Walter Becker (guitars, bass, backing vocals) and Donald Fagen (keyboards, lead vocals).
Walter Becker of Steely Dan died from complications of esophageal cancer on September 3, 2017. In a note released to the media, Donald Fagen remembered his longtime friend and bandmate, and promised to "keep the music we created together alive as long as I can with the Steely Dan band."
After Becker's death, Steely Dan honored commitments to perform a short North American tour in October 2017 and three concert dates in the United Kingdom and Ireland for Bluesfest on a double bill with the Doobie Brothers. The band played its first concert following Becker's death in Thackerville, Oklahoma, on October 13. In tribute to Becker, they performed his solo song "Book of Liars", with Donald Fagen singing the lead vocals, at several concerts on the tour.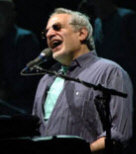 Hire Steely Dan for your festival or concert plans.
In December 2017, Fagen said that he would rather have retired the Steely Dan name after Becker's death, and would instead have toured with the current iteration of the group under another name, but was persuaded not to by promoters for commercial reasons.
In 2018, Steely Dan performed on a summer tour of the United States with the Doobie Brothers as co-headliners. The band also played a nine-show residency at the Beacon Theatre in New York City that October.
In February 2019, the band embarked on a tour of Great Britain with Steve Winwood. Guitarist Connor Kennedy of The Nightflyers joined the live band, beginning with a nine-night residency at The Venetian Resort in Las Vegas in April 2019.
Steely Dan's albums are notable for the characteristically 'warm' and 'dry' production sound, and the sparing use of echo and reverberation. Steely Dan is famous for their use of chord sequences and harmonies that explore the area of musical tension between traditional pop sounds and jazz.
Their lyrics contain subtle and encoded references, unusual (and sometimes original) slang expressions, and a wide variety of "word games." The obscure and sometimes teasing lyrics have given rise to considerable efforts by fans to explain the "inner meaning" of certain songs. Jazz is a recurring theme, and there are numerous other film, television and literary references and allusions.
Hit songs include --
Rikki Don't Lose That Number
Do It Again
Hey Nineteen
Peg
Reeling In The Years
Time Out of Mind
Deacon Blues
Josie
Cousin Dupree
Black Friday
Pretzel Logic
The Fez
Show Biz Kids
My Old School
Kid Charlemagne
Hire Steely Dan for your party or event!
Steely Dan may be available for your next special event!
Book Steely Dan, now!
For other great suggestions for booking music acts, look here.
Listen to music:
YouTube Music | Spotify

Genre: Rock 1
Styles:
.Album Rock. / AlbumRock
.Jazz-Rock. / JazzRock
.Pop/Rock. / PopRock
.Soft Rock. / SoftRock
.Contemporary Pop/Rock. / ContemporaryPopRock
.Classic Rock. / ClassicRock


Years active:
x70s, x80s, x90s, x00s, x10s, x20s
1971–1981, 1993–present

Donald Fagen --
Born: ..in New Jersey
Born: ..in Passaic
Born: Jan 10, 1948

Formed: ..in California / formed nCalifornia
Formed: ..in Los Angeles / formed LosAngelesCA
Formed: in 1971

Based: ..in US