How To Book Entertainment For Your Event
Stephanie Mills may be available for your next special event!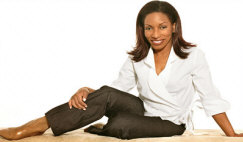 Hits include: "Home", "I Feel Good All Over",
"I Have Learned To Respect the Power of Love",
"Something in the Way (You Make Me Feel)",
"The Medicine Song", "Secret Lady",
"Sweet Sensation", "Comfort Of A Man",
"You're Puttin' A Rush On Me", "Secret Lady",
"If I Were Your Woman", "Two Hearts",
"What Cha Gonna Do With My Lovin'",
"You Can Get Over It", "Night Games",
"Never Knew Love Like This Before",
"Last Night", "Keep Away Girls", "Pilot Error",
"You Can't Run From My Love",
"How Come You Don't Call Me Anymore",
"Edge of the Razor", "In My Life",
"Bit by Bit", "Stand Back", "King Holiday",
"(You're Puttin') A Rush on Me",
"If I Were Your Woman", Heart to Heart",
"Where Is Your Love", "Real Love", "
"All Day, All Night", "Never Do You Wrong".

Booking Stephanie Mills:
Serious requests only.
For more suggestions, proceed to the next page.
Click here --
R&B Music Roster or Vocal Music Roster
Or, click on one of the below links --
Music Menu
Fast Index
Entertainers Directory
Home