How To Book STEVE WARINER For Your Event!
Steve Wariner may be available for your next special event!



Grand Ole Opry Member
-- since 1996
How to Hire STEVE WARINER For Your Event!
Popular requests:
BOOKING FEE (booking price, booking cost).
GRAMMY AWARD winning Steve Wariner is an American country music singer, songwriter, guitarist, and record producer.
Initially a backing musician for Dottie West, he also worked with Bob Luman and Chet Atkins before beginning a solo career in the late 1970s. Steve Wariner began his music career as a teenager, playing bass and singing in Dottie West's band at age 17. By 1977 he had his first "singles" deal as a solo artist, thanks to Chet Atkins at RCA.
Hire Steve Wariner for your festival or concert plans!
"Chet was my first producer," says Wariner. "I was recording my first four songs and the session was crazy. It was the day after Elvis Presley died and of course, the TV networks all wanted to talk to Chet during my session. I'll never forget that day."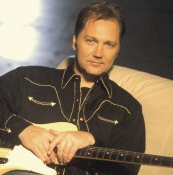 Hire Steve Wariner for your special event!
Wariner battled for airplay alongside such country legends as Merle Haggard, Charley Pride and Conway Twitty with his debut record, and remembers that the competition for radio airplay was fierce. "I was just trying to write the best songs that I could. I was around all these country music icons and I just tried to shut up and learn how to be an artist."
By 1980, he scored his first Top Ten hit, "Your Memory." For the next decade, you couldn't read a record chart without seeing Steve Wariner's name at the top. He had moved from RCA Records to MCA, where he worked with producer Tony Brown, finding chart success with such self-penned hits as "I Should Be With You," "I Got Dreams" and "Baby I'm Yours."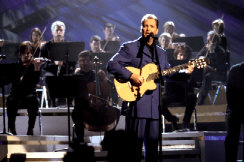 Hire Steve Wariner.
"I started really learning how to write during that time," Wariner says. "I got married and we had children, and I was touring a lot. I grew up really fast, I'll say that much. A lot happened in that period of time, and my songs started getting a little deeper as I started to experience more."
All that he learned as a performer, songwriter, producer and musician came together in the album "Burnin' The Roadhouse Down."
To stay on top in a field as changeable as country music, you must plan every step. Or you can do it like Wariner – he is just going where the music takes him. It's clear that he has come up with the most brilliant plan of all.
Awards include --
Country Weekly Presents the TNN Music Awards The Fast Track Award 2000
Academy of Country Music Song of the Year 1998
CMA Single of the Year 1998
CMA Song of the Year 1998
TNN/Music City News Vocal Collaboration of the Year 1998
CMA Vocal Event of the Year 1991
Grammy Best Country Collaboration With Vocals 1991
Hit songs include --
All Roads Lead to You
I Got Dreams
Life's Highway
Lynda
Small Town Girl
Some Fools Never Learn
Where Did I Go Wrong
You Can Dream of Me
The Weekend
Holes in the Floor of Heaven
I Should Be With You
Two Teardrops
I'm Already Taken
What I Didn't Do
The Tips of My Fingers
Road Trippin'
Every Little Whisper
Burnin' The Roadhouse Down
Katie Wants A Fast One
Faith In You
Christmas In Your Arms
Snowfall On The Sand
What others say --
(Private/Corporate Show) -- Richard, I just wanted to say thank you for all your help in getting Steve Wariner to perform at our event this past Friday. The event was a HUGE success largely in part to Steve being there. It was a dream working with everybody from start to finish. You, Fran, Steve Robinson, Randy, Donnie and the band were just a pleasure to work with. Everything went so smoothly and timely. And I can't say enough about Steve! Wow! What an amazing artist! He played all the great hits and a couple of new ones. The dance floor was packed! And aside from being a wonderful artist, what a wonderful person! From the minute I met him, it was as if he'd been my friend forever. He was so nice and humble and so accommodating to everyone. Of course, a ton of people wanted to meet him and take pictures with him and he very graciously obliged. He even indulged me and sang with me and gave me my little "brush with fame". I could go on and on! I'm still on cloud 9 and reeling from the whole experience. Again, thank you so much and I look forward to working with you and, hopefully, with Steve and the band again.
- Yvonne De Leon, Baptist Health System
Hire Steve Wariner for your party or event!
Steve Wariner may be available for your next special event!
Book Steve Wariner, now!
For other great suggestions for booking music acts, look here.

Genre: Country
Styles:
.Contemporary Country. / ContemporaryCountry
.Country-Folk. / CountryFolk
.Western Swing Revival. / WesternSwingRevival
.Neo-Traditionalist Country. / NeoTraditionalistCountry


Years active:
x70s, x80s, x90s, x00s, x10s, x20s
1973-present

Born: ..in Indiana / born nIndiana
Born: ..in Noblesville / born NoblesvilleIN
Born: Dec 25, 1954

Raised: ..in Indiana
Raised: ..in Indianapolis / IndianapolisIN

Based: ..in US
Based: ..in Tennessee / based nTennessee
Based: ..in Nashville / based NashvilleTN