How To Book STEVIE NICKS For Your Event!
Stevie Nicks may be available for your next special event!
(member of Fleetwood Mac)



Hits include: "Edge of Seventeen",
"Stop Draggin' My Heart Around",
"Leather and Lace", "I Will Run to You",
"If Anyone Falls", "Nothing Ever Changes",
"Imperial Hotel", "Long Way to Go",
"Planets of the Universe", "Every Day",
"Rooms On Fire", "For What It's Worth",
"After the Glitter Fades", "Enchanted",
"Maybe Love Will Change Your Mind",
"Nightbird", "Sorcerer", "Firestarter",
"Breathe", "Stand Back".
How to Hire STEVIE NICKS For Your Event!
Popular requests:
BOOKING FEE (booking price, booking cost).
GRAMMY AWARD winning Stevie Nicks is an American singer, songwriter, and producer known for her work with the band Fleetwood Mac and as a solo artist.
After starting her career as a duo with her then-boyfriend Lindsey Buckingham, releasing the album, Buckingham Nicks, to little success, Stevie Nicks joined Fleetwood Mac in 1975, helping the band to become one of the best-selling music acts of all time with over 120 million records sold worldwide. Rumours, the band's second album with Nicks, became one of the best-selling albums of all time, being certified 20× platinum in the US.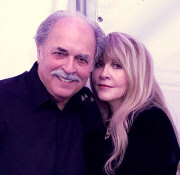 Richard De La Font
with Stevie Nicks
Stevie Nicks has said that her vocal style and performance antics evolved from female singers like Grace Slick and Janis Joplin. She admitted inspiration when she saw Joplin perform live (and opened for her with her first band Fritz) shortly before Joplin's death. Nicks owns a strand of Joplin's stage beads. She also commented that she once saw a woman in her audience dressed in dripping chiffon with a Gibson Girl hairstyle and big boots, and Nicks knew she wanted something similar. She took the look and made it her own.
Stevie Nicks possesses the vocal range of a contralto and her voice has been described as a "gruff, feathery alto." Over the years, she has decorated her microphone stand with roses, ribbons, chiffon, crystal beads, scarves, and small stuffed toys.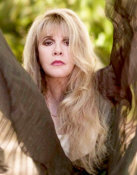 Hire Stevie Nicks for your festival or concert plans!
Many artists have cited Stevie Nicks as a source of influence and musical inspiration. These include Beyoncé and Destiny's Child, Courtney Love, Michelle Branch, Belinda Carlisle, The Chicks (formerly known as Dixie Chicks), Mary J. Blige, Sheryl Crow, Nadia Ali, Florence Welch, Taylor Swift, Vanessa Carlton, Delta Goodrem, and Lorde.
Australian singer Darren Hayes cited Stevie Nicks as one his favorite musicians during his teenage years, while Eminem's mother, Debbie Nelson, mentioned in her book, My Son Marshall, My Son Eminem, that her son loved the song "Rhiannon".
Hire Stevie Nicks for your party or event!
Stevie Nicks may be available for your next special event!
Book Stevie Nicks, now!
For other great suggestions for booking music acts, look here.

For more suggestions, proceed to the next page.
Click here --
Rock Music Roster
Or, click on one of the below links --
Music Menu
Fast Index
Entertainers Directory
Home