How To Book STEVIE WONDER For Your Event!
Rock and Roll Hall of Fame Member
-- inducted 1989
How to Hire STEVIE WONDER For Your Event!
Popular requests:
BOOKING FEE (booking price, booking cost).
GRAMMY AWARD winning Stevland Hardaway Morris, known professionally as Stevie Wonder, is an American singer-songwriter , who is credited as a pioneer and influence by musicians across a range of genres that includes rhythm and blues, pop, soul, gospel, funk and jazz.
A virtual one-man band, Wonder's use of synthesizers and other electronic musical instruments during the 1970s, reshaped the conventions of R&B. He also helped drive the genre into the album era, crafting his LPs as cohesive, consistent socially conscious statements with complex compositions. Blind since shortly after his birth, Wonder was a child prodigy who signed with Motown's Tamla label at the age of 11, where he was given the professional name Little Stevie Wonder.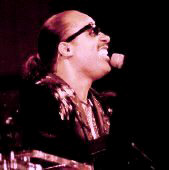 Hire Stevie Wonder for your festival or concert plans.
Stevie Wonder's first album recorded live, "The 12 Year Old Genius," topped the Hot 100, R&B singles and album charts in the US. By 1965 Stevie Wonder became resentful of Motown's stranglehold over his career. Efforts to renegotiate his career were constantly stonewalled. Years later Stevie performed a skit about his career-crisis on the popular American show Saturday Night Live. In the skit Wonder approached a record company executive with a request for artistic freedom. The executive replied, "Don't get arty on me. Boy geniuses are a dime a dozen."
Stevie Wonder had to push really hard to exercise creative freedom. In 1966, he succeeded in having his say through "Uptight," the song that came to be identified as Stevie's mainstay. Several successful albums followed. But it wasn't until "Talking Book" in 1972 that Wonder finally managed to become independent of what Motown needed and demanded from him.

Hire Stevie Wonder.
With other artists, it is fashionable to say that the best is always ahead of them. In Stevie Wonder's case this is the reality. "Songs In The Key Of Life" in 1976 and "Hotter Than July" in 1980 are regarded by many Wonder-struck fans as his two best albums to date. The latter album dedicated to Martin Luther King, Jr., was accompanied by a campaign by the musician to have King's birth-date as a national holiday. The American government complied in 1983.
Wonder's success story got bigger and brighter with each passing year. In 1984, Wonder crooned what came to be his most beloved love ballad, "I Just Called To Say I Love You" contained in the film "The Woman In Red." It topped the UK chart for six weeks. It was Wonder's first solo no. 1 hit in Britain and one of the ten largest-selling singles in the UK of all times.
More record breaking success came Wonder's way with the zingy twist-and-slouch dancers' special "Part Time Lover." It became the first US single to top the US pop, R&B, adult contemporary and dance-disco charts.
Stevie Wonder has no match. In every decade since the sixties he has created tracks that have stood the test of time. The sixties had "Uptight." The seventies spawned the enigmatic "Superstition." The eighties shall be measured by Wonder's "I Just Called To Say I Love You." The nineties are processed by Wonder's "Kiss Lonely Goodbye." As the next century approaches, Stevie Wonder prepares to expand his innervision to include a future generation.
Hit songs include --
Boogie On Reggae Woman
Do I Do
Ebony and Ivory
Fingertips
Go Home
Higher Ground
I Just Called To Say I Love You
I Was Made to Love Her
I Wish
Living For The City
Master Blaster (Jammin')
Overjoyed
Part-Time Lover
Send One Your Love
Shoo-Be-Doo-Be-Doo-Da-Day
Signed, Sealed, Delivered, I'm Yours
Sir Duke
Skeletons
Superstition
That Girl
Uptight (Everything's Alright)
You Are The Sunshine of My Life
You Haven't Done Nothin'
You Will Know
Hire Stevie Wonder for your party or event!
Stevie Wonder may be available for your next special event!
Book Stevie Wonder, now!
For other great suggestions for booking music acts, look here.

Genre: R&B
Genre: Rock 1
Styles:
.Psychedelic Soul. / PsychedelicSoul
.Smooth Soul. / SmoothSoul
.Progressive Soul. / ProgressiveSoul
.Pop-Soul. / PopSoul
.Pop/Rock. / PopRock
.Contemporary Pop/Rock. / ContemporaryPopRock
.Motown. / xMotown
.Funk. / xFunk
.Pianist. / xPianist


Years active:
x60s, x70s, x80s, x90s, x00s, x10s, x20s
1961-present

Born: ..in Michigan / born nMichigan
Born: ..in Saginaw / born SaginawMI
Born: May 13, 1950

Based: ..in US