Visit new page >>>
STING
How To Book STING For Your Event!
Sting may be available for your next special event!



Hits include: "All This Time",
"Brand New Day", "Desert Rose",
"Fortress Around Your Heart",
"If You Love Somebody Set Them Free",
"Roxanne '97", "Send Your Love",
"Stolen Car (Take Me Dancing)",
"Be Still My Beating Heart",
"Fields of Gold", "You Still Touch Me",
"If I Ever Lose My Faith in You",
"We'll Be Together", "The Soul Cages",
"Little Wing", "When We Dance",
"Epilogue (Nothing 'Bout Me)",
"Love Is the Seventh Wave",
"After the Rain Has Fallen",
"I Can't Stop Thinking About You",
"One Fine Day", "Don't Make Me Wait",
"Down So Long", "Rushing Water".
GRAMMY AWARD winning Sting is a singer, songwriter and actor and was born Gordon Matthew Sumner, in London, England.
Sting is former vocalist and lyricist of The Police, his first film role came in Quadrophenia (1978), and his first hit song was "Spread A Little Happiness" (1982), taken from the soundtrack of the television film, Brimstone and Treacle, in which he also starred.
He has collaborated with other musicians on songs such as "Money for Nothing" with Dire Straits, "Rise & Fall" with Craig David, "All for Love" with Bryan Adams and Rod Stewart, "You Will Be My Ain True Love" with Alison Krauss.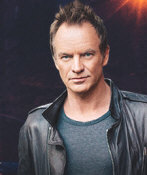 Hire Sting for your festival or concert plans!
In 1981, he also led an all-star band (dubbed "the Secret Police") on his own arrangement of Bob Dylan's "I Shall Be Released". The band and chorus included Eric Clapton, Jeff Beck, Phil Collins, Bob Geldof and Midge Ure, all of whom (except Beck) later worked on Live Aid.
His first solo album, 1985's The Dream of the Blue Turtles, featured jazz musicians including Kenny Kirkland, Darryl Jones, Omar Hakim and Branford Marsalis. It topped both the UK and US music charts. He has been heavily involved with campaigns benefiting the environment and saving the rain forests, and with Amnesty International.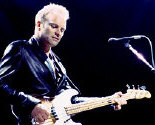 Hire Sting for your very special event or occasion.
In July 1985, Sting performed Police hits at the Live Aid concert at Wembley Stadium in London. He also joined Dire Straits in "Money for Nothing" and he sang two duets with Phil Collins.
In 1985, Sting provided spoken vocals for the Miles Davis album, You're Under Arrest, taking the role of a French-speaking police officer. He also sang backing vocals on Arcadia's single "The Promise", on two songs from Phil Collins' album, No Jacket Required. Later albums include "Soul Cages" (1991), which reached No. 1 on the UK music charts, and "Mercury Falling" (1996).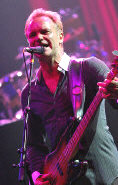 Hire Sting!
In 1993, with Bryan Adams and Rod Stewart, Sting performed "All for Love" for the film The Three Musketeers. The song stayed at the top of the U.S. charts for three weeks, topped multiple other charts worldwide and reached number two in the UK.
On 15 September 1997, Sting appeared at the Music for Montserrat concert at the Royal Albert Hall, London, performing with fellow English artists Paul McCartney, Elton John, Eric Clapton, Phil Collins and Mark Knopfler.
Sting's career shows no sign of slowing down: his 1999 album and tour, "Brand New Day," met with widespread critical and popular acclaim.
At the Grammy Awards in February 2000, "Brand New Day" won Best Pop Album, while Sting collected the award for Best Male Pop Vocal Performance for the hit single, also entitled "Brand New Day."
He won again in the same category the following year, for "She Walks This Earth (Soberana Rosa)," a song he recorded for a tribute album to the Brazilian composer Ivan Lins, "A Love Affair: The Music of Ivan Lins".
In 2003, Sting and Mary J. Blige won a Grammy for their duet, "Whenever I Say Your Name".
In 2003, The Police was inducted into the Rock and Roll Hall of Fame.
In 2004, Sting embarked on a Sacred Love tour with performances by Annie Lennox.
Sting was on the 2005 Monkey Business CD by hip-hop group, the Black Eyed Peas, singing on "Union", which samples his Englishman in New York.
On 28 August 2015, "Stolen Car", a duet with French singer Mylène Farmer was released.
In 2016, Sting performed a 19-date joint concert summer tour of North America with Peter Gabriel.
In 2018, he released the album 44/876, a collaboration with Jamaican musician Shaggy, which won the Grammy Award for Best Reggae Album in 2019.
In 2020, Sting appeared on the song "Simple" available on the EP Pausa by Ricky Martin.
On 19 March 2021, Sting released Duets, a compilation album comprising 17 tracks of collaborations with various artists including Eric Clapton, Mary J. Blige, Shaggy, Annie Lennox and Sam Moore.
In February 2022, Sting collaborated with Swedish DJ supergroup, Swedish House Mafia, releasing a song and music video titled "Redlight".
As a solo performer, he has released 15 albums between 1985 and 2021, most of which have sold millions of copies worldwide.
Hire Sting for your party or event!
Sting may be available for your next special event!
Book Sting, now!
For other great suggestions for booking music acts, look here.

Genre: Rock 1
Styles:
.Adult Contemporary. / AdultContemporary
.Pop/Rock. / PopRock
.Contemporary Pop/Rock. / ContemporaryPopRock
.Adult Alternative Pop/Rock. / AdultAlternativePopRock
.Album Rock. / AlbumRock
.College Rock. / CollegeRock


Years active:
x70s, x80s, x90s, x00s, x10s, x20s
1971-present

Born: ..in England
Born: ..in Northumberland
Born: ..in Wallsend
Born: ..in Newcastle area
Born: Oct 2, 1951

Tag: FormerMemberOf, .Orchestra charts available. / OrchestraCharts