How To Book THE STRUMBELLAS For Your Event!
The Strumbellas may be available for your next special event!




Hits include: "Salvation",
"We Don't Know", "Spirits",
"Young & Wild", "I'll Wait",
"Greatest Enemy".
The Strumbellas are a rock band from Canada, whose music has been described as alternative country, indie rock, farm emo, and "gothic folk".
The Strumbellas welcome Jimmy Chauveau into the role of lead vocalist and guitar, adding the experienced musician's fresh sound to the multi-Platinum, JUNO Award winning, internationally renowned alternative rock band.
Chauveau was previously the lead singer of Ascot Royals before moving on to front the duo Kadeema in 2019. Original frontman Simon Ward will remain an active part of The Strumbellas line-up, shifting his focus from centre stage to behind the scenes with a continued emphasis on the songwriting fans have come to love.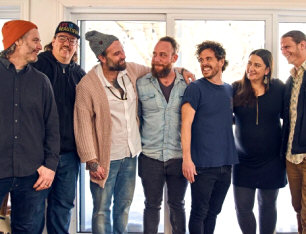 Says Chauveau, "I am super, super excited and humbled to have been offered this opportunity to join this wonderful group of humans, and I'm really looking forward to what the future brings with them."
Moving forward with a new lead singer wasn't a decision The Strumbellas took lightly, but when Ward approached the band about taking a step back from touring, they knew they still felt passionate about creating together.
When the Strumbellas began to put the feelers out for a new vocalist, and were immediately drawn to Chauveau's voice and stage presence, as well as his individual chemistry with the band members.
Now, with a clear vision of the band's future both on and off the road, The Strumbellas are thrilled with the new arrangement, stating, "we're so excited to welcome Jimmy, who brings talent, energy, and a serious set of pipes to the band. It's been a blast working with him. Simon is our brother and we fully support him taking on a new behind-the-scenes role.
We're writing new songs together and working to get new Strumbellas songs to our fans as soon as we can." Of the change says Ward, "I love The Strumbellas; the band has been one of my greatest passions and played a huge part in my life. We have so much fun making music together and everyone is like family to me. As the band's success grew, so did the touring. We've even had a
t-shirt around since the very first album that says 'traveling band' and that's no joke. I am just not cut out to tour to the same extent anymore, and as much as I love the band, I have decided I would like to put my focus on my first loves: songwriting and being at home with my family.
"Stepping back from touring will let me focus on that and more, and I'm excited for everything to come. I greatly look forward to writing and sharing new music with everyone in the future. Love, Simon."
Hire The Strumbellas for your party or event!
The Strumbellas may be available for your next special event!
Book The Strumbellas, now!
For other great suggestions for booking music acts,
look here.
Watch videos.
YouTube

For more suggestions, proceed to the next page.
Click here --
Alternative Music Roster or Folk Music Roster
Or, click on one of the below links --
Music Menu
Fast Index
Entertainers Directory
Home