Visit new page >>>
STYX
How To Book STYX For Your Event!
Styx may be available for your next special event!



How to Hire STYX For Your Event!
Popular requests:
BOOKING FEE (booking price, booking cost).
Styx is an American rock band from Chicago that formed in 1972 and is best known for melding hard rock guitar balanced with acoustic guitar, synthesizers mixed with acoustic piano, upbeat tracks with power ballads, and incorporating elements of international musical theatre.
The band established itself with a progressive rock sound in the 1970s, and began to incorporate pop rock and soft rock elements in the 1980s.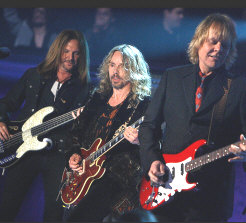 Hire Styx for your festival or concert plans!
In 1980, Styx was voted the most popular band in America, according to a Gallup poll.
Styx's commercial breakthrough in North America came with The Grand Illusion (1977), which peaked at No. 6 in both the US and Canada, and became the first of four straight multi-platinum albums in the US for Styx. It featured the single "Come Sail Away", a top 10 hit in both countries.
Styx had eight songs that hit the top 10 on the US Billboard Hot 100, as well as 16 top 40 singles. Seven of their eight top 10 singles were written and sung by founding member and lead singer Dennis DeYoung, who has not been part of the band since 1999.
In 2001, Styx performed at the Super Bowl XXXV pre-game show at Raymond James Stadium.
In 2003, Styx performed at the Super Bowl XXXVII pre-game show at Qualcomm Stadium.
In 2003, "Cyclorama" is released, which included guest appearances by Billy Bob Thornton, Brian Wilson, John Waite, Jude Cole and Tenacious D.
In 2004, Styx is invited to perform at Eric Clapton's Crossroads Guitar Festival in Dallas in June. Since they had just played there three weeks previously, they decide to perform their version of the Beatles classic "I Am the Walrus," which keyboardist Lawrence Gowan had only performed in sound checks.
In a North American tour beginning in May 2010, Styx was a co-headliner of United in Rock with Foreigner and special guests Kansas.
In early April 2011, it was announced that Styx would join up with Yes for a "Progressive US Tour" that began on July 4, 2011.
On November 22, 2013, they announced a benefit concert with REO Speedwagon titled "Rock to the Rescue" to raise money for the affected families of the tornado in central Illinois.
The summer of 2014 found the band back on the road in a new touring package called Soundtrack of Summer, with Foreigner and ex-Eagle Don Felder.
Styx's 2015 summer tour saw them re-uniting with Def Leppard. Along with Tesla, the groups played outdoor venues across the United States.
On June 5, 2022 Styx was inducted into the Illinois Rock & Roll Museum Hall of Fame. That same night Dennis DeYoung was additionally inducted as a songwriter.
Hit songs by Styx include --
Babe
Too Much Time On My Hands
Mr. Roboto
Show Me The Way
The Best of Times
Don't Let It End
Lady
Come Sail Away
Rockin' The Paradise
Love Is The Ritual
Renegade
Blue Collar Man (Long Nights)
Snowblind
Love at First Sight
Why Me
Lorelei
Fooling Yourself (The Angry Young Man)
Mademoiselle
Waiting for Our Time
Music Time
Hire Styx for your party or event!
Styx may be available for your next special event!
Book Styx, now!
For other great suggestions for booking music acts, look here.

Genre: Rock 1
Genre: Rock 2
Styles:
.Classic Rock. / ClassicRock
.Hard Rock. / HardRock
.Pop/Rock. / PopRock
.Contemporary Pop/Rock. / ContemporaryPopRock
.Prog-Rock. / ProgRock
.Arena Rock. / ArenaRock
.Album Rock. / AlbumRock


Years active:
x70s, x80s, x90s, x00s, x10s, x20s
1972–1984, 1990–1991, 1995–present

Formed: ..in Illinois / formed nIllinois
Formed: ..in Chicago / formed ChicagoIL
Formed: in 1970

Based: ..in US
Based: ..in Illinois / based nIllinois
Based: ..in Chicago / based ChicagoIL