How To Book SUGAR RAY For Your Event!
Sugar Ray may be available for your next special event!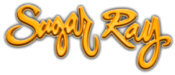 Sugar Ray is an American rock band formed in Newport Beach, California, in 1986.
Originally playing heavier funk metal and nu metal style music, the band achieved mainstream popularity in 1997 with their more pop-influenced single "Fly". The song's success led the band to shift its style dramatically to the more radio-friendly pop sound with their subsequent releases.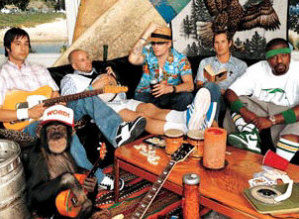 After the Studio 56 sessions, Sugar Ray moved into the famed Sunset Sound Studios, smack dab on the Sunset Strip. The band found themselves in thrall to the place's vibe, not to mention the musical ghosts of the Doors and The Rolling Stones.
The band proudly credit their musical growth to their collaborative relationship with "Floored" producer David Kahne.
"David's become our George Martin, if you will," says Murphy. "He really knows the dynamic. He's a record producer in the truest sense of the word. He's worked with everybody from Romeo Void to Tony Bennett to Sublime, so he encompasses the full spectrum of music. And that's us. We needed someone who could go to those extremes."
In addition to helping Sugar Ray find their musical voice, Kahne also gave Mark a new strength and confidence as a singer.
"Before I was always just sort of clutching at straws," McGrath says. "I'd be screaming here, I'd go to a falsetto there. David really showed me where my voice wants to be."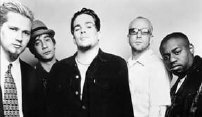 That growth is perfectly in tune with the band's shared experiences in the years since their 1995 Lava/Atlantic debut, "Lemonade and Brownies." Among the adventures shared by Sugar Ray was the relentless activity which followed "Floored." The band hit the road across America and Europe with a vengeance, including a spot on the big Blockbuster RockFest in Fort Worth, Texas, and a summer kicking it on Warped Tour '97.
The mind-blowing popularity of "Fly" found Sugar Ray dominating America's airwaves – the song held the #1 position on the Billboard "Hot 100 Airplay" chart for six consecutive weeks while the song's companion clip was a #1 video at MTV, VH1, and The Box – and performing on national TV programs such as "Late Show With David Letterman", "The Rosie O'Donnell Show", "Late Night With Conan O'Brien", and "The Howard Stern Show", not to mention Mark's smart appearances on "Politically Incorrect" and VH1's "Rock 'N' Roll Jeopardy."
They also found their faces in any number of magazines, including Rolling Stone, Details, Spin, Cosmopolitan, Request, Alternative Press, TeenPeople, and People (who declared Mark one of the sexiest men of '98!). With all the hubbub surrounding them, Sugar Ray became a close-knit family, confronting deaths, celebrating marriages, reveling in a huge hit record, and ultimately coming through with evolved perspective."
"We're starting to write about what's real in our life," says Mark. "When we first came to L.A., it was all about beer and chicks and cars, that's where our mentality was. Now we're not afraid to say 'I miss you' or 'I love you' in a song. We've done a lot of living in the last several years, and I think that we've grown from those experiences."
Springing happily from genre to genre, the band has proven themselves remarkably open to outside input.
"I look at this band as more like fans making music as opposed to us being 'musicians,'" he adds. "We don't want to limit ourselves to one genre, you know, and that's why we're able to write songs like 'Fly' or 'Every Morning,' songs that cross over to so many formats."
The truth is, for Sugar Ray, it's still simply about fun, fun, fun.
Hit songs include --
Every Morning
Fly
Someday
When It's Over
Falls Apart
Is She Really Going Out With Him?
Mr. Bartender (It's So Easy)
Answer The Phone
RPM
Shot of Laughter
Hire Sugar Ray for your party or event!
Sugar Ray may be available for your next special event!
Book Sugar Ray, now!

Genre: Rock 2
Genre: Rock 3
Styles:
.Heavy Metal. / HeavyMetal
.Alternative/Indie Rock. / AlternativeIndieRock
.Contemporary Pop/Rock. / ContemporaryPopRock
.Adult Alternative Pop/Rock. / AdultAlternativePopRock
.Ska-Punk. / SkaPunk
.Post-Grunge. / PostGrunge
.Funk Metal. / FunkMetal
.Alternative Pop/Rock. / AlternativePopRock


Years active:
x90s, x00s, x10s, x20s
1992-present

Formed: ..in California / formed nCalifornia
Formed: ..in Orange County / formed OrangeCountyCA
Formed: in 1992

Based: ..in US
Based: ..in California / based nCalifornia
Based: ..in Newport Beach area / based NewportBeachCA