Visit new page >>>
SUGARLAND
How To Book SUGARLAND For Your Event!
Sugarland may be available for your next special event!



Hits include: "All I Want To Do", "Already Gone",
"It Happens", "Settlin'", "Want To", "Baby Girl",
"Something More", "Stay", "Stuck Like Glue",
"Just Might (Make Me Believe)", "Little Miss",
"Down In Mississippi (Up To No Good)",
"Life In A Northern Town", "Tonight", "Joey",
"Nuttin' For Christmas", "Winter Wonderland",
"Stand Back Up", "Gold And Green", "Run",
"Everyday America", "Still the Same", "Babe".
How to Hire SUGARLAND For Your Event!
GRAMMY AWARD winning Sugarland is an American country music duo founded in Atlanta, Georgia.
The duo consists of singer-songwriters Jennifer Nettles (lead vocals) and Kristian Bush (vocals, guitar, mandolin). They were founded in 2002, at which point Kristen Hall (vocals, guitar) was also a member. All three had experience in folk rock: Nettles had recorded in the groups Soul Miner's Daughter and Jennifer Nettles Band, Bush had recorded two albums as one-half of the duo Billy Pilgrim, and Hall had recorded two solo albums. After Hall left in 2006, Nettles and Bush continued as a duo.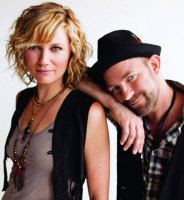 Hire Sugarland for your festival or concert plans.
It has been a series of extraordinary firsts for Sugarland, the chart-topping singer-songwriter duo of Jennifer Nettles and Kristian Bush. For starters, their Mercury Nashville debut, "Twice the Speed of Life", was certified Double Platinum. In addition, they received the award for Breakthrough Favorite New Artist at the American Music Awards (their competition included artists from all genres of music.) Plus, radio and fans alike have embraced all of their singles: "Baby Girl," "Something More," "Just Might (Make Me Believe)" and "Down in Mississippi (Up To No Good)."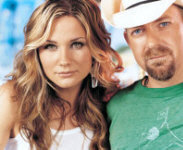 Hire Sugarland for your very special event or occasion.
It's a major understatement to say that Sugarland has come a long way fast.
Piloted by Jennifer's powerhouse, country-soul vocals and Kristian's passionate harmonies and playing, the entertainers were nominated for a whopping five awards. Nettles upped that impressive tally to a total of six with her nomination in the Vocal Event of the Year category for "Who Says You Can't Go Home," her #1 duet with Bon Jovi.
When original third member, Kristen Hall, left the group to concentrate on her songwriting. Nettles and Bush kicked off the New Year in style with an appearance on Dick Clark's New Year's Rockin' Eve, they were invited back for their second appearance on The Tonight Show with Jay Leno, and also performed on the CMT Music Awards.
In a major career coup, Sugarland landed a highly-prized Best New Artist nomination at the Grammy Awards, a category that includes all genres of popular music. They also performed their hit "Something More" at the Grammy's. Backstage, Jennifer and Kristian rubbed elbows with living icon Paul McCartney, who complimented them on their sound check.
Sugarland has quickly made a name for itself as one of the rockingest country acts on the road. Fans have been treated to a series of high-octane Sugarland appearances as they opened for Kenny Chesney on his record-shattering The Road and The Radio tour.
Nettles grew up on Southern gospel while also connecting with the likes of Juice Newton, Rita Coolidge and Linda Ronstadt. Singing from the time she was seven, Nettles developed a commanding stage presence. With big, bluesy delivery, sly wit and infectious energy, she found herself fronting the band Soul Miner's Daughter and later drawing big crowds on the local circuit and at Lillith Fair with her own band.
Then there's the charismatic Kristian Bush, the former alternative folk-rocker who grew up listening to college radio favorites The Replacements and R.E.M. Bush was schooled on such acclaimed rock heroes as The Police and The Replacements. He joined fellow Georgian, Andrew Hyra, to form Billy Pilgrim, which ironically has been referred to as the "Indigo Boys," due to their smooth harmony and snappy take of folk music.
Together, the two singular performers of Sugarland create an artistic partnership that is as unique as it is compelling.
Living through one extraordinary career triumph after the next, Jennifer and Kristian remain sincerely grateful for all the highlights that have come their way. Chief among them is the personal friendship and professional collaboration they have forged in Sugarland.
"It feels like a gift, and I'm just thankful for it every day," says Kristian about his artistic partnership with Jennifer. "Who else can you sit across from in a rocking chair when you're 70 and say, 'Hey, remember playing the Grammys? Do you remember when Paul McCartney came up and said, 'Hey, I really dig your sound-check'?"
Hire Sugarland for your party or event!
Sugarland may be available for your next special event!
Book Sugarland, now!
For other great suggestions for booking music acts, look here.

Genre: Country
Styles:
.Country-Pop. / CountryPop
.Country-Folk. / CountryFolk
.Contemporary Country. / ContemporaryCountry


Years active:
x00s, x10s, x20s
2002-present

Formed: ..in Georgia / formed nGeorgia
Formed: ..in Atlanta area

/ formed AtlantaGA
Formed: in 2002

Based: ..in US
Based: ..in Georgia / based nGeorgia
Based: ..in Atlanta area / based AtlantaGA