Visit new page >>>
SZA
How To Book SZA For Your Event!
SZA may be available for your next special event!



Hits include: "Drew Barrymore",
"Doves In The Wind",
"Broken Clocks", "Supermodel",
"The Weekend", "Love Galore",
"Garden (Say It Like Dat)",
"Power is Power", "The Other Side",
"Hit Different", "Good Days",
"Just For Me", "I Hate U",
"No Love", "All the Stars".
How to Hire SZA For Your Event!
Popular requests:
Booking fee, booking price, or booking cost.
Solána Imani Rowe, known professionally as SZA, is an American R&B singer.
Born in St. Louis, Missouri, she began making music in the early 2010s, releasing two extended plays before signing with the hip hop record label Top Dawg Entertainment, through which she released Z (2014), her third EP and first retail release. That same year, she co-wrote "Feeling Myself" by Nicki Minaj and Beyoncé. In 2016, she was featured on Rihanna's song "Consideration".

SZA's vocal style has been described as taking on the "lilt" of a jazz singer. SZA is known as TDE's first female signee and first singer, which also drew attention during the early stages of her career. According to Marissa G. Muller of Rolling Stone magazine, SZA's vocals alternate between a "vapory husk and a sky-high falsetto". Jordan Sargent of Pitchfork magazine labeled SZA's vocals as being "chillwave" and "ethereal".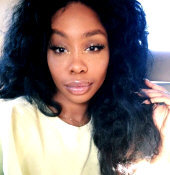 SZA disputes her music being labelled as hip hop, R&B and pop, stating she often listens to a variety of music including Stevie Nicks, classical jazz, folk, and rap. Further, she said: "when you try to label it [her music], you remove the option for it to be limitless. It diminishes the music."
SZA began writing songs due to being "passionate" about writing, and enjoyed poetry; when writing lyrics, SZA "freestyles" them in order to express whatever comes to her "mind", noting that it does not always make sense to herself. Thematically, SZA's work contains "unravelling lyrics", that touch upon themes of sexuality, nostalgia, and abandonment.

SZA's musical style has been described as "alt R&B". SZA's songs are built over "layers of sliced, delayed, and reversed vocals" and contains "twists and mutates". Reggie Ugwu from Billboard magazine found her musical style to feature an "agnostic utopia dripping with mood", that straddles the "line between minimalist R&B, '80s synth pop and soul".
SZA's music is primarily PBR&B and neo-soul, but has been noted for taking influences from a broad variety of genres including soul, hip hop, minimalist R&B, indie rock, cloud rap, ethereal R&B, witch house and chillwave elements. Michael Madden described SZA's musical genre as being "agnosticism corresponds", noting that her work is not just one style of music and is versatile, noting the musical style is not just "R&B, pop, soul, or one thing at all".

SZA listens to Ella Fitzgerald for vocal influence, and has said that Lauryn Hill is one of her personal influences. SZA also cites a wide range of musical artists as influences, including Meelah, the Red Hot Chili Peppers, LFO, Macy Gray, Common, Björk, Jamiroquai, and "a lot of Wu, Nas, Mos Def, Hov".
Speaking on her influences, SZA said: "[My] personal influences came from dancing with American Ballet Theatre and doing pieces to Björk [music]. That's the only time I had really any outside influence to music. So, the people that I fell in love with on a musical level were always much older. Jamiroquai is just, like, the shit for me."
In an interview for Live Nation Entertainment, SZA described the meeting she had with Beyoncé for the writing of the song "Feeling Myself", affirming "Beyoncé might be the most perfect, beautiful being I've ever met in my whole life. She's the most inspirational woman on earth, next to my mother". SZA also spoke about Rihanna, admiring her strong and confident attitude, of someone who does only the music she wants to do, and that if there's anybody that she could imagine singing her words, it would be Rihanna.
Hire SZA for your party or event!
SZA may be available for your next special event!
Book SZA, now!
For other great suggestions for booking music acts,
look here.

For more suggestions, proceed to the next page.
Click here --
R&B Music Roster
Or, click on one of the below links --
Music Menu
Fast Index
Entertainers Directory
Home