How To Book THALÍA For Your Event!
Thalía may be available for your next special event!
Like one of the muses that inspired the poets of antiquity, Mexican singer and actress Thalia [thah-LEE-ah] (Ariadna Thalía Sodi Miranda) has worked her magic on millions of fans around the world. From Argentina to Yemen, the queen of soap operas ruled over the 90's, starring in her country's highest-rated TV melodramas and bewitched many more with her albums.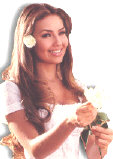 In the beginnings of her career as a solo artist, she had written her own songs. But as her fame rose, Thalia found herself on top of a wave that took her rapidly to all corners of the globe, barely giving her time to catch her breath. Between the success of her albums, her soap operas and her promotional and artistic commitments, Thalia's life seemed to be spent in hotels, in between suitcases.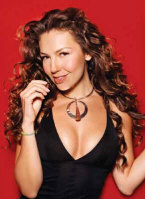 Ever since she was a child in Mexico City, Thalia Sodi's dream was to become the brightest star, and she has managed to do just that, perhaps even beyond her wildest expectations. Always, though, wise enough to know that everything in life requires a balance.
At nine years of age, Thalia belonged to a musical group, Din-Din, that put out four albums, and participated in artistic festivals. With Din-Din, the future star worked arduously, traveled her country's capital, and lived with great intensity the life of an artist – a life that requires great effort, dedication and patience.
Towards the end of 1984, Thalia landed a part as a chorus girl in the musical "Grease," performed on stage in Mexico by the then-famous juvenile group Timbiriche. Such was Thalia's scenic presence, however, that in no time she graduated from the chorus to a starring role. Her own star light was undeniable, and each time she appeared on stage, she made it hers.
Timbiriche's producer, Luis de Llano, was sufficiently impressed with the girl's talent so as to offer her to join Timbiriche in 1986. Along with them, she would record the albums "Timbiriche VII," "VIII" and "IX."
As her career as a singer took off, Thalia also grew as an actress, starting from the bottom and working her way up with small roles in the soap-operas "La pobre señorita Limantour" (1987), "Quinceañera" (1988) and "Luz y Sombra" (1989). However, it was with "Quinceañera" that Thalia became, in the minds of her devoted Mexican fans, the eternal innocent damsel.
Eager to learn English and to polish her craft singing, dancing and learning to play guitar, Thalia said goodbye to Timbiriche in 1989 and moved to Los Angeles for a year. While there, she soaked up all the trends of the moment – from fashion to art.
Thalia returned to Mexico reinvigorated, with a new look and fresh ideas. That's what she sought to transmit in her debut solo album, "Thalia," her first collaboration with producer Alfredo Diaz Ordaz, with whom she would record two more successful albums, "Mundo de Cristal" and "Love."
"Thalia", the album, was a success.
In 1991, invited to work in Spain, she headed there to co-host a variety show called "VIP de noche," for Channel 5. The program was a success and Thalia felt comfortable in her new surroundings. Six months later, however, another challenge took her back to Mexico.
In one bold move, Thalia agreed to star in a trilogy of soap operas, playing characters called Maria. The first one, "Maria Mercedes," came out in 1992 and quickly broke all ratings records. Two years later she did "Marimar," and it topped TV ratings lists in the United States. Success knocked on her door for a third time with 1995's "Maria la del barrio." Thanks to the risky decision to star in the three productions, Thalia's name became synonymous with Mexico in more than 120 countries, without any barriers of language, age or geographical regions.
Her international stardom as an actress opened even more doors for her as a singer, and in that arena, she returned in 1995 with "En Extasis" (EMI ), produced by Emilio Estefan and Oscar Lopez. The album went gold and platinum, creating a sensation with the single "Piel Morena" and its video. Released in more than 20 countries, its tropical rhythms and enchanting ballads made Thalia's sound unique.
The star was wanted everywhere: in festivals all around the world, from Viña del Mar in Chile to Miami's Calle 8 Festival; awards, honors and distinctions were showered upon her; and publications galore sought her.
The ecstasy created by "En Extasis" led to another hit-making production in 1997, "Amor a la mexicana," and even an album in the Filipino language, "Nandito Ako," because in the Philippines, Thalia is considered more than a star. She is a phenomenon. (She has also shown her dexterity at languages by recording in English, French and Portuguese.) That same year she contributed with three songs to the soundtrack of the animated film "Anastasia."
The phenomenon known as Thalia is expanding. However, she will always remain loyal and true to her Mexican roots and to her Latin people.
Hit songs include --
Cerca de Ti (Closer to You)
Entre el Mar y una Estrella
No Me Enseñaste
Tu y Yo
Amar Sin Ser Amada
Me Pones Sexy (I Want You) [featuring Fat Joe]
No, No, No
Piel Morena
Amor a la Mexicana
A Quien le Importa?
The Mexican
Un Alma Sentenciada
Gracias a Dios
Don't Look Back
Baby, I'm in Love
Regresa a Mi
Maria la del Barrio
Seduccion
Reencarnación

Arrasando
Thalía may be available for your next special event!
Watch videos
YouTube

Genre: Latin
Styles:
.Latin Pop. / LatinPop
.Club/Dance. / ClubDance
.Dance-Pop. / DancePop
.Banda. / xBanda
.Latin Dance. / LatinDance
.Latin Dance-Pop. / LatinDancePop


Years active:
x80s, x90s, x00s, x10s

Born: ..in Mexico
Born: ..in Mexico City
Born: Aug 26, 1971

Based: ..in US
Based: ..in New York / based nNewYork
Based: ..in New York City / based NewYorkNY