Hits include: "Snail Shell",
"Birdhouse In Your Soul",
"Mickey Mouse Clubhouse Theme",
"Ana Ng", "Twisting",
"The Statue Got Me High",
"Istanbul", "Boss of Me",
"Man, It's So Loud in Here".
How to Hire THEY MIGHT BE GIANTS For Your Event!
Popular requests:
BOOKING FEE (booking price, booking cost).
Grammy Award winning They Might Be Giants (often abbreviated as TMBG) is an American alternative rock band formed in 1982 by John Flansburgh and John Linnell. During TMBG's early years, Flansburgh and Linnell frequently performed as a duo, often accompanied by a drum machine.
TMBG have released 23 studio albums. Flood has been certified platinum, while their children's music albums Here Come the ABCs, Here Come the 123s, and Here Comes Science have all been certified gold. The group has won two Grammy Awards. They were nominated for a Tony Award for Best Original Score (Music and/or Lyrics) Written for the Theatre for SpongeBob SquarePants: The Broadway Musical. In total, the group has sold more than 4 million records.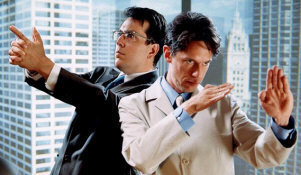 Hire They Might Be Giants for your festival or concert plans!
The group have been noted for their unique style of alternative music, typically using surreal, humorous lyrics, experimental styles and unconventional instruments in their songs. Over their career, they have found success on the modern rock and college radio charts. They have also found success in children's music with several educational albums, and in theme music for television programs and films.
In the early 1990s, TMBG expanded to include a backing band. The duo has been credited as vital in the creation and growth of the prolific DIY music scene in Brooklyn in the mid-1980s; the duo's current backing band consists of Marty Beller, Dan Miller and Danny Weinkauf.
On May 10, 2004, they made a guest appearance on the final episode of Blue's Clues called "Bluestock" alongside Toni Braxton, Macy Gray, and India.Arie.
TMBG also contributed a track to the 2004 Future Soundtrack for America compilation, a project compiled by John Flansburgh with the help of Spike Jonze and Barsuk Records. The band contributed "Tippecanoe and Tyler Too", a political campaign song from the presidential election of 1840. The compilation was released by Barsuk and featured indie, alternative, and high-profile acts such as Death Cab for Cutie, The Flaming Lips, and Bright Eyes.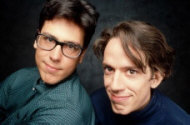 Hire They Might Be Giants for your very special event or occasion.
In 2016, they made a song "I'm Not a Loser" for the SpongeBob SquarePants musical.
In October 2019, the band recorded a new version of their song "Hot Dog" for the third season of the Disney Channel preschool series Mickey and the Roadster Racers, re-titled as Mickey Mouse Mixed-Up Adventures for that season. It premiered on Disney Junior on October 14, 2019.
In July 2020, the band announced that they would be releasing an album titled Book in 2021. The album was released on November 12, 2021.
In August 2020, the band recorded a song for a CNN documentary about the electoral college.
In November 2022, Book was nominated for a 65th Annual Grammy Awards in the category of "Best Boxed or Special Limited-Edition Package".
Hire They Might Be Giants for your party or event!
They Might Be Giants may be available for your next special event!
Book They Might Be Giants, now!
For other great suggestions for booking music acts, look here.