How To Book THIRD EYE BLIND For Your Event!
Third Eye Blind may be available for your next special event!



Hits include: "How's It Going To Be",
"Never Let You Go", "Semi-Charmed Life",
"Anything", "Losing A Whole Year",
"Graduate", "Blinded (When I See You)",
"Deep Inside Of You", "10 Days Late",
"Jumper", "Everything is Easy".
How to Hire THIRD EYE BLIND For Your Event!
Popular requests:
BOOKING FEE (booking price, booking cost).
Third Eye Blind is an American rock band formed in San Francisco, California, in 1993.
After years of lineup changes in the early and mid-1990s, the songwriting duo of Stephan Jenkins and Kevin Cadogan signed the band's first major-label recording contract with Elektra Records in 1996.
The band found commercial success in the late 1990s, with Third Eye Blind and Blue certified platinum six times and single platinum in the United States, respectively. Several songs were a commercial success as well, with "Semi-Charmed Life", "Jumper", and "How's It Going to Be", all reaching the Top 10 of the US Billboard Hot 100, and "Never Let You Go" reaching the Top 20. Third Eye Blind has sold around 12 million records worldwide.
Hire Third Eye Blind for your festival or concert plans!
Third Eye Blind's musical style has been described as pop rock, alternative rock, post-grunge, and pop punk. Jenkins noted that he was influenced by The Clash, Jane's Addiction, and Camper Van Beethoven. Hargreaves stated that his drumming style was influenced by the Ohio Players, The Who and James Brown.
In the mid '90s, Third Eye Blind spent a couple of years coming together, falling apart and coming together again, sleeping on floors and playing on the barely-existent San Francisco club scene. But as soon as real opportunity presented itself - in the form of their self-titled 1997 debut album with Elektra - they took it, and took off.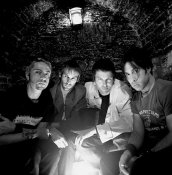 Hire Third Eye Blind for your special event!
Third Eye Blind quickly found themselves becoming headliners. "We were supposed to open up for somebody, but after three shows, we were headlining," says Jenkins. "It didn't seem unusual to us because we always put on our own shows in the past." In fact, the only two bands 3EB have supported are U2 and The Rolling Stones. Not bad for an upstart band pegged early on as a group who refused to conform.
Also in 1997, Third Eye Blind performed at Blockbuster RockFest in Fort Worth, Texas with others such as Sugar Ray, Collective Soul, Counting Crows, Jewel, No Doubt, Matchbox Twenty, Bush, The Wallflowers and Paula Cole. Additionally, Third Eye Blind toured extensively with Smash Mouth, Blur and Sugar Ray.
They scaled the charts with this first album and its first single "Semi Charmed Life." They then made clear their intention to stick around by reeling off four more undeniable rock anthems - "Graduate," "How's It Going To Be," "Losing A Whole Year" and "Jumper." The album sold six million copies and remained on the Billboard Top 200 Albums chart for well over a year. Their 1999 follow-up, "Blue," approached double platinum on the strength of the Stones-inflected single "Never Let You Go" and a sold-out worldwide tour that lasted a year.
One might construe three years between albums to be evidence of slacking, but nothing could be further from the truth. "We'd make more albums if we didn't like playing live so much," declares Brad Hargreaves. Jenkins adds, "In a way, I envy hip-hop producers like Missy Elliott, who can stay home and make more records. But they miss out on the intensity of the exchange with a live audience, which I would never give up. But it's hectic and it's crazy, and after two albums back-to-back I had to stop for a year to rebuild."
Third Eye Blind has tried to affirm that real touch right down to the design of their stage show. It's modeled after the kind of run-down club where such camaraderie can't be faked. In Jenkins words: "It mirrors what the songs are about. We deal with things that are lost, things you can't get back. There's a darkness there, but also reconciliation. The set is a dilapidated club, and we're squatters in that club."
Their discography includes seven studio albums, one live album, two compilation albums, three extended plays, 25 singles, three promotional singles, and 31 music videos.
Hire Third Eye Blind for your party or event!
Third Eye Blind may be available for your next special event!
Book Third Eye Blind, now!
For other great suggestions for booking music acts, look here.

Genre: Rock 3
Styles:
.Post-Grunge. / PostGrunge
Punk Pop / PunkPop
.Alternative Pop/Rock. / AlternativePopRock
.Adult Alternative Pop/Rock. / AdultAlternativePopRock
.Alternative/Indie Rock. / AlternativeIndieRock
.Contemporary Pop/Rock. / ContemporaryPopRock


Years active:
x90s, x00s, x10s, x20s
1993-present

Formed: ..in California / formed nCalifornia
Formed: ..in San Francisco / formed SanFranciscoCA
Formed: in 1993

Based: ..in US
Based: ..in California / based nCalifornia
Based: ..in San Francisco area / based SanFranciscoCA