How To Book THREE DAYS GRACE For Your Event!
Three Days Grace may be available for your next special event!



Hits include: "Break", "Never Too Late",
"Animal I Have Become", "Just Like You",
"Home", "I Hate Everything About You",
"The Good Life", "World So Cold",
"Riot", "The High Road", "Painkiller",
"Lost in You", "I Am the Weapon",
"Chalk Outline", "Pain", "Fallen Angel",
"The Mountain", "Infra-Red", "Lifetime",
"Somebody That I Used to Know",
"So Called Life", "Right Left Wrong",
"Misery Loves My Company".
How to Hire THREE DAYS GRACE For Your Event!
Popular requests:
BOOKING FEE (booking price, booking cost).
Three Days Grace is a Canadian rock band formed in Norwood, Ontario, in 1992, originally as "Groundswell" and played in various local Norwood backyard parties and area establishments before disbanding in 1995 and regrouping in 1997.
Their first three albums have been RIAA certified 2× platinum, 3× platinum, and platinum, respectively, in the United States. In Canada, they have been certified by Music Canada as platinum, triple platinum, and double platinum, respectively. In the United Kingdom, their second album, One-X, was certified silver by the British Phonographic Industry. The band has 17 No. 1 songs on the Billboard Hot Mainstream Rock Tracks chart and 3 No. 1 hits on Alternative Songs.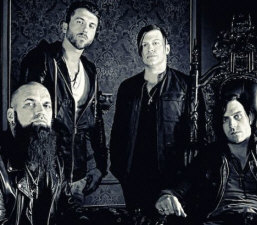 Hire Three Days Grace for your festival or concert plans!
In 2003, the group joined Nickelback on The Long Road Tour between October to November. The band also joined Evanescence on a North American Tour in 2004, as well as Hoobastank on the Let it Out Tour that same year. The group embarked on a headlining tour in 2004, called the Three Days Grace World Tour.
Three Days Grace toured the U.S. and Canada throughout the second half of 2006 and all of 2007 in support of their second album, One-X. In early 2008, they toured across the U.S. alongside Seether and Breaking Benjamin.
In 2010, they went on tour with Nickelback and Buckcherry on the Dark Horse Fall 2010 Tour and they later toured with My Darkest Days starting in March 2011.
On March 9, 2018, their sixth studio album, Outsider, was released. On November 13, "Right Left Wrong" was released as the band's third single from the album. It peaked at No. 1 on the Billboard's Mainstream Rock Songs chart and it is their 15th No. 1 single.
They were nominated for an MTV Video Music Award for Best Rock Video 2022 for "So Called Life".
In September 2022, Three Days Grace performed at Rocklahoma along with others such as Korn, Seether, Cypress Hill and Skillet.
They were nominated at the 2023 iHeartRadio Music Awards for Rock Artist of the Year and their song, "So Called Life", for Rock Song of the Year. Explosions was nominated for Rock Album Of The Year at the 2023 Juno Awards.
Their music has been described as post-grunge, hard rock, alternative metal, alternative rock, and nu metal. Their self-titled album mostly features the sounds of alternative metal and nu metal. However, on their second album, One-X, the band had more guitar solos and a more melodic sound. Their fourth album, Transit of Venus, included a few electronic influences.
Their discography includes seven studio albums, four extended plays, twenty-six singles, two video albums, and eighteen music videos.
Hire Three Days Grace for your party or event!
Three Days Grace may be available for your next special event!
Book Three Days Grace, now!
For other great suggestions for booking music acts, look here.

For more suggestions, proceed to the next page.
Click here --
Alternative Music Roster or Metal Music Roster
Or, click on one of the below links --
Music Menu
Fast Index
Entertainers Directory
Home