Visit new page >>>
TOOL
How To Book TOOL For Your Event!
Tool may be available for your next special event!


GRAMMY AWARD winning Tool is an American rock band from Los Angeles.
Tool's greatest breakthrough was to introduce dark, vaguely underground metal to the preening pretentiousness of art-rock. Or maybe it was introducing the self-absorbed pretension of art-rock to the wearing grind of post-thrash metal – the order really doesn't matter.
Though Metallica wrote their multi-sectioned, layered songs as if they were composers, they kept their musical attack ferociously at street level. Tool didn't – they embraced the artsy, faux-bohemian preoccupations of Jane's Addiction, while they simultaneously paid musical homage to the dark, relentlessly bleak visions of grindcore, death metal and thrash.
Tool is a tough band to nail down. While it's fair to say that, yes, they are a bunch of hard-rocking freaks, and yes, their frontman, Maynard James Keenan, is one of the hardest-rocking freaks on the scene today, there's clearly more to the band than head-banging and power chords. Their sound is angry and forcefully driven, yet somehow they manage to fuse it with a unique musical ambiance. Unusually long songs, odd segues, twisted lyrics, and very, very weird videos hammer home their unique appeal.
Hire Tool for your festival or concert plans!
To understand where Tool is coming from, one first must try to figure out the mind of its lead singer. Armed with a brutal wail and a fistful of attitude, Keenan was born to a Baptist family in Akron, Ohio, and spent time at the U.S. Military Academy Prep, eventually joining the Army in 1982. If that wasn't enough to incite a young mind to anger, he has also suggested that he was abused by his stepfather as a child – and it's generally accepted that the song "Prison Sex" is his attempt to communicate his feelings about those events. After his discharge from the service, he ended up in Los Angeles, where his friend Adam Jones tried to convince him to experiment with music. Jones worked in film as a special-effects designer and sculptor, and as day jobs go, his was a good one. Working on such films as Terminator 2, Predator 2, and Jurassic Park paid the rent, and taught him what he would later need to make some interesting videos.
After Keenan's resolve was worn down, the two began writing songs and soon found themselves looking for a drummer. Several came and went until Keenan's neighbor Danny Carey – the drummer for another Zoo Records act, Green Jello – offered to fill in. The fourth piece of the puzzle fit when the prospect of a film job transplanted bassist Paul D'Amour from Spokane, Washington, to L.A. In April of 1991, the construction of the band Tool was complete.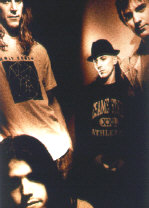 Hire Tool for your special event!
Once together, Tool rose to fame at breakneck speed. In March of 1992, they released "Opiate," a seven-song EP of extremely dark songs, that would serve as the primer for the band's new brand of heavy metal. They hit the road with the Rollins Band, and in April of 1993, released their first full-length album, "Undertow," a deep journey into the dark recesses of Keenan's psyche. Much more melodic than "Opiate," it included such blistering tracks as "Sober," "Prison Sex," and the stunning album closer, "Disgustipated" (listed as the tenth track, it pushes CD players up to track sixty-nine, and then plays for another fifteen minutes). The cover of "Undertow" was an eerily lit ribcage sculpture made by Adam Jones, and was somehow deemed offensive enough for Wal-Mart to create its own cover art for the album – a huge bar code.
An early gig on the "Undertow" tour found Tool playing at a Scientology Celebrity Center. Not thrilled with entertaining L. Ron Hubbard's rich and famous disciples, the foursome eventually found their way to the second stage of the 1993 Lollapalooza tour. Their live show was dynamic enough to bump them to the main stage, which increased their exposure and helped create a loyal group of Toolheads across the country.
August of 1993 saw the video for "Sober" debut on MTV, a ground-breaking stop-action piece directed by Adam Jones which went on to win Billboard Video Awards for "Best New Artist" and "Best Clip." Before the end of the year, the band set off to conquer Europe with Fishbone and Rage Against The Machine.
Although almost three years passed before Tool managed to release its next album, the band wasn't idle. "Undertow" went platinum in August of 1994, and their next video, "Prison Sex," landed a Best Special Effects nomination at the 1995 MTV Video Awards.
In September of 1995, Tool went to Australia for the Alternative Nation Music Festival, and the band's lineup changed slightly. Bassist Paul D'Amour parted with the band (on good terms), joining Failure for a short while before starting his own group, Lusk. Inside two months, Justin Chancellor, a former member of the band Peach, had signed on, and by May of 1996, Tool was back in the studio. Sylvia Massy, who had produced their first two projects, was replaced by King Crimson producer David Bottrill.
The next album, "Ænima," was released in October of 1996, and picked right up where "Undertow" left off. It debuted at No. 2 on the Billboard album chart, satisfying three years of hunger pangs for Tool fans, and proved that the band's audience was still growing. "Ænima" also showed ambition and growth in the band, both lyrically and musically, and the first single, "Stinkfist," was given immediate radio play across the country. (MTV couldn't stomach the term "Stinkfist," and in a fit of prudishness, renamed the video for the song, "#1.")
Their discography includes five studio albums, one box set, two extended plays, four video albums, fifteen singles and nine music videos.
Hit songs include --
Sober
Ænema
Prison Sex
Forty Six & 2
The Pot
Schism
Vicarious
Jambi
Parabola
Lateralus
H.
Fear Inoculum
Pneuma
Other notable songs include --
Stinkfist
Intolerance
Jimmy
Hooker With a Penis
Crawl Away
Ticks & Leeches
Grudge
Hire Tool for your party or event!
Tool may be available for your next special event!
Book Tool, now!
For other great suggestions for booking music acts, look here.
Listen to music:
YouTube Music | Spotify

Genre: Rock 2
Styles:
.Alternative Metal. / AlternativeMetal
.Heavy Metal. / HeavyMetal
.Progressive Metal. / ProgressiveMetal
Post-Metal / PostMetal
Prog-Rock / ProgRock
Art Rock / ArtRock


Years active:
x90s, x00s, x10s, x20s
1990-present

Formed: ..in California / formed nCalifornia
Formed: ..in Los Angeles / formed LosAngelesCA
Formed: in 1990

Based: ..in US