Richard De La Font Agency, Inc.
Legendary 5-Star Service and Reputation
Providing Excellence in Entertainment Since 1970

Booking Tori Amos, Myra Ellen Amos
Book pop music artists - book alternative music artists
Book Tori Amos
Adult Contemporary, Adult Alternative Pop/Rock,
Alternative Pop/Rock, Piano Rock, Avant-Pop,
Contemporary Singer/Songwriter, Pianist

Booking Information
About This Company
Rock Music Roster | Alternative Music Roster
Music Menu
Fast Index | Home | Search
Printable Page
---
How To Book TORI AMOS For Your Event!
Tori Amos may be available for your next special event!



Tori Amos began playing the piano aged two-and-a-half, and was enrolled in Baltimore's Peabody Institute as a five-year-old prodigy. Legend has it that she was formally ejected for "playing by ear" the songs of John Lennon and the Doors, following six years study. After failing an audition to gain re-entry, Amos concentrated on the bar circuit of Washington, DC, which she continued to do throughout her high-school years, gradually moving to better venues and adding her own material.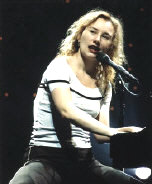 In 1980, aged 17, she released (under her real name, Ellen Amos) her first single "Baltimore"/"Walking With You" on the MEA label (named after her own initials). She favored cover versions such as Joni Mitchell's "A Case Of You," Billie Holiday Bill Withers' "Ain't No Sunshine," and later staples of her 90s live set. Amos then adopted the first name Tori, after a friend's boyfriend's remark that she "didn't look" much like an Ellen, more like a Tori.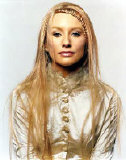 Still, the dozens of demo tapes she had recorded since her early teens (mostly sent out by her doting father) failed to give her a break, and she switched tack to front pop-rock band Y Kant Tori Read (a play on words that referred to her previous expulsion from the conservatory). Musicians in the band included guitarist Steve Farris (ex-Mr. Mister), Matt Sorum (future Cult and Guns N' Roses drummer), Vinny Coliauta (Frank Zappa), Peter White (co-writer to Al Stewart) and Kim Bullard (ex- Poco), but the production and material (largely co-composed between Bullard and Amos) did her few favors.
Tori Amos lowered her profile for a while after this undignified release, though she did appear on albums by Stewart, Canadian songwriter Ferron and Stan Ridgway. As she remembers, "After the trauma, I crumbled. I was very confused about why I was doing music."
Nevertheless, she persevered in writing her own songs, and eventually a tape of these reached Atlantic Records' co-chairman, Doug Morris. Although he saw the germ of her talent, he decided that her current sound was to the taste of the average American-FM listener, and sent Amos instead to the UK (and East West Records) so that she might enjoy a better reception. Amos moved to London in February 1991 and started playing small-scale gigs around the capital. Her "debut" EP, "Me And A Gun," was released in October 1991, and tackled the emotive and disturbing topic of her rape by an armed "fan" as she drove him home after a gig. An acclaimed debut album, "Little Earthquakes," followed in January 1992, although the comparisons to Kate Bush continued (not helped by a similar cover design).
Much of the following year was spent writing and recording a second album with co-producer and partner Eric Rosse. The result, "Under The Pink," included a guest appearance from Trent Reznor (Nine Inch Nails), and was recorded in his new home – the house where in 1969 Sharon Tate was murdered by Charles Manson's followers. The first single lifted from it, "Cornflake Girl," reached number 4 in the UK charts in January 1994. The follow-up, "Pretty Good Year," reached number 7 in March, and with the album topping the UK chart Amos confirmed she was now a commercial force.
Tori Amos was heralded in the press, alongside Polly Harvey (PJ Harvey) and Bjork, as part of a new wave of intelligent, literate female songwriters. This was cemented with the release of the sexually charged "Boys For Pele." Quite apart from having a baby pig suckling on her breast on the cover, the lyrics were a powerful combination of artistic and erotic liberation.
Armand Van Helden's remix of "Professional Widow" gained a huge club following and secured Amos a UK number 1 hit. Several of the songs on the follow-up, "From The Choirgirl Hotel," were informed by Amos' recent miscarriage. The album proved to be her most mature and musically adventurous to date – Amos recording with a full band for the first time. A prolific songwriting burst led to the release of the double "To Venus and Back" the following year.
Hit songs include --
God
Jackie's Strength
Professional Widow
Don't Make Me Come to Vegas
In the Springtime of His Voodoo
A Sorta Fairytale
Bliss
Caught a Lite Sneeze
Cornflake Girl
Spark
Raspberry Swirl
Crucify
Silent All These Years
Taxi Ride
Talula
God
Midwinter Graces
Abnormally Attracted to Sin
American Doll Posse
Tori Amos may be available for your next special event!

Genre: Rock 1
Genre: Rock 3
Styles:
.Adult Contemporary. / AdultContemporary
.Adult Alternative Pop/Rock. / AdultAlternativePopRock
.Alternative Pop/Rock. / AlternativePopRock
.Contemporary Singer/Songwriter. / ContemporarySingerSongwriter
.Alternative/Indie Rock. / AlternativeIndieRock
.Avant-Pop. / AvantPop
.Piano Rock. / PianoRock
.Pianist. / xPianist


Years active:
x80s, x90s, x00s, x10s, x20s

Born: ..in North Carolina / born nNorthCarolina
Born: ..in Newton / born NewtonNC
Born: Aug 22, 1963

Raised: ..in Maryland / nMaryland

Based: ..in US
Based: ..in Florida / based nFlorida
Based: and
Based: ..in Ireland
Based: and
Based: ..in England
---
Concert Schedule – by Ticketmaster
Concert Schedule – by Live Nation

---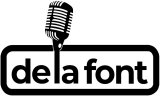 Booking Information
Music Menu
Fast Index | Home | Search
Frequently Asked Questions About How To Hire TORI AMOS for a private party or special event.
HOW TO BOOK TORI AMOS?
(i.e., how to hire TORI AMOS for an event)
You are currently on the official site of De La Font Agency. For more than 50 years, we have successfully helped official talent buyers around the world secure quality talent.
We welcome the opportunity to be of service to you. Let's do this the right way! Let's save you time and frustration!
Simply click on the "Let's Get Started!" link found on this page. Then, send us your request for booking information.
Include information about your plans for your event and how taking steps to hire TORI AMOS (or someone similar) might be of special interest.
If you decide you want to look at other names, simply include your talent-fee budget range and indicate that you want to see who else you might be able to afford with such a budget. We can send you a list of names that are affordable and in the style of music you prefer. We hope to save you time and frustration!
HOW MUCH DOES IT COST TO BOOK/HIRE TORI AMOS?
(i.e., what is the booking fee to hire TORI AMOS for an event?)
(i.e., what is TORI AMOS booking fee to perform at an event?)
Official booking fees for TORI AMOS, or any other celebrity, are determined based on a number of factors and may change at anytime without prior notice.

Factors influencing pricing vary and may include date, location, type of event, whether a private party or a public concert, the artist's calendar, whether the artist is on tour or not, how well tickets are selling at the artist's concerts, the current demand for the artist's music, market activity, etc.

As you might expect, the more in-demand the artist is, the more buyers are prepared to pay. Of course, this causes the artist's price to increase as the artist becomes more popular or decrease when becoming less popular.

Exclusive agents with exclusive representation frequently quote a range instead of a specific price, since changes can occur at anytime. Generally, the artist's manager has a role in the decision to accept any particular offer from a talent buyer.

To learn the most current artist's pricing, or the estimated artist's fee for your particular event, simply click on the "Let's Get Started!" link found on this page. Then, send us your request for booking information.
IS TORI AMOS AVAILABLE TO WORK MY EVENT?
(i.e., what is TORI AMOS's availability?)
To learn the artist's current availability for your special event, simply click on the "Let's Get Started!" link found on this page. Then, send us your request for booking information.

Once we have your event/party information, we will be better able to assist you with putting your entertainment talent booking plans in place as your entertainment consultant. Let's get this done right! We look forward to working with you!
---