How To Book TOTO For Your Event!
Toto may be available for your next special event!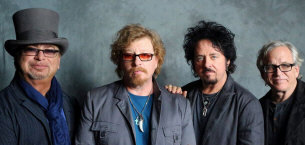 Hits include: "Africa", "I'll Be Over You",
"I Won't Hold You Back", "Rosanna",
"Hold The Line", "Stranger In Town",
"Without Your Love", "Georgy Porgy",
"Waiting For Your Love", "Afraid of Love",
"Live For Today", "I'll Supply The Love",
"Lovers In The Night", "Holyanna", "99",
"Orphan", "Pamela", "Make Believe".

For more suggestions, proceed to the next page.
Click here --
Rock Music Roster
Or, click on one of the below links --
Music Menu
Fast Index
Entertainers Directory
Home