Visit new page >>> TRACE ADKINS
How To Book TRACE ADKINS For Your Event!
Trace Adkins may be available for your next special event!



Grand Ole Opry Member
-- since 2003
Hits include: "This Ain't No Love Song",
"All I Ask For Anymore",
"(This Ain't) No Thinkin' Thing",
"Ladies Love Country Boys",
"You're Gonna Miss This",
"Honky Tonk Badonkadonk",
"I Left Something Turned on at Home",
"Songs About Me", "Just Fishin'"
"Every Light in the House",
"The Rest of Mine",
"I'm Tryin'", "Then They Do",
"Chrome", "More", "Hot Mama",
"Lonely Won't Leave Me Alone".
Trace Adkins is an American country music singer and actor.
Trace Adkins has rarely approached anything – in his life or career – conventionally. At 6' 6", he dominates a room. He has one of those truth-telling country voices that just grabs you, whether it's coming through a car speaker or over an arena sound system. Although a string of hits made him a superstar, he truly sings about the joys and challenges of everyday people. That knack for authenticity has created a huge base of devoted fans, sold millions of records.
Trace Adkins has too much blue-collar in his bones to put up with a lot of star-style ego, even from himself. So the six-foot-six ex-oilfield roughneck tends to let modesty get in the way of self-promotion.
He won't tell you that the bass end of his big baritone can drop into a bottom so deep that it is apt to shake walls…but it can. He won't tell you he has similar command of higher vocal ranges, even a heart-fluttering falsetto…but he does. He won't tell you he's able to sing a whole spectrum of styles of music, from traditional country to its edgiest vestiges…but he is.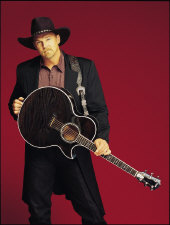 Hire Trace Adkins for your festival or concert plans!
After a start that saw him register a string of hits early on – "Rest Of Mine," "(This Ain't) No Thinkin' Thing," "I Left Something Turned On At Home," "Every Light In The House Is On," "Lonely Won't Leave Me Alone," etc. – as well as win the Academy of Country Music's New Male Vocalist title and be nominated for the Country Music Association's Horizon Award, he had to weather changes of administration at the record company and the lapses in momentum that such reconfigurations necessarily entail.
Not that Trace Adkins was a stranger to adversity. Much of the life of this son of a Springhill, Louisiana, paper mill worker has looked like an obstacle course. A finger severed on an offshore oil rig. A shot in the heart from an ex-wife. Assorted broken bones and other physical injuries. A long apprenticeship on the honky-tonk circuit.
However, everything you survive makes you stronger.
"When I was singing five nights a week in beer joints I think I just developed tungsten vocal cords," he reflects. "I think those years of playing in clubs and not having a good monitor system and singing as loud as you possibly could, just to hear yourself, served me well."
Awards include --
TNN/Music City News: Star of Tomorrow - Male 1998
Academy of Country Music: Top New Male Vocalist 1996
Hire Trace Adkins for your party or event!
Trace Adkins may be available for your next special event!
Book Trace Adkins, now!
For other great suggestions for booking music acts,
look here.

Genre: Country
Styles:
.New Traditionalist. / NewTraditionalist
.Contemporary Country. / ContemporaryCountry
.Acoustic Guitar. / AcousticGuitar


Years active:
x80s, x90s, x00s, x10s, x20s
1987-present

Born: ..in Louisiana / born nLouisiana
Born: ..in Sarepta / born SareptaLA
Born: Jan 13, 1962

Based: ..in US
Based: ..in Tennessee / based nTennessee
Based: ..in Nashville / based NashvilleTN