Visit new page >>>
TRAIN
How To Book TRAIN For Your Event!
Train, the band, may be available for your next special event!



How to Hire TRAIN For Your Event!
GRAMMY AWARD winning Train is an American rock band from San Francisco, formed in 1993.
Train began in 1994 when Pat Monahan, an Erie, Pennsylvania, native living in Los Angeles, met Rob Hotchkiss (who left the band in 2003). After moving to San Francisco and appearing in coffeehouses as an acoustic duo, they added Colin (bass) and Stafford (guitar), who, like Hotchkiss, were veterans of the Apostles, an L.A. band. Scott Underwood came on board as drummer shortly afterward.
In 1996, the band went to New York City to play a showcase date for Columbia Records. The company turned them down. "We decided maybe they were right," Monahan said years later, "We made a lot of changes with the band, and I changed in my life, by asking myself how I could be a better bandmate, friend, husband, and father."
Its self-released, self-titled debut album was produced by the band and Curtis Mathewson. In February 1998, Train was picked up by Aware/Columbia, and the band hit the road in a rundown 1987 Dodge Ram van with a little red trailer. It stayed on the road for the next two years.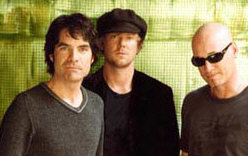 Hire Train to entertain at a company's special event!
In Autumn 1998, the Fox Television series, "Party Of Five," began to feature Train's first single, "Free," which had already received steady radio play. By August, a second single, "Meet Virginia," led Train to a four week stay at #1 on Billboard's Heatseekers chart. In November 1999, the album was certified RIAA gold. It went platinum in March 2000.
Early in 2000, Train took a break from the road to begin recording a new album with producer Brendan O'Brien. The band recorded for the rest of the year, between headlining tour dates, and making television appearances.
When "Drops of Jupiter" arrived on March 27, 2001, its title track, "Drops Of Jupiter (Tell Me)," was already a hit on several Billboard charts. The song's undeniable hook and lush orchestration by Paul Buckmaster won over scores of new fans and radio listeners. By June, "Drops of Jupiter" was RIAA-certified platinum. By April 2002, the single had spent a total of 53 weeks on the Hot 100. It won a Best Rock Song Grammy for Train, as well as a Best Arrangement Grammy for Buckmaster.
The release of "My Private Nation" in June 2003 reflects the change and growth spurred by the "Drops of Jupiter" whirlwind. As Scott puts it, "Spiritually and culturally we've all grown tremendously. We're very close, we know each other so well, but right now it's nice to know how to completely live in this world as professional musicians."
"I hope there's going to be a moment when someone will refer to one of these songs as meaning something during a time that they were a little bit lost," says Pat, "and there was something that struck a chord with them, and they made a decision that maybe was better than they would have made otherwise."
Hits include: "Marry Me", "If It's Love",
"Hey, Soul Sister", "Calling All Angels",
"Drops of Jupiter", "Meet Virginia",
"When I Look To The Sky", "Get To Me",
"Free", "Ordinary", "Something More",
"She's On Fire", "Give Myself To You",
"Save Me, San Francisco", "Drive By",
"Joy To The World", "Mermaid", "Cab",
"50 Ways To Save Goodbye", "Bruises",
"Angel In Blue Jeans", "I Am",
"Merry Christmas Everybody".
Hire Train for your party or event!
Train may be available for your next special event!
Book Train, now!
For other great suggestions for booking music acts,
look here.

Genre: Rock 3
Styles:
.American Trad Rock. / AmericanTradRock
.Adult Alternative Pop/Rock. / AdultAlternativePopRock
.Roots Rock. / RootsRock
.Jam Bands. / JamBands


Years active:
x90s, x00s, x10s, x20s
1993-present

Formed: ..in California / formed nCalifornia
Formed: ..in San Francisco / formed SanFranciscoCA
Formed: in 1993

Based: ..in US
Based: ..in California / based nCalifornia
Based: ..in San Francisco area / based SanFranciscoCA area
(Only about one-half of the band is still based in San Francisco area.)